Growing up in a restrictive country where strict gun control laws prohibit every day citizens from owning firearms, Julia Huang always associated firearms with soldiers, not citizens.
So when a business trip brought Julia to the United States as a young adult, she remembers her father's words of caution as she departed for her trip: "Be careful. There are a lot of guns in the United States." 
It was on that very business trip to Colorado that Julia met the man who would one day become her husband. Del Arnold, then a law student at the University of Denver, was from Tennessee, and firearms had always been part of his life for protection, hunting and recreation.
"I was so nervous and felt very uncomfortable," she said of her early exposure to firearms. "I didn't even want to touch one."
With Del's patient coaching and encouragement, Julia began accompanying him to gun stores to get more comfortable and to learn and ask questions. Taking into account her petite stature, she eventually found a gun that fit her comfortably and was easy to load.  
Over time, Julia came to realize that a firearm is simply a tool.
"It's like a knife," she says. "You could say 'oh my gosh, that knife is so sharp, it could cut my hand,' and yet we cook with one every day and don't think twice about it. A gun is just a tool to protect yourself."
That tool was especially valuable one evening when Del was away and Julia was home alone with their infant son. Late at night, a stranger knocked on the door. Julia asked, "Who is it?" and there was no response. The stranger knocked again. Again Julia asked, "Who is it?" and still no response. She grabbed her gun and cocked it—and the sound alone was enough to cause the intruder to flee.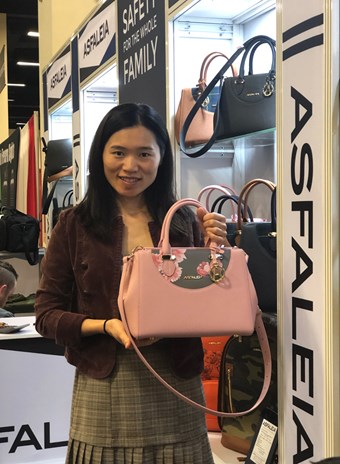 It was a defining moment for her. "I am very small and there is no way I could physically overpower someone," she said. "Having a firearm for protection is my only line of defense."
This pivotal moment also sparked the creation of a new business venture to complement the couple's successful global company, GNG Industries, designing and selling custom bags for companies worldwide. Asfaleia Designs became a passion project, focused on designing stylish conceal carry bags, most for women, with special features for the fastest draw possible. "Every woman deserves the right to protect herself," says Julia.   
Today when her father in China warns her, "Be careful. There are a lot of guns in the United States," Julia has a quick response.
"Don't worry. I have a gun, too."