by
posted on November 9, 2020
Though harvesting game while hunting is never guaranteed, you should always have a field-dressing kit prepared and packed. While it may seem self-explanatory, here are a few essential items you should always have on hand to make your life easier.  
1. Gloves
Field-dressing game can be messy. To mitigate this, some choose traditional wrist-length disposable gloves, while others prefer to use arm-length plastic ones. Nitrile gloves are a good option for those allergic to latex. Always have a few pairs on hand in case one rips. Some choose to wear the wrist-length gloves over top of arm-length gloves as they offer a tighter fit. (The arm-length gloves tend to be one-size-fits-all.)
2. Knife and Gutting Tools
Not all knives are created equal. Clichéd, but true. Be sure to find a knife that fits your hand so that you can wield it comfortably. Fixed-blade knives are far easier to clean up than folding knives, which have grooves and crevices into which blood and debris can slip. Some knives have built-in guthooks. If you choose to have a separate guthook, select one that you can grip even as it gets slippery. There are many different price points for tools, but remember that in many cases you get what you pay for.
My Knife Choice: Buck Knives 658 Pursuit Pro Small Knife
When I first held the small fixed blade of Buck Knives' Pursuit line, it felt as though it belonged there. I had always struggled with my dad's knives. They were either too large for my hand or seemed to cut into my hand as I was using them. The 658 Pursuit Pro small hunting knife has an 8-inch full tang design, a 3 ¾-inch drop-point blade and a comfortable glass-filled nylon/versaflex contoured handle. This knife is made of S35VN steel, which is designed for edge retention and easy sharpening, even in the field. MSRP: $95 (Note there is also a traditional Pursuit line with a very similar knife for $48).
My Guthook Choice: Buck Knives 499 PakLite Guthook
I must admit, at first I was skeptical. I had attempted to use a very similar guthook when I first started hunting and was never able to successfully cut with it. The harder I tried, the more it felt as though I could not keep a grip on it. The Buck Knives 499 PakLite Guthook has a hole in the center for me to slide a finger through as well as contoured edges. This made a huge difference in my ability to keep hold of and comfortably use this tool. MSRP: $26
My Gutting Tool Choice: Butt Out
This tool does exactly what it says— quickly and cleanly removes the anal canal while entrapping all of its contents. Countless people have made fun of this tool's name, but I do not know anyone who has used it who has ever field-dressed an animal without it afterwards.
3. Headlamp
It is essential that you have good lighting. Consider different colors of light. While you may want a red light for walking into or out of the woods, a white or yellow light is likely better for cleaning game. Choosing a strong light that is multi-purpose can save you from carrying extraneous supplies.
4. License, Permit and Pen
Rudimentary, but it is important to remember to have your hunting license on you at all times as well as the proper documentation to accompany your harvest. Consult your state's regulations on these matters carefully before you head out.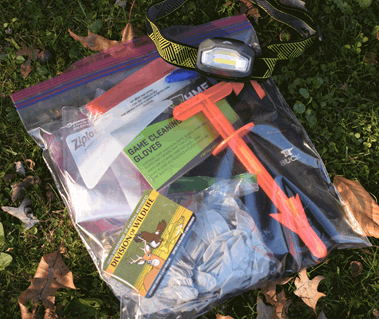 5. Plastic Bags
Some type of plastic bag is always handy. I prefer bags with a snap closing rather than a zipper, which is prone to snapping off. You can store your entire field dressing kit in a plastic bag, or opt for a cloth bag to minimize noise. Regardless, you should always have an extra bag to contain your used hunting knives and tools so that you can clean them later. Remember not to put dirty knives back in their sheaths. Smaller plastic bags can also be used to preserve paper tags, especially if they are placed inside the animal and taken to a processor.
6. Cleaning Wipes
Some type of cleaning wipe is always good to have on hand. Travel-sized packets are ideal. They can be used to quickly clean off knives, equipment or your hands (or your phone while taking photos!).
Every hunter has different methods and favorite tools. This is a list for a simple field dressing kit. Those who skin and process their own animals likely pack more items, like anti-microbial game bags. Remember that there is no special award for cleaning game without gloves or with a larger knife! Find what works for you and stick with it. Having your own set of tools that you are comfortable with makes you a more confident and independent hunter.