by
posted on July 1, 2020
After years of honing my shooting skills and learning which features I appreciate in a semi-automatic handgun, I have acquired a respectable number of pistols chambered in both 9 mm and .45-cal. I love the 1911 platform, but lately I have felt compelled to add some of the new striker-fired polymer nines to my collection, many of which I find very pleasant to shoot. Someone once warned me that purchasing firearms can be addicting. She was right. Eventually it's not about how many you actually need; it's about how many you want.
One benefit to owning a variety of pistols is that there are plenty to choose from when friends or family members suggest we head to the range. I am happy to share my personal firearms (under my supervision) and solicit others' opinions on how they perform. And while most of these range outings involve folks with some or a lot of shooting experience, more and more inquiries are from those who have shown no previous interest in learning how to operate a handgun. Between a pandemic, civil unrest and overt political threats to our gun rights, life has changed quickly and dramatically, and the concept of personal protection has never been more real. These once-complacent individuals are now recognizing the need to take responsibility for their own safety. Suddenly our country has millions of first-time gun owners, some having purchased whatever was left on the gun dealers' shelves without regard to size, caliber or having an understanding of firearm basics.
Beyond my standard recommendation of seeking formal training through an NRA Certified Pistol instructor or a Women on Target class, the notion that more people in my immediate—and extended—circle now want to learn to shoot has given me pause to consider the type of guns I have in my collection for the brand-new shooter. For rifles, I'm covered. A Ruger 10/22, Smith & Wesson M&P15-22 and a Henry .22 lever-action are about all one "needs" to build marksmanship skills and confidence before moving on to larger, more powerful calibers. A rifle chambered in .22 Long Rifle has always been the logical option to start new shooters, so why not the same for handguns? 
It's not that there aren't .22-cal. pistols in my collection. A Ruger Mark III (Ruger Mark IV shown) and other target-style pistols fit the category of low-recoil accurate plinkers. I still vow to one day add a Smith & Wesson Model 41 (below) to my collection, a gun I had the pleasure of shooting about 15 years ago during an informal pistol league comprised of female colleagues. The gun was borrowed from NRA's permanent collection, and I have yet to find a target model I love shooting as much as that vintage Model 41. They can be pricey, so that "want" still requires justification over paying the mortgage.
And although the fundamentals of safe gun handling and marksmanship can be acquired through these target-style guns, some of their features, such as extra long barrels and chunky grips, are often not representative of or conducive to the reasons many choose to invest in a personal protection semi-automatic handgun. 
An obvious advantage of taking new shooters to the range with rimfire is that .22-cal. ammo is once again plentiful and relatively inexpensive. With center-fire handguns, ammunition, even target loads, is expensive and, thanks to the high volume of gun sales, has been out of stock more often than not. Moreover, it's typical for a new shooter to experience fatigue as he or she repeats the fundamentals with a heavier handgun, which requires frequent manipulation of the slide and other controls. Ultimately this leads to shorter range sessions. 
Remember, the goal of introducing someone to handguns is to get them to return and increase their confidence, aptitude and enjoyment. One easy way to do that is by coaching them with a gun that doesn't cause pain when they shoot, and also with one they can shoot well, and looks like, feels like and operates like the modern semi-automatic center-fire pistols which they will eventually upgrade to for home defense or concealed carry.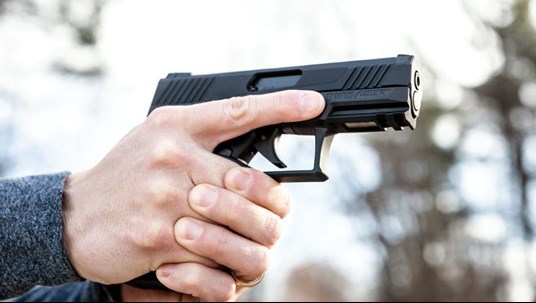 So I am reaffirming my commitment to adding semi-auto .22 LR rimfire pistols to my vault, largely to have on hand when a new or inexperienced shooter wants to test his or her hand at the range, or for days when I don't want to expend my stock of center-fire ammo. There are a number of pistols that nicely fill this bill. Longtime favorites include the Walther P22 and the Ruger SR22. More recently, Taurus introduced the very impressive TX22 (shown). Even Glock has entered the rimfire game with the G44. These are all excellent choices for .22-cal pistols that replicate the operation of a full-size larger-caliber defensive pistol. Realistic price points for these guns purchased new range from the low $300's to mid $400's (give or take), so they are relatively affordable. These guns are all in contention for the space I've cleared in my safe for my growing stable of "teachable.22s." 
Recently Ruger introduced its Lite Rack Ruger LCP II in .22 LR, a low-recoil pistol with an easy-to-manipulate slide that shoots comfortably regardless of hand size or strength. What I appreciate about Ruger's approach to this addition to its popular LCP series is that it holds no illusion for whom and for what it is designed. Ruger's marketing approach even reinforces that "proficiency ... can only be achieved with practice and use at the range," recommending that it be used as a training tool for its popular compact LCP or LCP II, which are chambered in .380 Auto. Ruger even suggests it can be used for concealed carry. While we at NRA Women are proponents of more powerful defensive cartridges, we also understand that for those with dexterity issues caused by conditions such as arthritis, a .22-cal. pistol that can be easily operated is a better option to have on your person than a 9 mm pistol with a slide that is too stiff to rack, particularly under stressful conditions. 
Ruger incorporated features into this pistol to enhance repeatability of the fundamentals. The "Lite Rack" system is comprised of refined slide serrations, pronounced cocking ears and a lighter recoil spring. The magazine offers a compact 10+1 capacity and extends the grip for improved control. A manual safety is oriented in a push-forward-to-fire configuration. 
NRA editors have given this little Ruger an overall "thumbs up" for being a fun .22 LR pistol with a respectable round capacity. I'm giving it a thumbs up because it should not only get a lot of women to the range, it will keep them there and, with practice, give them the confidence to move up in caliber and improve their gun-handling skills and ability to protect themselves.
If you are contemplating which pistol to use when easing a new shooter into our ranks, don't forget about your .22 LR semi-automatic pistols as one of the most teachable tools you own.