by
posted on December 18, 2021
For some of us, strong-side hip carry just doesn't work. Depending on your wardrobe, it can range from hard-to-hide (clingy shirts) to physically impossible (beltless dresses). If you're having trouble making 3 or 4 o'clock work, try one of these carry positions. 
If you're lucky enough to see this big rig pulling into your local Bass Pro or Cabela's in 2022, it can mean only one thing: Shoot Like A Girl has brought its mobile range to your location as part of its Sea To Shining Sea Tour. 
Dedicated to educating women and their families about the importance of firearms safety, the semi-tractor trailer will allow attendees to gain experience in handling and shooting handguns, long guns and compound bows using their state-of-the-art technology. Learn more here!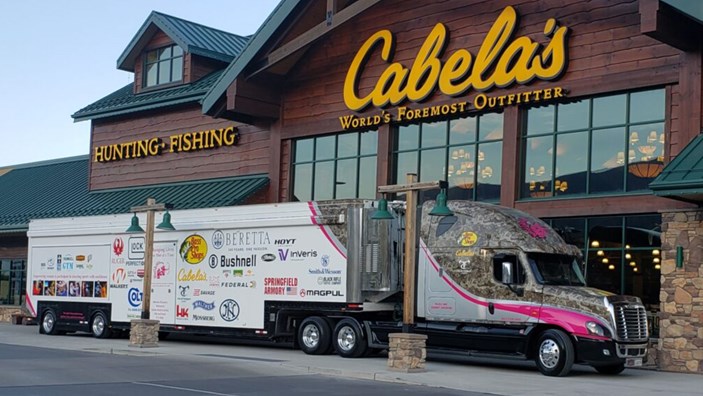 Sometimes the perfect Christmas gift is the most obvious—especially for the newest shooting sports enthusiasts. If you have an NRA Woman on your list, here are five more essential options that will put a smile on her face! 
But wait! As you find yourself surrounded by piles of bows and ribbon while you wrap gifts for everyone that managed to stay off the naughty list, there is one very important recipient you should not forget … the family dog! There are countless options when it comes to gifts for your furry friend. Explore eight of our top picks.

Each hunter has to know her limitations. If there was ever a situation where "just because you can doesn't mean you should" applied, it's taking long shots at game animals. Buying a long-range rifle does not make you a long-range shooter, and even the best long-range shooters will attempt steel targets at much further distances than they would ever shoot game. So, how far is too far?
Long-range precision shooters may be interested to hear the U.S. Army recently announced the successful graduation on November 5, 2021 of its first female soldier from the U.S. Army Sniper Course at Fort Benning, Georgia. The Army has declined to identify the soldier, a member of the Montana National Guard. Read more here.
Modern hammer-fired semi-automatic pistols can be either single-action (SA), double-action/single-action (DA/SA) or double-action-only (DAO). These pistols filled the niche of duty and personal protection firearms up until the early 1980s. Since then, striker-fired semi-automatic pistols have claimed their share of the market for duty and personal protection firearms. Glocks were not the first striker-fired pistols, but it was this particular make that led the way of pistol evolution ... So what's the difference between hammer-and striker-fired pistols?
Stefano Fausti had always hoped to have a son to carry on his gun making legacy, but instead he had three daughters. Little did Fausti know that these three girls—Giovanna, Elena and Barbara—would grow up to become the famed "Shotgun Sisters" of Italy, and that under their control the Fausti name would earn worldwide acclaim.