Before we all have to get used to saying "President Biden," we're bringing you the hottest Second Amendment news of the past week. As the torch was being passed from (R) to (D), the Office of the Comptroller of the Currency (OCC) released a finalized rule to end discrimination by financial service providers against the firearms industry and more. This is terrific news for gun owners as well as the firearms industry, because financial discrimination closes small "Mom & Pop" gun shops. Read more about it here.
Speaking of your local gun store, you may have noticed that they're having a little trouble keeping guns in stock. Tired of long lines, only to be disappointed by empty shelves when you finally get your opportunity to shop? There's one sure way you can take home a firearm: Be the high bidder on one of 64 handguns, rifles, shotguns, knives and much more at the 2021 NRA Foundation Winter Gun-derland Auction. Don't miss your chance to own one of the most popular guns of 2020, including the Smith & Wesson M&P380 Shield EZ and the SIG Sauer P365!
The outgoing Trump administration had one more last-minute gift to America's law enforcement: On January 18, President Trump signed an "Executive Order on Protecting Law Enforcement Officers, Judges, Prosecutors, And Their Families." The order aims to provide for more federal law enforcement officers, prosecutors, and judges to be able to carry firearms for personal protection. NRA-ILA has the scoop.
Each January, there's an enormous industry trade show that showcases all of the newest innovations in guns and gear…well, except for this year. The SHOT Show was shuttered due to COVID-19, but the gun industry most certainly wasn't! We're rolling out all of 2021's hottest new releases right here on NRA Women. Speaking of! Were you looking for an affordable but elegant over/under (O/U) shotgun? Mossberg's Silver Reserve Field Shotguns might be just the ticket!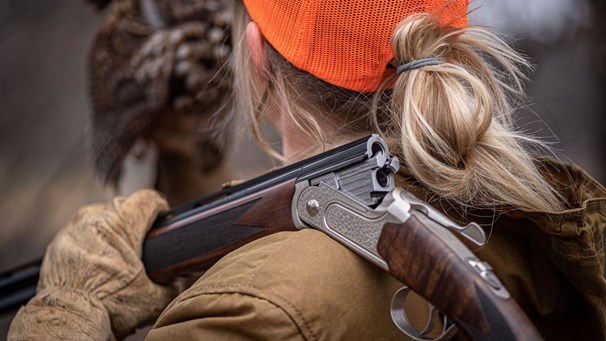 They say that when you mess with the bull, you get the horns ... but the latest offering from Taurus Manufacturing is as gentle to shoot as it is accurate and fun. New for 2021, the TaurusTX 22 semi-automatic sporting pistol has been world champion shooter Jessie Harrison's choice since the first prototype rolled off the line. In fact, Taurus developed this sweet race gun with Harrison's input … learn more here. 
One of our most popular articles for 2020 was B. Gil Horman's discussion of whether a snubnose .22-caliber revolver makes sense for self-defense. If your answer was "yes," "maybe" or even "no, but I want one anyway," then check out this review of the Heritage Barkeep Revolver from our friends at NRA Family!
If you're new to the world of guns, you'll hear a lot about shooting stances. Believe it or not, the precise position of your feet and the angle of your arms makes a big difference in your comfort and accuracy. How can you tell which shooting stance works best for you? NRA Certified Instructor Maureen Sangiorgio has the scoop.
There are two ways to promote and defend hunting in the United States. The first is to foster active participation in hunting. The second is to maintain, protect and enhance the cultural acceptance of hunting. The first cannot exist without the second. Over the last five years, the NRA Hunters' Leadership Forum has distilled the findings from mountains of research and recommendations into a convenient, accessible, easy-to-digest book explaining how to communicate with the American public about hunting. It's called How to Talk About Hunting, and you can read more about it here!