by
posted on June 25, 2022
In contrast to the restrictive gun legislation that has passed in the Senate, 2A advocates still have reason to celebrate this week.
The NRA-backed New York State Rifle & Pistol Association v. Bruen saw a favorable outcome for New Yorkers who wish to carry concealed, as the U.S. Supreme Court affirmed that the right to bear arms does not stop at a person's front door. This is the most significant Second Amendment ruling in more than a decade. Learn what the Supreme Court's decision means for you as a gun owner.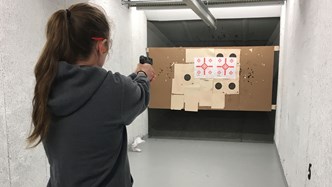 Of course, we NRA Women know that the future of the Second Amendment depends on a unified front against those wishing to strip us of our freedoms. Columnist Jo Deering reminds us that The Second Amendment Is for Everyone, especially in these volatile political times. 
Despite the political turmoil, new women gun owners continue to join our ranks in record numbers and are seeking professional training. However, first impressions are everything, so help them find the most qualified NRA-certified trainers—ones that don't exude these six characteristics that are sure to turn them off.
If you're eager to exercise your Second Amendment rights in the wake of the NRA win, learn more about the SIG Sauer P322, chambered in .22 LR, in this video review from NRA Family. Ideal for plinking and training, this new caliber of P322 is feature rich and perfect for beginners. And if you're looking to improve your handgun shooting all-around, follow American Rifleman's advice on Building A Better Handgun Grip.
While June is coming to an end, that doesn't mean you can't extend Great Outdoors Month into the rest of the year. American Hunter has some Food Plot Tips and Strategies so that your property is ready come deer season. As NRA Women contributor Melissa Bachman tells us in Doctor's Orders: Another 15 Reasons to Get Outside This Summer, prep work for plating food plots is a fun and easy way to soak up some sunshine with your family.
For a dose of inspiration, we present the story of two NRA Women business owners make thriving in the wilderness look easy. While the matriarchs running Montana make backcountry living look easy, the wilderness is not the place to stumble in unprepared. Find out How To Avoid Backcountry Hazards from contributor Heidi Lyn Rao, winner of NRA Women's 2022 Golden Bullseye for Industry Woman of the Year.