by
posted on September 22, 2022
Despite updates to manufacturing processes, new technology and recently released models we see in the shooting sports marketplace, many firearms remain essentially the same as those made a century ago, including bolt-action hunting rifles, double-action revolvers and 1911 pistols. This means that when we see guns come along that are significantly different, they are usually met with both enthusiasm and skepticism.

The LifeCard is available chambered in .22 Mag. and .22 LR in various colors.
One handgun that gave the status quo a kick in the shins is the Trailblazer Firearms LifeCard. First released in 2017, this rimfire "utility pistol" is among the smallest and easiest to carry handguns available. It has continued to evolve since its release, so let's take a closer look and see what it has to offer.
An Unusual Rimfire Pistol
The LifeCard is a single-action, single-shot rimfire pistol with a folding grip. That's an accurate, yet incomplete, description of what these pistols are actually like. When folded, they are just 3.375" long, 2.125" wide and 0.5" thick. You can almost hide one under a typical business card! I've included a photo of the pistol in between a business card holder and a tin of curiously strong mints for size comparison. All of the corners and edges have been rounded off for a sleek, no-snag profile. It can be comfortably tucked into nooks, crannies and pants pockets where no other pistol would fit. I've taken one into the field tucked into the watch pocket of a pair of jeans.

The LifeCard pistol (center) is not much bigger than a business card holder (left) or a tin of curiously strong mints (right).
LifeCards are available chambered in .22 LR or .22 Mag. (.22 WMR). The .22 LR version is available with a polymer grip for an unloaded weight of 5.5 ozs. and a suggested retail price of $299. It can also be purchased with a milled aluminum grip which shifts the weight up a bit to 6.4 ozs. with a suggested price of $349. The .22 Mag. version ships with an aluminum grip. The standard models have a matte black finish consisting of Isonite-finished steel components (black nitride), a Cerakote finish applied to the aluminum frame (and grip) with the color molded into the polymer grip so that it won't wear off. These guns are also available in a variety of colors (tan, gray, OD green, etc.) for about $10 more.

The LifeCard is shown here in its folded, ready-to-carry configuration.
No Special Paperwork Required
Guns that don't look like guns often fall into the classification of Any Other Weapon (AOW) under the federal National Firearms Act (NFA) of 1934. This includes single-shot rifles or shotguns disguised as walking sticks, knives with miniaturized revolvers concealed in the grip or derringers that look like a man's wallet. To own one of these spy gadgets requires the same types of paperwork and tax stamps as a machine gun, short-barrel shotgun or sound suppressor.  

When released, the grip swings out and locks in the open position.
However, the LifeCard pistol does not fall under the auspices of the AOW classification because it cannot be fired with the grip folded. When the grip is closed, the trigger is contained and blocked from moving. This in turn locks up the hammer so that it cannot be cocked. Only when the grip is fully extended and locked in place can the action be cycled. This gives the LifeCard the appearance and operations necessary to allow it to be sold over the counter at sporting goods stores like other handguns. 

A sliding lid in the grip covers a small storage compartment which holds up to 3-rounds of .22 LR or .22 Mag. ammunition.
Well Made and Safe To Use
There was a time when the market was replete with small, cheap concealed carry guns that were grouped together under the uncomplimentary moniker of "Saturday Night Specials." These small-caliber derringers and revolvers were easily identified by their poor construction, low-grade materials and untrustworthy (or non-existent) safeties.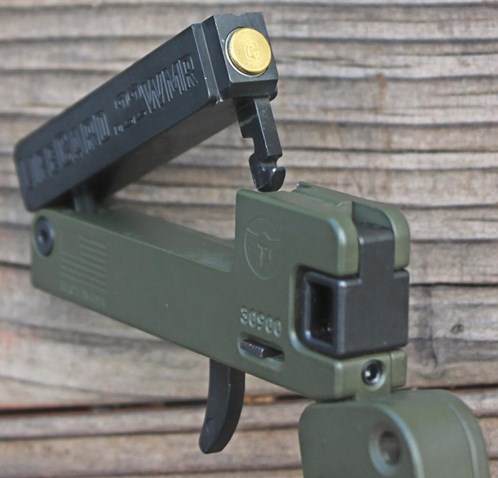 The barrel holds just one round which must be manually extracted after it's fired.
Trailblazer recognized that some enthusiasts might be quick to kick the LifeCard into this same class of handgun. In development for seven years, the LifeCard is made from quality materials, including 4140 steel and milled 6061 aluminum, using trusted manufacturing processes. This pistol also incorporates a variety of safety features. These include a loaded chamber witness port, a partially-cocked hammer position that holds the firing pin away from the cartridge rim and a trigger that locks up and won't fire unless the pistol is fully cocked. Trailblazer incorporated a lanyard hole in the top of the grip. On the right side of the grip is a sliding polymer panel which exposes a small storage compartment which holds up to 3-rounds of either .22 Mag. or .22 LR. For those who choose to shoot .22 Short cartridges from the .22 LR model, the storage compartment can hold up to 6-rounds. 
Fun to Shoot
Not everyone is going to be a fan of the rudimentary V-Groove Sight, which is a fancy name for a trench sight that runs the length of the top of the barrel and receiver. The company went with this configuration because it preserves the no-snag profile they were going for. Once you get the hang of it, it's good enough for close-range work.

The hammer is cocked by pulling it straight back out of the receiver.
But the grip and the controls are another story. The grip frame is narrow and smooth but long enough to support all three fingers of the shooting hand. It couches into the hand more comfortably than one might expect and provides plenty of purchase for the tame levels of felt recoil generated by .22 LR ammunition and the modest kick of .22 Mag. The textured slider-style releases for the grip and barrel are easy to operate and don't call for much pressure to move. The single-action trigger breaks cleanly with just a bit over 3 lbs. of trigger pull with a crisp, clean break. The barrel swings open easily and spent shell casings can be comfortably extracted with a fingernail.

The .22 Mag. version of the LifeCard operated reliably with all of the ammunition tested.
For this write-up, I spent time at the range with the .22 Mag version of the LifeCard. Although the recoil is still easy on the shooting hand these little pistols do kick more with this cartridge. Because .22 Mag. is a rifle cartridge, and relatively few handguns are chambered for it, the velocity information listed for this cartridge is almost always developed using rifle-length barrels. This includes the listed velocities for the CCI, Hornady and Remington rounds fired for formal testing with this pistol. You'll see in the range results that bullet energy and velocity drop:
Curiouser & Curiouser
So where exactly does the Trailblazer LifeCard "utility pistol" fit on the shooting sports' spectrum? It's clearly not a high-speed, low-drag combat pistol. Although .22-cal. handguns capable of firing multiple rounds have been pressed into defensive roles, a single-shot rimfire that requires a few steps to fire should not be at the top of the list for person protection.
However, the company describes this as "the last gun you'll leave behind." This is because it's so portable and comfortable to carry. The Lifecard is an ideal kit gun to keep in a tackle box, back pocket or a survival kit when enjoying the great outdoors. On the farm it would be an ideal option for pest control using CCI's rimfire shot shells. This pistol is well made and reliable making it an unusual addition to a gun collection. Trailblazer offers leather pocket holsters and Kydex belt clip holsters for these guns. For more information, visit trailblazerfirearms.com.

Trailblazer offers Kydex belt clip and leather pocket holsters for the LifeCard.