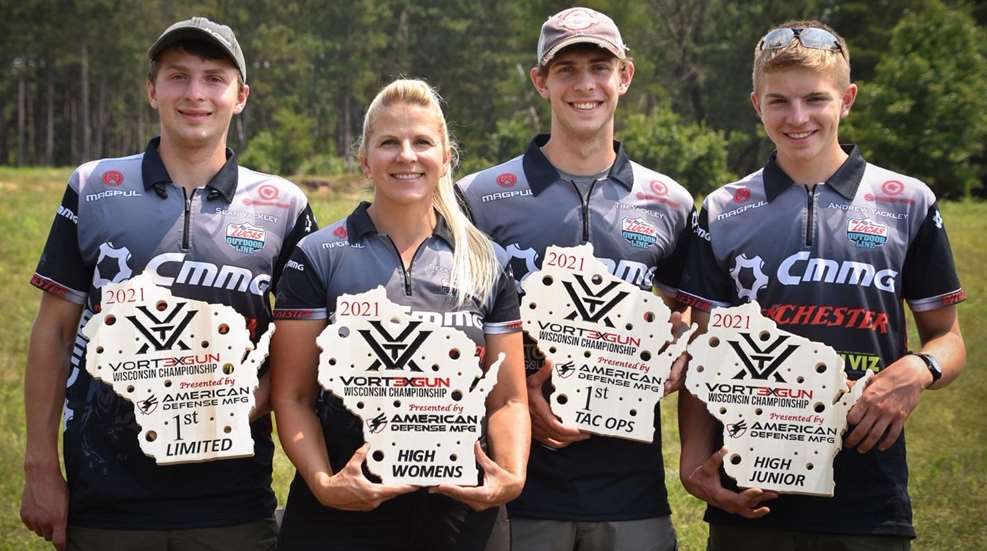 The family that shoots together, wins together! And when that family is composed of The Yackley 5, it gets used to winning—a lot.
The latest victory for the Yackleys was in their home state at the Wisconsin 3-Gun Championship in mid-July. NRA Women contributor and team matriarch Becky Yackley placed first in the Women's Division, while son Tim won the Tactical Optics Division; Sean won in Limited; and Andrew took first in the Junior competition.
And as all competitive shooters will attest, as outstanding as their shooting skills are, some of their success can be attributed to their high-quality gear and equipment. As members of the Safariland "Cadre," the Yackleys competed for three days using Safariland's 6360 ALS and Model 015 holsters, Safariland's ELS belts and Model 086 Double-8 shotgun shell holders. Becky noted that the dependability of retention offered by Safariland holsters is why they have counted on them for so many years. "It definitely gives you confidence to focus on your performance," she said.
"Safariland is rightfully proud of the accomplishments of the Yackley family," said Christina Rhine, digital-social media manager at Safariland. "They continue to embody everything Safariland CADRE represents—integrity, passion and applying knowledge into action." Rhine continued, "Together, these competitors span a diverse range of shooting styles. The Yackley family is truly unique and Safariland is pleased to be a part of their success."
For more, visit Safariland.com, and follow the Yackley 5 on Facebook