Magnum Research Star Spangled Banner Desert Eagle
New for 2023, Magnum Research has introduced the limited edition "Star Spangled Banger" Desert Eagle pistol. This custom firearm is the ultimate expression of American patriotism on the canvas of the mighty Desert Eagle magnum auto-loader. Each Star Spangled pistol is custom finished in a distressed Cerakote, with the American flag added in color to the frame, slide, and barrel. Old Glory is brightly depicted in its full red white and blue grandeur! The Star Spangled Banger Desert Eagle starts as a model DE50, chambered in the popular .50 AE caliber. It includes a 6" barrel with picatinny optics rail and integral muzzle brake, rubber grips, fixed combat sights, and one seven round magazine. MSRP: $2,621; magnumresearch.com
Savage Arms' Rascal Red, White & Blue
If you're planning to go plinking with family this Independence Day, the Rascal .22 is the rifle for you. The stock is American flag camo complemented by a carbon steel sporter barrel. This aesthetically pleasing firearm also features adjustable peep sights and Savage's famous AccuTrigger. Safe, accurate and easy to use, the red, white and blue Rascal will soon be your go-to plinking rifle year-round. SavageArms.com
Charter Arms' Old Glory Revolver 

Charter Arms' Old Glory revolver couldn't exude patriotism any more than it does with this Cerakote red, white and blue laser finish. The 2" barrel five-shot revolver chambered in .38 Spl., based on the company's Undercover model, is ideal for concealed carry, and features an aluminum frame. Charterfirearms.com
Legacy Sports M-1911 Flag Pistol
The Citadel line of American flag pistols imported by Legacy International features three finishes—Battleworn greyscale, Red White and Blue, or Bazooka Green. Each of these handguns comes with a coordinating ammo can, also bedecked with Old Glory. The pistol features a lowered and flared ejection port, as well as a skeletonized hammer and trigger. Made and assembled in America, Citadel's M-1911 lets you show off your patriotic pride while supporting U.S. manufacturing. MSRP: Starting at $599. Find it at Legacy Sports International.
Ruger AR-556 Pistol
AR pistols for home defense are growing in popularity, and we couldn't help but be drawn to Ruger's AR-556 pistol from the Ruger's "Flag Series." A free-floating handguard helps with accuracy, and a carbine-length gas system lets the gun process a wide variety of ammunition. The upper receiver is made of aerospace-grade aluminum and carries a forward assist, dust cover and brass deflector. The American flag Cerakote finish may have drawn us to this gun, but its ease of use is what sold us! 
Heritage's Rough Rider Honoring Betsy Ross
This pistol plinking option features a rustic, billowing flag on the grip and a 6.5" barrel. The Rough Rider honoring Betsy Ross is the cowgirl six-shooter of your dreams to keep on your hip all day or to bring out when you're dueling reactive targets on the range. Resist the urge to blow imaginary smoke from the barrel after you nail a bullseye. MSRP: $179.99  Heritagemfg.com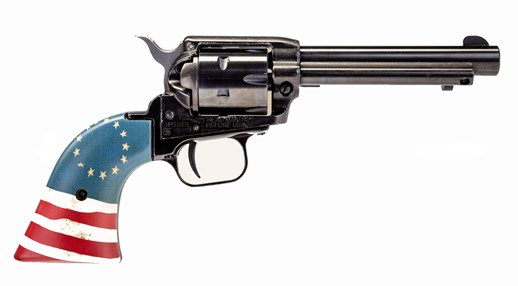 Hi-Point Firearms' 9mm Carbine FDE and OD Green Flag 
Reliable and versatile, Hi-Point's 995 and 4595 model carbines are now available in a hydro-dipped FDE American flag design. This American-made rifle doesn't just look patriotic; it proves it. All active or veteran military personnel and first responders can receive a free magazine and Hi-Point swag upon submission of qualifying identification to MKS Supply following the purchase. The all-weather polymer skeletonized stock and internal recoil buffer make this the perfect rifle for defense and recreation. Hi-PointFirearms.com