1. Multi-tool
You'll never be without a bottle opener — or a knife, pliers, or screwdriver — ever again! On your camping trip you will undoubtedly find yourself needing one, if not all, of these things. A multi-tool is portable, versatile and effective in the wilderness. Although there are a lot of multi-tools on the market, we like Real Avid because their tools are specifically designed for gun owners. The stainless steel guards against rust, while the screwdrivers, pick and pliers will keep the rest of your accessories in tip top condition. Whether you need to make small adjustments to your firearms in the field, clean out a hard to reach spot or even man-handle a stubborn tent zipper, your Gun Tool Max is at your service. MSRP: $69.99 at Realavid.com.
2. Water Bottle
It'll be a short trip if you forget a canteen. While plastic water bottles will do, this stainless steel 64 oz. Pelican bottle is for camping pros. When a spigot is a hike away, stocking up on each trip is key. While you're swimming and hiking with the sun beating down, you will need to hydrate more than you might on an average day at home! Dehydration can be dangerous when you're in a secluded area so never forget fresh water. The Pelican bottle will keep your water cold and refreshing all day long, and it isn't a hassle to carry because of its convenient handle. Nothing tastes better at the top of a mountain after a long, hot climb than a sip of chilled water. MSRP: $49.95 from  Pelican.com.
3. Lightweight Coat
When it rains, it pours! Don't get caught in soggy weather without a rain jacket. This Carhartt Rain Defender Hooded Lightweight coat is perfect for your summer camping trip because of how lightweight it is. Don't let some dampness waste a day of outdoor activities when you can stay dry without sacrificing mobility and breathability. By fall, you won't want to give it up—so that's when you can layer the Rain Defender with a hoodie or fleece. Stay dry in style with four different color options: musk green, coral haze, gull gray and black. MSRP: $69.99 from Carhartt.com.
4. Rechargeable Headlamp
This headlamp has it all: spot lighting, flood lighting, dimmer capabilities and a red night-vision feature. Starting the bonfire, maneuvering your campsite and finding the bag of marshmallows you know you packed all while not blinding your friends has never been easier with the BioLite's No-Bounce Rechargeable Headlamp 330 swiveling and dimming functions. You can also avoid being plunged into darkness as soon as you turn off the light by using the red night-vision setting. Low, red light will preserve your ability to see into the darkness while also attracting fewer bugs! No more fumbling with AAA's in the dark either, as this headlamp can stay charged for up to 40 hours of use. MSRP: $59.95 from Biolitenergy.com.
5. Extreme-Temperature Tent
This tent is an adventurer's best friend. Cabela's Alaskan Guide Model tents like this Geodesic with Fiberglass Poles, available in 4, 6- or 8-person sizes, were designed and tested to withstand harsh Alaskan elements. Fierce winds, excessive moisture and extreme temperatures won't faze this rugged tent. I would recommend this tent to avid campers depending on their tent to stand the test of time. No-See-Um mesh screening, storage space and built-in cupholders are added benefits that you won't be able to live without after a trip in this tent. MSRP: $349.99-$549.99 at Cabelas.com.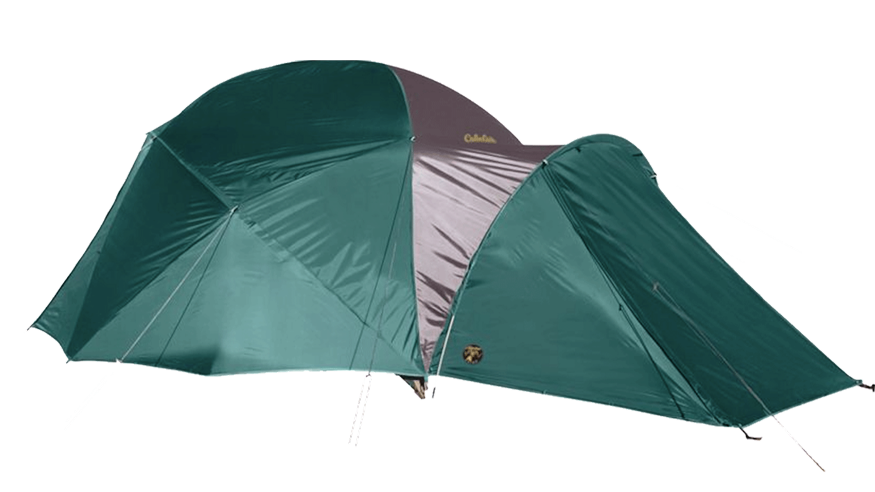 6. Portable Grill
If you're camping in a dry, grassy, leafy or remote area with no time to create a safe fire pit, this sturdy and versatile Everest Two Burner camp cooking system from Camp Chef will allow you to immediately start meal prep safely off the ground. The included grate will keep a skillet or kettle level so your cooking possibilities are endless. Windy conditions don't stand a chance against the powerful propane fueled burners and included wind screen. With a locking lid and convenient carrying handle, this grill goes where you do! MSRP: $148.00 at Campchef.com.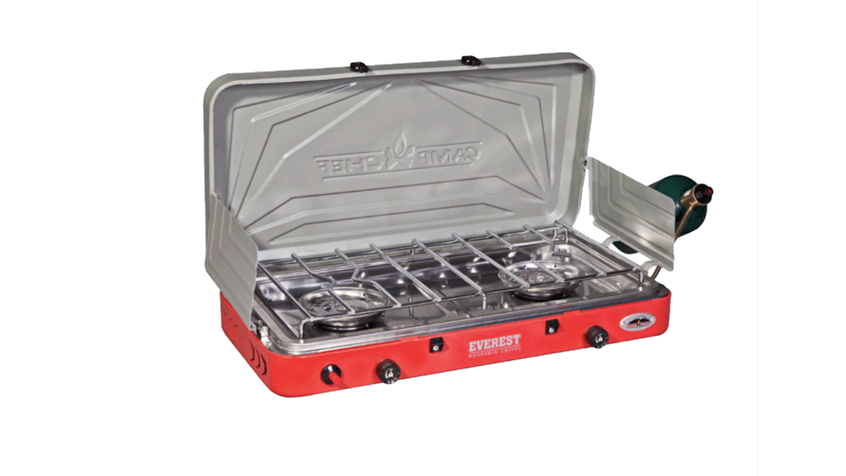 7. Sleeping Bag
The summer sleeping bag is an underrated item. You might think, well I have a -20°F rated sleeping bag and if I get hot I'll just unzip it! But nothing will change your mind like waking up stuck to a sweaty fleece lining. A sleeping bag rated for summer temperatures will be lighter, more breathable and altogether more comfortable. Packing an unnecessarily bulky sleeping bag also takes up extra room that might be better used for seasonal essentials like bug spray and sunscreen. The Marmot Always Summer 40°F Sleeping Bag is extremely compact and features a dual zipper system that allows for more ventilation on particularly warm nights. MSRP: $202.00 at Marmot.com.
8. Backpack
Camelbak's water reservoir technology is coupled with breathable fabric and adjustable straps to create the ideal hiking backpack. Having access to water throughout your hike to base camp will have you hydrated and ready to set up a tent once you get there. There's also room for your Pelican water bottle if you intend to cover major miles! The Women's Daystar 16 Hydrating pack was designed specifically for a female frame with slighter shoulders and a longer torso. That means no more too-wide straps slipping off your shoulders. You can fill this 16-liter bag with all of your essentials, and maybe some non-essentials (I'm looking at you, screw top bottle of cabernet)! MSRP: $90.00 at Camelbak.com.