Ruger makes some terrific firearms that are handy, reliable and modular, including the 10/22 rimfire rifle, the Mark IV .22 LR pistol and the PC 9 pistol-caliber carbine. This modularity allows for various parts and pieces to be traded out without the need for a gunsmith to grind them or fit them into place (also known as drop-in components). Because these Ruger models are so popular, several companies produce a variety of aftermarket components and upgrades for those who are looking to personalize their favorite platform.
One manufacturer that makes high quality upgrades for Ruger firearms, and other brands as well, is Tandemkross (TK). TK got its start back in 2012 when Bryan Haaker and Jake Wyman stepped out of software development into firearm components design and manufacturing. They were dissatisfied with the lack of quality upgrades for their preferred rimfire platforms. Applying the same problem solving skills inherent in developing software, the TK team has worked hard to resolve the shooting concerns of its customers by providing innovative solutions. Their catalog of components has steadily grown to include trigger systems, sight sets, magazine modifications, charging handles and tools for over a dozen different platforms including the Ruger models mentioned here.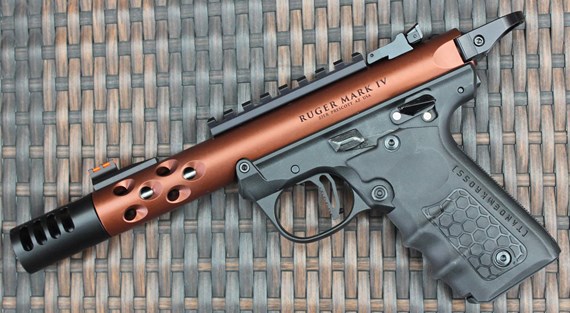 I learned about this company about three years ago while building a souped-up Ruger 10/22 Takedown at home. TK's CNC machined bolt assembly, extended magazine release and easy to use oversize take down screw were additions that elevated the rifle build nicely. Later that year, when I was looking to dress up a Ruger MK IV 22/45 Lite .22 pistol in competition togs, I found TK offered a complete set of upgrades that were just what I was looking for.
This year TK has released a new set of parts for the Ruger PC 9 pistol-caliber carbine. This compact rifle is, in many ways, a Ruger 10/22 Takedown that's been beefed up to fire the 9 mm semi-automatic pistol cartridge. It's become a popular option for casual plinking, home defense and competition with those who already enjoy shooting 9 mm pistols. Thanks to a pair interchangeable magazine well inserts, this rifle can use either Ruger's SR9 type magazines or Glock pistol magazines.
The PC 9's barrel assembly can be twisted out of the receiver with the flip of a switch. This essentially breaks the rifle in half for easy storage and transport. The version shown here (#19115) features a full length AR-15 style hand guard that allows for the attachment of a variety of accessories including bi-pods, lights and laser sights. It ships with a reversible charging handle, scope rail and stock spacers.
Overall, the PC 9 is a rock solid option as-is. But the TK team knows how to give a rifle more of the features folks are looking for along with a personalized look. Whether you choose to install TK's upgrades yourself or hire a local gunsmith to do the work will depend on your skill level. Hobbyists who build AR-15s and Glock-type pistols at home should be able to make the changes themselves using the instructional videos TK provides online. If you're not an at-home builder, then seeking out professional assistance is a good idea.
Preparations for installing the new parts include separating the rifle, removing the factory installed rifle sights from the barrel assembly and the shoulder stock from the receiver. Make sure to hold on to the two original stock screws because they  will be needed to install the chassis system later on.
Some of the TK components shown here are sold as kits while others can be purchased as standalone parts so that customers are free to pick and choose which ones they prefer. The upgrades for the external controls are designed with competition in mind, making the rifle easier and faster to operate under pressure. They also contribute to ease of use if the PC 9 is staged for home defense. The aluminum components are available in a matching black anodized finish or the bright red options shown here.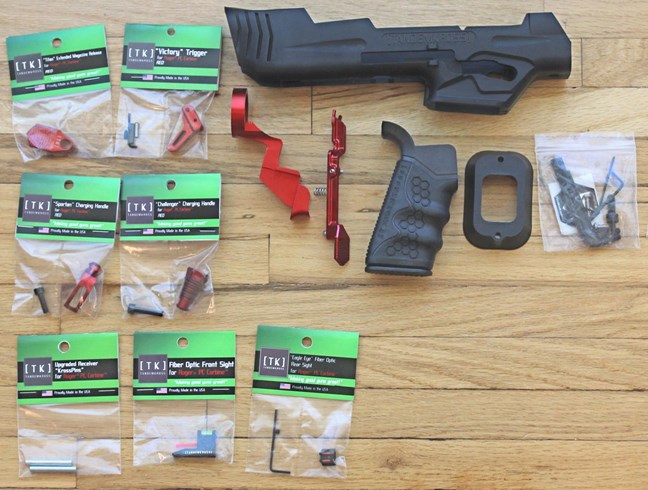 Inside the receiver, the factory support pins were replaced with a tighter fitting set of Upgraded Receiver KrossPins. The Upriser Chassis System was used to replace the shoulder stock. The system includes a polymer chassis to hold the receiver, an aluminum stock and grip adapter to support an AR-15 style adjustable stock (not included) and the provided hiveGrip rubberized AR-15 type pistol grip. The kit also includes a flared magazine well adapter and an extended right side aluminum magazine release lever.
On the right side, the factory charging handle was replaced with TK's oversized aluminum Challenger model which has a rubber banded grip surface. The curved trigger was replaced with TK's flat faced, skeletonized aluminum Victory Trigger. The straight profile and squared off edges of the trigger make it easier to feel if the pad of the trigger finger is properly placed.
The stock and grip adapter is available in a straight configuration or with a 12-degree cant. I opted for the 12-degree drop that tips the shoulder stock downwards in order to bring the sights or scope up higher making them easier to see. It's more intuitive to use and you don't have to tip your head down as far to form a proper sight picture.
TK offers the basic, budget friendly RIM/Edge AR-15 Collapsible Buttstock and Buffer Tube assembly. But I opted to upgrade to Luth AR's eye catching scalloped carbine 6-position buffer tube outfitted with that company's MBA-3 shoulder stock. I like working with this stock system because it's light weight and offers an adjustable cheek riser.
The peep sights were replaced with a set of Eagle Eye Fiber Optic sights. A bright green fiber optic in the front sight is paired with two red fiber optics set in the rear sight in order to form a 3-dot sight picture. The rear sight uses the factory installed base which allows for height and windage adjustments.
Because of the way the PC 9's reversible charging handle is configured, it's possible to install handles on both sides of the bolt assembly at the same time, if you so choose. TK's Spartan Charging Handle is shown here on the left side of the receiver along with the Titan Extended Magazine Release.
The old saying is that the third time's the charm. But I've liked the results with all three Ruger models I've tricked out with Tandemkross components. The upgraded Ruger PC 9 looks sharp and handles nicely, just like the 10/22 and MK IV that received the same treatment. If you're looking to dress up one of your favorite firearms, Tandemkross offers top quality components at fair prices. For more information, visit tandemkross.com.
Project Specifications:
Base Rifle: Ruger PC 9 Carbine (19115) MSRP: $729
Tandemkross Components:
UPRISER Chassis, Red Highlights (TK28N0370RANY) $209.98
Eagle Eye Fiber Optic Sight Set (TK28N0392BLK1) $59.99
Spartan Charging Handle, Red (TK28N0374RED1) $24.99               
Challenger Charging Handle, Red (TK28N0365RED1) $24.99
Upgraded Receiver KrossPins (TK28N0331SSL1) 2-Pack $9.99  
Titan Extended Magazine Release, Red (TK28N0349RED1) $29.99
Victory Trigger, Red (TK28N0301RED1) $54.99
RIM/Edge AR-15 Collapsible Buttstock and Buffer Tube $29.99
Luth-AR AR-15 Components:
Buffer Tube: Scalloped Carbine 6-position, Commercial $28.95
Shoulder Stock: MBA-3 Fully Adjustable 6-Position $159.95