by
posted on June 2, 2023
In honor of National Trails Day—the first Saturday in June—follow these smart hiking tips so your enjoyable outdoor adventure does not turn into a rescue operation. There are several ways to be prepared along the trail, whether you are going on a short, day hike or taking an extended backpacking trek.   
Any short hike is a day hike. This can be anywhere from a few feet away from a parking lot along a short trail, up to several miles. Day hikes are not overnight camping trips. Anything you do in one day is a day hike. In other words, you can do multiple day hikes in one day.
Extended backpacking treks can last two or more days in the backcountry. The same rules that apply for a day hike apply for extended backpacking trips. The difference is extended treks have additional safety precautions.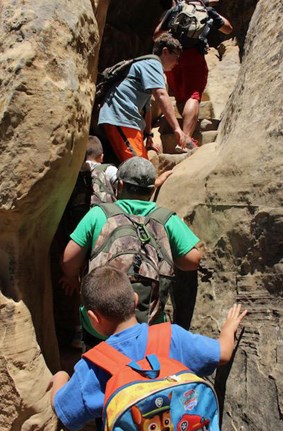 Day Hikes
The first thing you need to do is learn about the area you will be hiking, as well as any potential threats. Threats could be anything from wildlife to extreme weather to the geographical landscape including steep descents, streams or water crossings, or any other potential hazards. Also be mindful if you have a medical condition, research the area ahead of time to see if there are any identified strenuous hikes that could exacerbate a medical emergency.
Always leave a hiking plan with someone, telling them where you are going and when you should return, especially on extended trips. No matter which type of hike you choose, always hike in groups and remember you are only as fast as your slowest hiker, never leaving anyone behind.
Technology is a great thing, when you not only have cellular service, but know how to use the technology as it is intended. There are a lot of great apps that go along with your destination. Many state and national parks have their own apps, and they are a great tool if you know how to use them. Many of these apps download to your device so you can use them when in areas without cellular service. Take advantage of these tools ahead of time if you plan to use this technology, so you have it ready to go upon arrival.
On your day hike, always bring a "day pack" or a small backpack on your hike. No matter how short you think your hike will be, always be prepared if things don't go as planned. Having extra water, a few protein bars, trail snacks, and a rain poncho are some basics to have with you along the trail. Have a small first aid kit to include bandages, moleskin for blisters, antibiotic cream, and medicine for allergies.
Plan your hike after early morning hours and before late evenings. Depending upon where you are hiking, there may be large wildlife predators present in the area, and this is usually the time they are most active. Always hike in groups of two or more for safety.
Stay on designated trails. If there is something you want to see that is off the trail, and it is permitted to go there, you should practice the theory of "soft paths." If there is no path, walk where you will make the least impact. If you are with a group of people, spread out so everyone is not walking along the same path and beating down the vegetation.
Extended Backpacking Treks
Building upon the tips when day hiking, there are additional things to consider when planning a longer adventure. A hiking backpack is much larger than a day pack and is designed to be lived out of for several days, weeks or longer. Make sure your pack is properly fitted to your body.
One of the lifelong leading experts in backpacking, Sandy Truxillo, said the secret to successful backpacking is, "if you watch the ounces the pounds will take care of themselves." That means that when you are packing for an extended trip, look for items that have dual purposes. Any package that comes in multiple quantities, take the outer packing or wrapping off. For example, a box of granola bars may have 12 individually wrapped servings in a box. Instead of taking the entire box in your backpack, take the 12 granola bars out of box. That empty box may not seem like a lot of weight, but when you multiply that by several other similarly packaged items, these extra ounces quickly add up to a pound or two. This also reduces extra trash you won't have to pack out.   
Always pack a flashlight or headlamp that is charged or has new batteries. It is always a good idea to have a current "paper" topographical map of the area you will be hiking, and a compass. Know how to read your map and use your compass. Always hike in groups of three or more, in case someone is hurt, one person can stay with the injured hiker and the other can get help.
If you are hiking in bear country, make noise when on the trail. Talk with others in your group in your normal voices. Screaming, hollering or yelling can actually attract wildlife predators because those sounds duplicate something in nature that is injured or wounded. Gear is usually divided among the group and hanging pots and pans from your pack should generate enough noise along the trail. Always use refillable water bottles and have something for water purification such as iodine tablets or chemical additives, or a filtration system.
Be familiar with the rules, regulations, and laws in the area regarding camping locations, ground fires, and collecting wood. Always pack out what you pack in, including trash, damaged gear, or following the requirements in some locations, human waste and toilet paper. When in bear country, hang bear bags in areas needed or use designated receptacles for food items and other smellables while camping. When cooking meals, minimize the aroma. For example, no frying bacon in the backcountry to attract wildlife. If you can smell it the wildlife, predators can too! Limit your activities to early in the mornings and late in the evenings since these are the times dangerous wildlife is most active. If you have to move around during these times, always take a buddy and keep your head on a swivel looking out for any potential encounters.  
The only thing that goes in your tent at night is you, your sleeping bag, and a change of clothes. Never bring any "smellables" into your tent, especially food. Other items such as shampoo, soap, lip balm and even water bottles attract wildlife. Make it a rule to never ever, ever leave your tent without shoes on. You may be 20 miles deep in the backcountry, and the most important thing you need to protect is your feet! You don't want to step on something to slice open your foot, and be miserable or worse, end your trek. Always wear appropriate footwear while hiking.
The last thing to remember anytime you are outdoors: Stay Hydrated! Dehydration causes more issues with hikers than everything else combined. The rule of thumb is to drink before you are thirsty. If you get thirsty, you are already starting to get dehydrated. A final quote from Sandy Truxillo is, "water is for drinking, not carrying!"
Happy Trails!