by
posted on February 22, 2022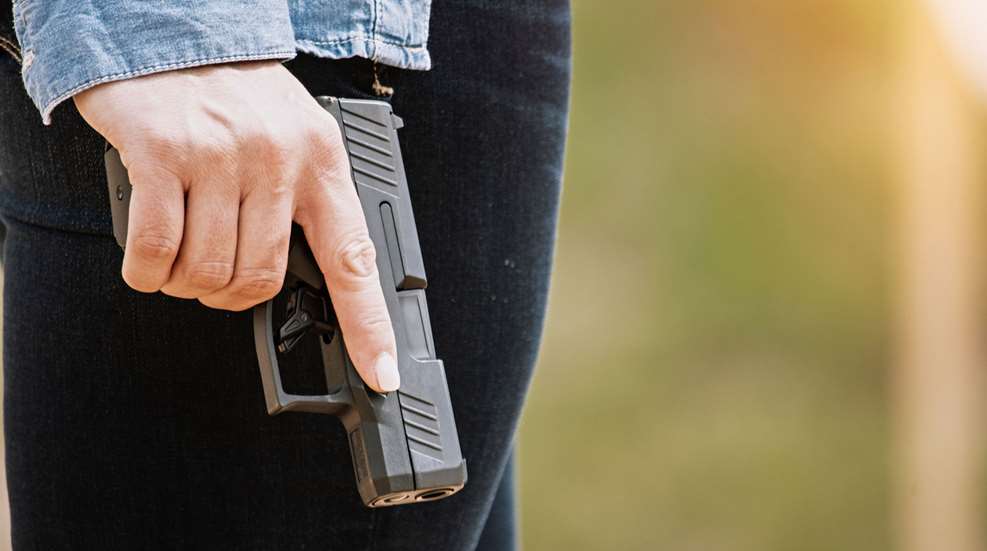 In 2021, several gun companies launched new concealed-carry 9 mm pistols that fall neatly into the "Micro Nine" category. What exactly is a Micro Nine? Why are folks excited about them, and would one of these guns be a good fit for your self-defense needs? Let's take a closer look at this category of carry gun and see what it has to offer. 
The Micro Nine Footprint & Ammunition Capacity
When it comes to concealed-carry guns that are toted around all day, every day, size matters! For years gun makers have been striving to give polymer-framed, striker-fired 9 mm pistols a just-right balance of footprint, weight, ammunition capacity and features to capture as much American holster space as possible. 

It's likely that the Sig Sauer P365 kicked off the current Micro Nine trend. 
One of the earliest successes at trimming polymer pistols to a more concealable size was the Glock G26, launched in 1994. It is 6.5" long, 4.17" tall (with a flush-fit magazine), the slide is 1" wide, it weighs around 22 ounces and it takes double-stack magazines that hold 10 or 12-rounds of 9 mm ammunition. This gun pretty much set the standard for sub-compact polymer pistol dimensions that still holds sway today. 
But the G26 and similarly sized sub-compact guns were still a bit too chunky for some folks. They were looking for something a bit slimmer and trimmer but not as small as a .380 pocket pistol. This led to the rise of a variety of sub-sub-compact single-stack 9 mm polymer pistols with more slender grip frames and shorter slide assemblies, including the Springfield XD-S Mod.2 OSP, the Smith & Wesson M&P9 Shield EZ and the recently released Savage Arms Stance. 

The Springfield Armory Hellcat keeps the Micro Nine ball rolling. 
Single-stacks are more comfortable to carry and often weigh less than sub-compacts. But the trade off with these guns is a reduced magazine capacity of 7 or 8 rounds instead of the 10 to 12 rounds the sub-compact double-stack magazines can provide. And some single stacks, in an effort to be more pocket pistol-ish, have more simplified features than Sub-compacts. 
Although there were similar 9 mm pistols that arrived on the market before it did, it seems most likely that the current Micro Nine trend was kicked off by the release of the SIG Sauer P365 in 2018.  Its 5.8" long, 4.3" tall and 1.06" wide with an unloaded weight of 17.8 oz., making it noticeably smaller than a sub-compact. But modifications to the magazine and grip allow it to use 10- or 12-round magazines while keeping the grip slim and comfortable. It also embraced "big gun" features including metallic night sights, front and rear cocking serrations, comfortable controls and (eventually) red dot optics. It sold like hot cakes that were going out of style along with informally setting the size, features and ammunition capacity standards for future models.  

The Kimber R7 Mako, the company's first polymer-framed striker pistol, was designed to fit the Micro Nine mold.  
The P365 was soon followed by Springfield Armory's Hellcat pistol, which was released toward the end of 2019. If not for the shake-ups caused by the Covid-19 pandemic, including lock downs, factory closures and record high demand for guns and ammunition, it's likely that 2020 would have been the year that Micro Nines really gained traction instead of 2021. 
More Models to Choose From
Diversification is always a plus for enthusiasts. The Micro Nines still have a way to go before they catch up with the broad selection that compact and sub-compact sized pistols have to offer. But there's still a solid selection to work with these days,  including the Kimber R7 Mako, Mossberg MC2sc, Ruger Max 9, SCCY DVG-1, Smith & Wesson M&P 9 Shield Plus, and the Taurus GX4. These are well known manufacturers that offer a host of popular features with suggested retail prices ranging from around $370 to $600.   

The Mossberg MC2sc ships with one shorter flush-fit magazine and an extended magazine that holds more ammunition and provides a finger rest. 
Grip Shape
One of the things I like about the Micro Nines is the "Goldie Locks" grip shapes they have to offer. Sub-compacts can have brick-like blocky grip profiles that don't fit smaller hand sizes all that well. The single-stacks are much slimmer but sometimes those slender grips can hit into the web of the thumb like a karate chop when the gun is fired. 

The Ruger Max 9 is outfitted with night sights and an optics-ready slide. 
But the Micro Nine grips tend to be just right; not too bulky but hand filling enough to help manage recoil more comfortably. Whether or not the grip is long enough to support the little finger of the shooting hand depends on the model and an individual's hand size. Most of the pistols that do have shorter 2-finger grips are usually available with extended magazines either provided with the gun or as an aftermarket accessory.  

The SCCY DVG-1 is available with or without a factory installed red-dot optic. 
The 9 mm Cartridge & Felt Recoil
There was a time when the 9 mm pistol cartridge was considered merely adequate for self-defense. But during the years that I've been keeping an eye on the defensive handgun market, the 9 mm has moved up from being a 2nd class citizen to become one of the top options for military, law enforcement and civilian applications. This is due in part to millions of R&D dollars spent on fine tuning defensive 9 mm bullets to expand reliably when fired from pistol-length barrels, including the shorter barrels often installed in Micro Nine platforms. It's quite possibly the most popular cartridge in the U. S. these days, which means practice and premium grade ammunition is diverse, relatively affordable and kept in stock around the country. A Micro Nine loaded with between 10+1 to 14+1 rounds of top quality ammunition is a close-quarters force to be reckoned with. 

This latest version of the popular Smith & Wesson M&P Shield, called the Shield Plus, ups the capacity from 7- and 8-round magazines to 10- and 13-round magazines. 
However, Micro Nines do come with a notable drawback: potentially snappy levels of felt recoil. Much like their similarly sized single-stack compatriots, these little guns can be a handful, especially when using hotter ammunition or higher pressure +P ammunition. Recoil can be managed with ammunition selection and using a grip configuration that supports all of the shooting hand fingers properly. If a Micro Nine still feels like it's developing too much recoil for reasonably comfortable practice sessions, then switching up to a larger sub-compact or compact model may be the way to go. Whenever possible, borrow or rent a gun at a shooting range to try it before you buy it.

The Taurus GX4 is available with either a more affordable plain slide or a T.O.R.O. optics-ready slide for those who wish to use a red=dot optic.