It's that time of year again … hunting seasons are ending. This is when you put away your hunting gear, accessories, decoys and calls. The last items hunters usually put away are their rifles. For many hunters, once their firearms are put away, they do not see them again until hunting season comes back around the following year.
Unfortunately, many hunters pack all of their equipment into the garage to be forgotten until next year. Firearms are often treated no differently. This is the one piece of equipment that should never be neglected when the season is over. The worst thing you can do is lock your rifle away without preparing it for hibernation.
The off-season is the time to get repairs and tune-ups on hunting equipment so that it is ready to go when needed. Your hunting firearm is no different. There are five things you should do before saying goodbye to your firearm for the summer—range, clean, tighten, repair and store.
Range
Hunters usually go to the range before hunting season starts, not after the season is over. Putting your rifle away for the season without checking to make sure it is still sighted in is like putting a piece of machinery away without knowing if it is good working order. Additionally, by going to the range after hunting season and before storing it for the following season, you are checking the zero in the same conditions you hunt in—cold and wet.
By checking the zero between your rifle and scope, you are evaluating the overall condition of your rifle. You want to know that when you put your rifle away for the season it is sighted in. This way when you take it to the range prior to the following season, you'll save a ton of time.
Additionally, if you take it to the range before the following season and you are not getting a good grouping even though you checked it prior to storing it, you may need to get an eye exam. Vision problems that you may not be aware of can cause safety issues with a firearm. You need to be able to confidently identify your target. Your rifle could signal natural vision decline if you've been slacking on regular exams! Imperfect vision can result in wounding or losing that buck of a lifetime, so make sure you're sighting in your rifle at the end and beginning of every season.
Clean

Give your hunting rifle a thorough and proper cleaning before storing it for the season. That means using the right tools, solvents and oil. There are no shortcuts to proper rifle cleaning. When a cartridge is discharged, powder residue and particulates from the ignition process remain in the firearm. This residue can affect accuracy and cause malfunctions by gumming up the action. In semi-automatic rifles, this can cause feeding problems, stove pipes and double feeds.
Residue also attracts moisture. Moisture on a gun or in the barrel equals rust. Rust can lead to pitting. I have seen very expensive gun ruined because their owners were too lazy to clean the rifles themselves, or they did not want to invest the time or money to pay someone to properly clean it for them. Take care of your firearm and it should perform as expected for years to come.
Tighten
There are many fasteners on your rifle that needs to be checked before storing your longarm. Sometimes abrupt changes in temperatures can cause screws to loosen. Waking up in a warm hunting cabin and then walking out in freezing temperatures can cause screws to loosen because of the expansion and retraction of metal parts.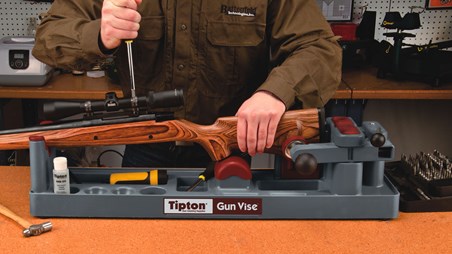 Pay special attention to the scope mounts. Before and during hunting season, the gun range is full of individuals struggling to get a good grouping of their shots. Upon further investigation, they inevitably discover that their scope mounts are loose. It is very important to make sure that your scope mounts are torque to the correct pounds or at least make sure that they are tight. You can find out what the correct torque of your scope mounts are by contacting the manufacturer.
Do not forget to check your sling screws and mounts as well. Loose screws on sling mounts can cause serious damage to your firearm and safety hazards if they come apart while walking with a slung rifle. Forearm band screws, stock screws and floor plate screws also must remain tight. These screws should be inspected and tightened before you put your rifle away for the season.
Repair
The off-season is the ideal time to take care of any necessary repairs. All repairs should be made by a qualified gunsmith. If you attempt to make the repairs yourself, make sure not to perform any that exceed your knowledge or skills. These fixes will ensure you are that much more prepared for opening day. Immediately taking care of any repairs also prevents you from forgetting when your firearm is stored away for months. Chances are if you wait, you will not have your favorite deer rifle back in time for opening day.
Pay close attention to the firearm's safety. My students and I put a lot of rounds through the firearms I teach with in my NRA Basic and Instructor classes. I have had to have the safeties repaired on several guns. Make sure that there is not excessive play in the travel of the safety. Also, make sure it stays in the "on" position when it is activated.
If you have a free-floating barrel, be sure to give it an extra look. Take a dollar bill or piece of paper and let the barrel rest in it to form a "U." Next, slide the dollar bill or piece of paper towards the butt of the stock. The "U" should slide unimpeded all the way, between the barrel and the fore-end to the receiver. If it does hang up, the barrel or fore-end needs servicing.
Also keep an eye out for weak magazine springs that can cause feeding issues. Check the bolt to make sure it locks into battery. There could also be a damaged firing pin, trigger issues or broken sears. In other words, make a thorough inspection of your rifle and address any issues immediately so that it is in good working condition before you put it away for the season.
Store
Your hunting rifle needs to be stored in a secure location that is cool and has low humidity. Always store your rifle separate from ammunition and where unauthorized individuals cannot access them. Ideally, your firearms should be stored in a gun safe on an interior wall of a climate-controlled building.
Properly storing your firearm also ensures that it is not damaged during the off-season. A secured location can prevent your rifle from being knocked to the ground and prevent damage to the stock, barrel and sights. I know when I place my rifle in the safe, after sighting it in post-season, that it will still be sighted in when I take it to the range ahead of the following season.