You already know how important it is to clean your firearms to keep them in good working order. The process is a little different depending on whether you're cleaning a handgun, rifle or shotgun ... and then, of course, from gun to gun. When it's gun-cleaning time, avail yourself of the manual that came with your gun, your essential cleaning materials and, of course, this handy list.
Pistols
Pistols are generally most easily cleaned by removing the top or slide of the pistol from the lower or frame and grip. For a revolver, you're going to open the cylinder and clean the bore and cylinder.
To clean a pistol:
For a quick cleaning, like during an important match, I will take off the slide and wipe it down and re-oil. I do this every day in a big match in order to remove accumulated carbon and make sure the gun can run without carbon or dirt affecting its performance.
make sure the gun is empty
clean the bore and/or barrel
clean the frame /slide (in a revolver: the cylinder /action)
re-oil the gun (contacting surfaces of slide/frame, and as per manufacturer's instructions)
Shotguns:
Cleaning a shotgun is pretty simple. One tool I would suggest that you use is a jig for cleaning the magazine tube. This has rubber O-rings around it and acts like a squeegee in your shotgun tube. Depending on the make and model of your shotgun—and where you take it—rust inside the tube can be a real concern. (Always be sure to dry your shotgun after waterfowl hunting or getting it wet.) Running a patch or scrap of paper towel down the tube with the aforementioned jig will give you a way to thoroughly dry that tube. It will give you some cringe-worthy patches, if you've never cleaned your shotgun tube.
To clean a shotgun:
For most shotguns, you will take the magazine tube cap off, then remove the forearm and barrel. Taking the follower out of your magazine tube and cleaning that is a good habit for hunters and competitive shooters. If your action needs more cleaning than just wiping it out, there is generally a pin (or two pins) that you will punch out, and the entire trigger group will drop down and you can wipe it off, as well as wipe out the action. Note: Always wear eye protection when taking a shotgun apart, as the mag tube spring can pop out when you take the tube cap off!
make sure the gun is empty
clean the bore /barrel
clean the action
clean the tube and follower
re-oil the gun (contacting surfaces of the bolt and action, and a light coating on the magazine tube, as per manufacturer's instructions)
clean your choke and choke threads, and oil your choke before you replace it
Rifles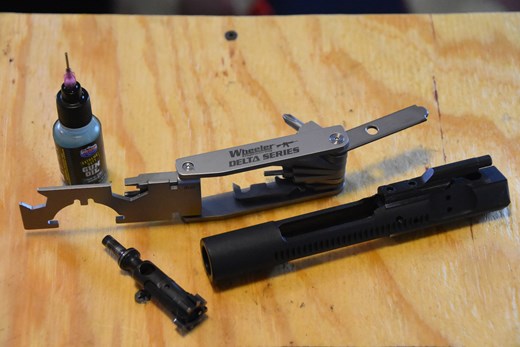 Cleaning an AR-style rifle is easy! An AR format rifle has two parts: an upper and a lower. To disassemble, you push the take-down pins out (they don't fully remove, but stay pushed out to one side), and then you can pull the upper and lower apart.
To clean a rifle:
make sure the gun is empty and the bolt forward
push the take-down pins out and separate the upper and lower
clean the bore / barrel
clean the chamber and barrel extension
clean the action
clean the bolt and charging handle
re-oil the gun
For me, the first step is to wipe/brush/spray out the the action. Then I clean the bolt and set it aside. I will use a chamber brush to clean the chamber and locking lugs, then spray some solvent down the barrel. Next I'll use a foam disc shaped to fit around the locking lugs and clean that area of the barrel extension. I will pull a cleaning brush through the barrel, check that the muzzle brake is clean, and the last step is to oil and reassemble.
Oil it Up!
Once all the old oil, dirt, and carbon are removed, re-oil the gun. You can find YouTube videos on how to oil just about any firearm out there. Remember not to use too much; a light coating is the best. If you add too much oil, the carbon from firing rounds mixes with the oil and makes a sludge that can impede the function of your gun.
Adding more oil is okay if you shoot and the gun seems dry. You do not want a dry gun. The right balance of oil also means using the right type of oil. Sprays like CLP and light oils are often going to burn off in something like your AR. A heavy oil can slow your gun in extreme cold. There is even odorless oil for hunting! Guns that are very tight-fitting might need a light oil. For some of our guns that have tight tolerances, we mix a light oil with a regular oil to get something that works well. Be sure oils that you wish to mix are compatible and won't react and gum up your firearm.
Clean and Ready
The choice to have a home-defense or personal defense gun is a big step for some people, but it's only part of what gun ownership entails. Owning a firearm means that you will likely do some work on your home-defense plan, have magazines and ammo to use with the gun...you will train with your firearms, and properly maintain them. That work means that you have taken on a lot of personal responsibility to provide for you and your family's safety. Good work!