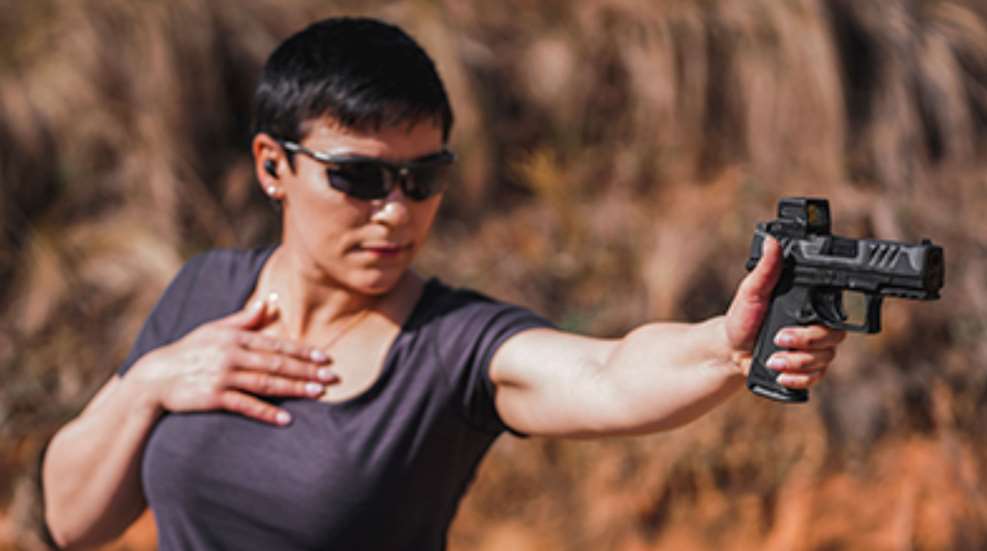 Women are winning, at least when it comes to handguns. We get more proof of this each time a new model that contains features women appreciate is introduced, whether it's a slide that's easy to manipulate, has manageable recoil, a great trigger, or a combination of all of those and more.  Another way we know it is when a gun designed and built for women becomes the subject of the cover story for NRA's flagship publication, American Rifleman.
It hasn't been an easy road, and it's taken some time to arrive at the realization that many of today's handguns are considered  "good guns for women." After all, men have been pondering the "what to women want?" enigma since the beginning of time. (Why didn't they just ask us?) And let's face it, most handguns have been designed and built by men, for men—and their man-sized hands. Our mantra at NRA Women has and always will be what is "right for you" is a good gun. But it's encouraging that gun makers are now thinking, and acting, on those thoughts.
So how does a gun manufacturer show it cares—no, I mean really cares—about what women shoot? No more "shrink it and pink it"; that's so 2000's. Small and lightweight with punishing recoil? No thanks. How about a double-action revolver with a trigger pull so heavy that most women in our Ladies Pistol Project 1 couldn't even work it? No sir, no, thank you.
How a gun maker really shows its sincerity in advancing the women's gun market is to actually just figure it out, starting with the physiology of an average woman's hands, and building a gun around the hand, not the other way around. And that's exactly what Walther did when it designed its first gun specifically for women, the PDP F-Series.

Team Walther's Gabby Franco, left, collaborated on the PDP-F project with Walther.
If the model of this gun sounds familiar, it should. It was the Walther PDP Compact model that just earned a 2022 Golden Bullseye for Handgun of the Year from NRA Women. It reviewed so favorably in Ladies Pistol Project 4 rankings that it was easy to call this a great gun for women. So what exactly makes this newer model so different that it deserves further accolades? We want you to read the feature story by NRA Women Editor-in-Chief Ann Y. Smith, along with engineering analysis by Editorial Director Mark Keefe, on AmericanRifleman.org. But here's a little teaser:
Remember that first question in our Ladies Pistol Project: Can I easily reach the trigger? Overextending the index finger to reach the trigger on any gun can lead to taking bad shots. But it's a fact that women, on average, have shorter fingers than men—an inconvenient truth that Walther was willing to address. Instead of the obvious solution arrived at by some gunmakers, which is to just make the entire gun smaller, Walther had a different idea: If she can't bring her finger to the trigger, let's bring the trigger to her finger. It is a solution as logical as tailoring pants or jackets that are a little too big, yet one that so far only Walther has considered important enough to invest in.
Walther didn't stop there in its F-Series reduction theory. In fact, Tatiana Whitlock says the PDP F-Series was specifically engineered from the ground up with all of the same features of the PDP, but tuned specifically for the contours of a woman's hand, increasing a woman's ability to utilize the firearm without having to make adjustments.
Along with a 20 percent reduction in slide force—yes, you will notice this immediately—Walther also completely re-designed the grip, which was altered to match a woman's hand. Whitlock, who acted as a consultant during the re-design process, says, "It's not only an intuitive grip, it's an intelligent grip." Whitlock explains that altering the grip angle results in a straight grip, which translates to a higher purchase, thus better mitigating recoil. Ultimately, the grip circumference contributes to a much-improved reach to the trigger, which allows contact with the front, flat face of the trigger, she said. "This means we no longer have to adjust our grip." That in itself is a game-changer for women who struggle with grip size and shape.
There is a lot more to learn about this new model in Walther's PDP Series, including how Walther measured and compiled data points from the hands of thousands of women to arrive at the sweet spot for both the grip and trigger reach. While Walther has had something of a following by women anyway in its CCP and PPQ models, NRA Women should be elated that Walther didn't take any shortcuts in its first specific outreach to women in the PDP F-Series.