by
posted on August 18, 2021
The 2021 NRA Women's Leadership Forum Online Silent Auction is a treasure trove of unique guns, gear and gifts ... and this Axis Deer Hide Weekender bag, generously donated by Shopping With Siobhan, is a standout gem in the trunk! Perfectly sized for an NRA Woman's weekend plans—whether those include travel, hunting or both—this hair-on-hide bag is irresistible.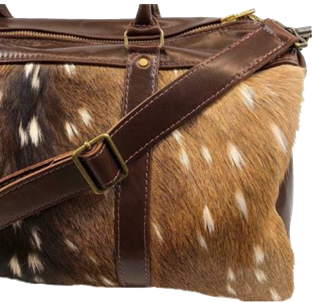 Naturally, the standout feature is that gorgeous Axis deer hide. This exotic leather is professionally tanned, and adorns the Weekender both fore and aft. Of course, the unique nature of animal hide makes this bag one-of-a-kind, but we're guessing you'll stand out in any crowd with this tote on your shoulder or in your hand. The top, bottom, rear and forward parts of the bag are constructed of tough, top-quality cow leather, beautifully finished with brass fittings and a YKK zipper. 
This is just one of the awesome items available for bidding at the Women's Leadership Forum Online Silent Auction! There are guns, jewelry, home goods, gear, concealed carry purses and even some ammo ready for the taking. Find the Online Silent Auction here to preview the items (new items added every day!) and register. Click here to purchase tickets to the event. The 15th Annual NRA Women's Leadership Forum Luncheon & Auction will be held on Friday, Sept. 3, 2021 at 9:30 am CDT to 1:30 pm CDT at the Marriott Marquis in Houston's Ballroom.