by
posted on July 27, 2020
If you have made the decision to carry your firearm on your body, selecting the right holster is one of the most important decisions you will make as a concealed-carry practitioner. Not only must the holster properly fit your gun, it needs to fit your body, feel comfortable, and be suited to your wardrobe choices. And it must instill enough confidence that you routinely strap on your personal protection gun so you are not left vulnerable when you most need it.
As with choosing the right carry gun, the search for the right holster will be a matter of trial and error, with a goal of not ending up with a box of homeless holsters. The good news is that many holster makers are taking into consideration the unique requirements of women, and we've found some that we think work with a variety of on-body carry styles. Check out this list of a few of our favorite finds.
Crossbreed's The Reckoning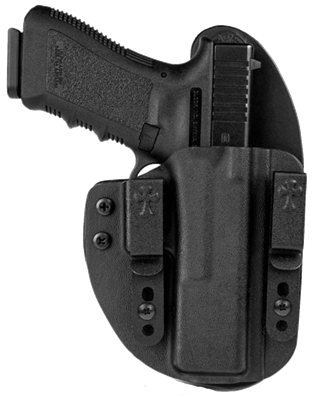 The SuperTuck IWB is the holster that put Crossbreed on the map, with an encore shortly thereafter in the MiniTuck IWB, a rig that has found popularity among women because it is sized for many of the firearms women are choosing to carry. More recently, Crossbreed's Reckoning is earning accolades, and has become a new top-seller for the brand. Not only is the holster's backing available in a choice of Crossbreed's premium leathers, it features multiple points of attachment for the Kydex pocket. There is also a retention device designed to sit directly under the trigger. The Reckoning can be worn IWB on the strong side, appendix or cross-draw positions, but the standout feature of this holster is its ability to be very simply converted to an outside the waistband holster (OWB). Slim-fit steel belt clips ensure you can wear thinner and trendier fashion belts. Purchase the Accomplice Magazine Carrier separately or as part of the The Reckoning System. $66.95-$86.95. Check out all of Crossbreed's holsters at CrossbreedHolsters.com.
Galco Stinger Belt Holster

Listed as a "Women's Top Pick" from Galco, one of the most famous names in gunleather, the Stinger Belt Holster is one to watch if you favor OWB holsters. Designed for compact and subcompact semi-automatic pistols and double-action revolvers carried on the strong-side hip, its open top and forward cant are ideal for a fast draw. Other appealing features include a covered trigger guard, deep molding and a tunnel-style belt loop that takes up little belt space. Constructed of high-quality steerhide, the Stinger is soft and supple, but has enough body to mold perfectly to your gun. Its sleek, minimalistic aesthetic makes this a discreet carry choice. $69.00. For more, visit GalcoGunleather.com.
The Sticky Holster from The Well Armed Woman

The Sticky Holster has become a staple for many CCW holders, as its versatility offers a wide choice of carry positions. Featuring a tacky—or "sticky"—backing that grips to skin, this holster relies on compression in the waistband or friction from the pocket as the retention method during a draw. While the holster is super comfortable and can be worn inside athletic wear, yoga pants, or slipped behind beltless fitted slacks, this method of carry should only be put into use by those well-practiced in drawing from this type of holster. New concealed carriers should consider using the sticky as a way to test out a variety of cants and carry positions. Once familiar with how differently this holster secures to your body, there are a number of companies that sell the original "Sticky," as well as a few copycats by other names. We think if you're going to use a Sticky, it might as well feature "The Well Armed Woman" logo. Give the Sticky Holster a try for a minimal investment. $29.95.
Dene Adams Trigger Guard and IWB Holster
A wonderful discovery of color among the sea of black Kydex holsters is the custom-molded Dene Adams Trigger Guard and IWB Holster collection. This low-profile holster sits inside the waistband and protects your trigger guard with a hard polymer cover. We, of course, love all of the fabulous designs—22 at last count. (My favorite is the Dark Spring Floral since the colors work year round!) However, the real reason to love this IWB is the versatility and custom fit offered in such a low-profile holster. The slim design sits neatly under nearly any garment, and the IWB holster itself features a "click" fit to securely hold your gun. The design comes with both a hook-and-loop strip and a belt clip, so you can choose how you carry ("both" is an option). Simply remove the belt clip, apply the hook-and-loop, and replace the belt clip over it. The IWB works with each of Dene Adams' concealed carry corsets, tanks and leggings, or it can be worn any of other of your favorite concealed-carry clothing like those from Girls With Guns and others. $79.99 at Dene Adams.
DeSantis Thigh Hide

If your wardrobe consists mostly of skirts and dresses, or you are preparing for a special night out in the proverbial little black dress, a thigh holster might be the solution to your concealed-carry dilemma. The Thigh Hide from DeSantis, made from comfortable, breathable soft neoprene, is the very definition of a woman's secret weapon. Adjustable to any leg shape, hook-and-loop straps ensure support for small semi-automatic pistols or small-fame revolvers. You can still dress to impress without sacrificing your personal security. Give the DeSantis Thigh Hide holster a try for $34.95.
Tactica Belly Band Holster 

Concealed-carry belly bands have been around for many years and have proven to be a popular concept for their convenience. Many bands, however, tend to fall short on both comfort and keeping a pistol safe and secure, even lacking adequate trigger protection. In 2019 Tactica Defense Fashion introduced an entire line of women's concealed-carry clothing and holsters, including a belly band that contains a secure, model-specific Kydex holster. A patented spring steel core reinforcement prevents it from slipping or rolling over. The belly band comes in sizes XS to XXXL (up to a 57" waist), and has become equally popular with men. Tactica's commitment to the women's concealed-carry market gave American Rifleman editors reason to award the entire line a Golden Bullseye for 2020's Women's Innovation Product of the Year. Test out Tactica's impressive Belly Band Holster for $63.99