Each Fall the National Association of Sporting Goods Wholesalers (NASGW) hosts a trade show that offers attendees a look at guns released midyear, along with others slated to start shipping in time for the holidays. Here's a closer look at just a few of the new guns that we can look forward to seeing on dealer shelves soon.
American Tactical Alpha & Omega Light Weight AR-15s
A few years ago, I built an AR-15 with components especially selected to make it light weight. The results were positive but it wasn't inexpensive. For that reason, I was a bit surprised this year when American Tactical announced that it's offering the Alpha-15, which weighs in at just 5.51 lbs., for a suggested retail price of just $499.95.  The cost and weight are both reduced through the extensive use of carbon-fiber infused polymer components, including the upper and lower receivers, buffer tube, trigger and 8" MLOK handguard. Other features include a 16" pencil barrel, polymer flip-up sights, a 6-position adjustable shoulder stock, an American Tactical 30-round magazine and an A2 flash hider. I'm quite curious to see how a gun like this will handle at the shooting range.  
The company is also offering the Omega carbine in conjunction with ET Arms Inc. of Arizona. It's built around the same receiver set and buffer tube as the Alpha but it incorporates other components such as a 15" aluminum MLOK handguard and ATI SR-1 shoulder stock for an unloaded weight of 6 lbs. at a suggested retail price of $629.95
Auto-Ordnance Custom Stainless Steel A-O 1911 Pistol
The Kahr Firearms Group teamed up with Outlaw Ordnance to design the customized Auto Ordnance A-O 1911 pistol. It incorporates a variety of upgrades that are popular with modern shooters. The frame, slide, and 5" match-grade barrel are forged from stainless steel and treated to a Savage Stainless Cerakote finish. The slide features decorative cut outs and canted cocking serrations at the front and rear. The mainspring housing and front strap feature machined 20 LPI checkering for improved purchase along with black rubber grip panels. The slide, sear, and disconnector are machined from solid bar stock and then heat treated for added durability. The gun's upgrades also include an adjustable trigger, skeletonized hammer, a full-length recoil guide rod, an extended beavertail grip safety and an oversized magazine release. This pistol is available with TruGlo day sights for a suggested retail price of $1,324 (1911TCAC6) or with night sights for $1,402 (1911TCAC6N).
Bond Arms' Stinger Double-Barrel Pistols
Bond Arms is well known for its reliable double-barrel pistols with interchangeable barrels in a variety of lengths and calibers. Available in a durable, all-stainless steel configuration that can safely handle big-bore calibers, customers have been requesting a model that's lighter and slimmer for more comfortable carry. The new Stinger line-up is the company's answer to that request.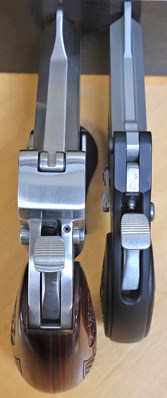 The Stinger's frame and barrel are just 0.55" wide with a grip thickness of 0.88" when the checkered composite polymer grip panels are installed. This pistol is outfitted with stainless steel controls and a slimmed down 3" tip-up barrel chambered in either .380 ACP or 9 mm. The 7075 aluminum one-piece receiver and grip frame are milled from billets, just like some AR-15 lower receivers, for an unloaded weight of just 12 ozs. The receiver is treated with a matte-black hard coat anodized finish that contrasts nicely with the natural satin silver of the stainless steel components. The .380 ACP and 9 mm models are both available with a suggested retail price of $379.
Bushmaster's New .450 Bushmaster Lite Hunting Rifle
Bushmaster International Arms is back in business this year under new management. The team has been busily working to revive a variety of the company's famous AR-pattern rifles and adding some new models to keep things interesting. One of the latest releases is the .450 Bushmaster Lite chambered in .450 Bushmaster.
"Our engineers actually designed this rifle using me and some of our other female employees as a 'model,'" said marketing manager Isabelle DeCocco. "Lifting it into my hands, I was immediately impressed with how little it weighed (let's just say that I don't work out much). The secret is our Snake Charmer muzzle device," she shared. "It reduces perceived recoil so much that we could lighten the rifle without making this gun hard to shoot."
This rifle's reduced weight makes it an ideal option for hunting deer, bear and hogs while the muzzle brake significantly reduces the levels of felt recoil produced by this big-bore cartridge. Features include a 20" barrel, 14" BFI free-float handguard, DM2S 2-stage trigger, 5-round aluminum magazine and a fixed A2 style shoulder stock for a suggested retail price of $1,329.99
Charter Arms Boxer 6-shot .38 Special Revolver
Not too long ago Charter Arms took its tried and true Bulldog frame and reconfigured it from a 5-shot .44 Spl. into a 6-shot .357 Magnum revolver called The Professional. Weighing in at 25 ozs., it's quite the handful with full power loads and a bit more gun than some folks want for daily carry. The Professional was soon followed by The Boxer .38 Spl. It has the same frame size and round count as the professional but the frame is made of aluminum instead of stainless steel. This brings the unloaded weight down to 16 oz., which is only about an ounce and a half heavier than a lightweight 5-shot J-Frame revolver. However, The Boxer is outfitted with a larger, hand filling rubber grip than most 5-shots use in order to help manage felt recoil. Currently available in an all-silver finish, The Boxer will soon be available with a rose pink anodized frame. Either color will be available with a suggested retail price of $357.
Keystone Sporting Arms Crickett Pump-Action .410 Bore
Keystone Sporting Arms has recently expanded its line-up of Cricket youth shotguns to include a series of .410 bore pump actions. Manufactured by Khan Arms of Turkey and imported by Keystone, the Cricket pumps are exceptionally light and handy thanks to an 18.5" barrel, 12" length of pull (LOP) and an unloaded weight of just 4.6 lbs. Unlike most youth .410s, which usually have a fixed full choke, the Crickets ship with a threaded muzzle that is compatible with standard Beretta choke tubes. A Modified choke is provided. Stock options include handsomely checkered Turkish walnut, or polymer stocks available in Black, Real Tree Max 5 Camo, Muddy Girl and Cerokote Pink. This pump-action is also a great fit for small-framed shooters looking for a low-recoil home-defense option. Suggested retail prices range from $409 to $469.
Legacy Sports International Light Weight Howa 1500 Rifles
Legacy Sports International imports a variety of useful hunting and sporting long guns including top notch bolt-action rifles made by Howa in Japan. This year the company will be expanding its catalog of light weight Howa 1500 models in various calibers. Among these new options is the Carbon Elevate with a listed unloaded weight of just 4.2 lbs. Available chambered in 6.5 Grendal, .308 Win., 6.5 Creedmoor or 6.5 PRC, the Elevate is outfitted with a with a feathery carbon fiber stock treated with a camouflage finish. It's also outfitted with a carbon fiber wrapped barrel, threaded muzzle, H.A.C.T. 2-stage trigger, sling swivel studs and a removable magazine. Pricing has yet to be announced. 
Mossberg MC2sc 9 mm Pistol and 590S Shotguns
O.F. Mossberg & Sons has been busy this year launching a new concealed carry pistol and a fresh take on the 590 pump-action shotgun.
The new MC2sc 9 mm pistol blends the best daily carry features of Mossberg's two previous MC pistol models. It has the shorter 3.4" barrel and reduced grip length of the MC1sc subcompact while accepting the same slim profile, double-stack magazines developed for the compact sized MC2c. The pistol ships with a flush fit 11-round magazine and an extended finger rest base plated 14-round magazine. The top of the MC2sc slide is milled to accept the smaller micro red-dot optics with a JPoint or Shield profile. The polymer frame has a comfortable grip and an accessory rail molded into the dust cover. The MC2sc can be ordered with night sights or an external thumb safety with suggested retail prices starting at $556. You can see a more detailed review of this pistol by clicking here.

The 590S Tactical 20" barrel model (top) with the 14" barrel Shockwave.
Mossberg's new series of 590S pump-actions feature an action that has been re-designed to accommodate 1¾" long mini 12-gauge shot shells in addition to traditional 2¾" and 3" shells. All three shell lengths can be loaded into the magazine in any order or combination without the risk of feeding issues. Mini shells produce lower levels of felt recoil and allow for more shells to be loaded into the magazine. The 18.5" barrel 590S models have an ammunition capacity of 5+1 when using 3" shells, 6+1 with 2¾" shells or 9+1 rounds when the magazine is filled with 1¾" mini shells.
The 590S series is launching with a total of four models. The shoulder-stocked long gun versions are available with two different types of barrels and fore-ends. Customers can choose from a brass-bead sight 18.5" barrel with a fixed cylinder bore choke and a "corn cob" polymer fore-end, or a 20" barrel outfitted with ghost ring sights, an interchangeable choke tube and an M-Lok slotted 7-sided fore-end. The other two models are Shockwave configurations with either 18.5" or 14" fixed cylinder bore choke barrels, strapped polymer fore-ends and gently curved Shockwave grips. Suggested retail prices for the 590S series range from $605 to $708, depending on the model selected. You can see a full review of the 14" version of the 590S Shockwave by clicking here.
Nosler Model 21 Bolt-Action Rifle
Nosler has taken its many years of experience in making high-grade hunting rifle loads and applied it to crafting a top-quality rifle that performs as well as its ammunition. The Model 21 bolt-action rifle is loaded out with features for improved durability and performance. They include a wire EDM machined receiver, a nitride-coated fluted bolt assembly, a self-indexing 17-4 SS recoil lug, an adjustable TriggerTech trigger and a threaded Shilen match-grade stainless steel barrel with a recessed crown. The McMillan carbon-fiber stock is both strong and light weight for easy carry in the field. The M21 rifle is available chambered in 12 different calibers, ranging from the .22 Nosler to 375 H&H Mag., with a suggested retail price of $2,795.
Polymer80 AFT Pistol Build Kits
Putting together your own polymer-framed 9 mm pistol at home can seem like a daunting task if you haven't done it before. But Polymer80 is making it much easier for the first-time builder to give it a try with its new standard-size PFS9 and PFC9 compact pistol AFT kits. Named after one of President Biden's many public speaking gaffes (he referred to the ATF as the AFT), these pistols are based on the popular Glock Gen3 pistol design. The kits arrive with the more challenging aspects of the work completed. At the heart of the kit is a serial numbered frame that arrives ready to use (this means the kit must be shipped to you through an FFL dealer).
The slide assembly is already put together for you, include the sights. A Polymer80 magazine is shipped with the kit. The sweat equity left to the customer is installing the components needed to complete the polymer frame. The company will be providing instructions and links to videos. These kits are expected to have a retail price of around $400, which is about $150 less than purchasing the same pistol fully assembled.
Springfield Armory SA-35 9 mm Pistol
Springfield Armory is another company that's reviving the P-35 9 mm pistol, but in its own way. The company is saying, "Don't call it a classic," because their SA-35 is not a clone of the Browning Hi Power. Instead, the SA-35 is its modern interpretation of the platform. It preserves much loved vintage features including an all-steel construction, blued finish and handsome checkered walnut grips. This pistol design is a boon for those of us with somewhat smaller hands who want a slim, sleek 9 mm with a bit more weight in the frame to help manage felt recoil. NRA Women's Holly Marcus reviews the SA-35 here, and get a full review and range report of the SA-35 from the pages of American Rifleman here.
Trailblazer Pack9 PCC
One of the things to look forward to when attending the NASGW Expo is the possibility of running into something that stands out from the crowd. Back in 2017, Trailblazer Firearms shook things up with the folding Lifecard single-shot .22 LR pistol, which is about the same sizes as a stack of business cards. Next year, Trailblazer is doing it again with the Pack9 folding 9 mm pistol-caliber carbine (PCC). The upper half of the carbine pivots to the rear and the shoulder stock collapses for a more compact storage profile which is 20.9" long and 1.15" thick.
Using steel, aluminum and polymer components, the Pack9 weighs in at 5 lbs. when unloaded. The top of the receiver and the handguard have milled-in sight rails that allow for the use of magnified scopes, red-dot optics and flip up iron sights. The 16" barrel is threaded, the lower receiver accept Glock-type magazines and the shoulder stock can be used to store a spare magazine. Pricing has yet to be determined.