posted on September 19, 2023
Article and video by B. Gil Horman
Buying a new handgun can be an enjoyable endeavor. But picking up a model that is fundamentally different from just about everything else out there these days can come with a bit of learning curve. One such pistol is the Bond Arms double-barrel derringer. Inspired by the 19th century Remington Model 95 over/under pistol, this company's guns are currently the most popular double-barrels on the market.
Since their launch in 1995, these all-stainless steel, big-bore pocket pistols have been something of a niche product due in part to their pricing. But since the release of the more budget-friendly Rough Series in 2019, they have become a common sight in sporting goods stores around the country. They have a well-deserved reputation for being reliable, easy to operate and ruggedly built. Nevertheless, their features and functions make them a unique offering in the marketplace.

Bond Arms' pistols are available with big-bore compatible Standard frames (upper and lower left) or slimmer Stinger frames (upper and lower right).
Here is some helpful information for those who are considering a Bond Arms pistol purchase, along with a few tips for new owners. (Be sure to watch the accompanying video by clicking above, or see it on my YouTube channel.)
Two Frame Sizes to Rule Them All
The Bond Arms pistol consists of three major components held together by two removable screws. They include the barrel, the frame and the grip.

This is a Standard frame model broken into its major components by removing the hinge pin screw and the grip screw. 
At the heart of the pistol is the frame, which houses the controls, trigger group and grip frame extension. Frames are available in two sizes, Standard and Stinger, for which the features and operations are the same. If you learn how to operate one Bond pistol, then you'll know how to run them all. The Standard frames were the first to be offered. They feature a sturdy all-stainless-steel construction with a relatively thick 1" wide profile to accommodate cartridges from .22- to .45-cal. These frames are tough enough to safely handle more potent loads like the .357 Mag., 10 mm Auto, .45 Colt and even 3" long .410-bore shotgun shells. Standard frames are available with either a more refined polished finish or the less expensive Rough Series matte finish.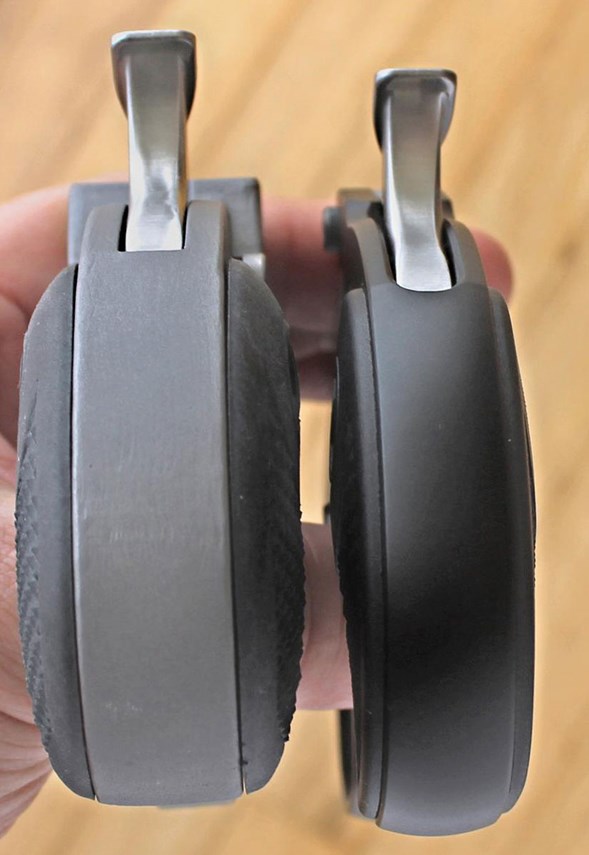 The Rough Series Standard frame (left) has a noticeably thicker grip profile when compared to the aluminum-framed Stinger (right).
The original aluminum-framed Stinger models arrived in 2021, followed by the stainless-steel frame Stinger RS (Rough Series) launching in 2022. These frames are only 0.55" wide, making these pistols slimmer, lighter and easier to carry. The trade-off for this more compact frame width is that it reduces cartridge options to those between .22- to .38-cal. in size. Although the steel frame Stingers do have interchangeable barrels, the aluminum-framed models do not.  
The Stinger RS series now include options with or without an integral trigger guard. 
A Diverse Selection of Caliber-Conversion Barrels
One of the defining characteristics of Bond double-barrel pistols is their modular design. If you own a Standard frame, you can essentially build just about any other Standard model you want with the purchase of additional caliber-conversion barrels from the Bond Arms website.

A diverse selection of caliber-conversion barrels is one of the Bond Arms most appealing features.
The one-piece double barrel features an integral front sight blade and one of two left-side cartridge extractor configurations. Barrels chambered for rimmed cartridges (rimfire, revolver and shotshells) are fitted with a sliding, spring-assisted extractor. This extractor presses spent cases up and out of the chambers about a quarter of an inch so that they can be more easily grasped and manually removed.
Barrels chambered for rimless semi-automatic pistol cartridges do not have extractors. This is because there is no cartridge rim for the extractor to press against. Instead, they have a left-side notch cut out of the barrel. This allows for the use of a thumbnail or a spent cartridge case rim to be used to pull spent rounds out of the chamber. 

This .45 Colt barrel is fitted with a spring-assisted extractor.
Standard frame conversion barrels are available in polished or Rough Series finishes with barrel length options including 2.5", 3", 3.5" 4.25" and even 6" for those who want to maximize bullet performance. As of this writing, this barrel series is available chambered in 15 calibers including the popular .380 ACP, 9 mm and .45 ACP semi-automatic pistol cartridges, old school revolver rounds including the .44 Special, .44-40 WFC and .45 Colt, and a few hot-potato loads like the .327 Federal Magnum, .357 Mag and 10 mm Auto. Some of the company's most popular barrels are those that can safely fire both .45 Colt and .410 Bore shotgun shells. 

This 9 mm barrel has an open notch for extracting spent cartridge cases.
Installing a caliber conversion barrel is a simple process. Press down on the left side release lever to swing open your pistol's attached barrel and verify that it is completely unloaded. Twist out the screw-in hinge pin using a hex wrench, lift out the previous barrel, insert the new barrel and then reinstall the hinge pin. Your Bond Pistol is now ready to shoot in a different caliber.
The slimmer Stinger RS steel-framed pistols are also caliber convertible. As one might expect, Standard-size barrels do not fit Stinger frames and vice versa. The steps for swapping Stinger barrels are the same as those used with the Standard frames. At this time, the caliber conversions in the catalog for these models are limited to 3" barrels chambered in .380 ACP, 9 mm and .38 Spl. However, the company will make special order Stinger barrels chambered in .327 Federal Magnum when customers call to request them.

Swapping barrels and grips allow enthusiasts to create unique configurations like this Stubby frame which is outfitted with a Honey B barrel and grip.
The Stingers chambered in .22 LR and .22 Mag. are a special case. To ensure reliable operation, rimfire barrels need to be hand fitted to a specific frame. This means rimfire models require the purchase of a complete pistol. The rimfire pistols can be converted to fire centerfire calibers but the rimfire barrel should be used with its factory original frame.
Get a Grip!
The two-piece grip panel sets are secured to the frame using a single screw. Grip panels are available in two sizes including the standard grips, which are the most compact, and extended grips which cover the back strap and are long enough to support the little finger of the shooting hand. Grip materials include slim textured polymer, soft rubber and laminated hardwoods with smooth or engraved gripping surfaces.

Standard size grips (right) are the most compact while extended grips (left) are more hand filling and support the little finger of the shooting hand.
The company also offers a useful selection of holsters sized to fit all barrel lengths. Styles include inside- and outside-the-waist-band belt holsters, pocket holsters, shoulder rigs and ankle holsters made from premium leather or modern synthetic materials.

These in-house leather belt holsters are available for the longest and shortest Standard frame models.
Single-Action Trigger & Safeties
Some Bond Arms pistol models have trigger guards while others do not. Isn't omitting the guard a safety issue? It's not a concern because these pistols use single-action triggers. This means the exposed hammer must be manually cocked for each shot fired. When the hammer is un-cocked, pressing the trigger will not fire the gun. Then why were trigger guards added when the Remington Model 95 didn't have one in the first place? Simply stated, some customers wanted them. The guards can also aid in managing felt recoil by providing a more secure grip. It should be noted that for the Standard-size frames the trigger guards are removable. If a Stinger frame has a guard it is integral to the frame.

The layout of the external controls, including the left-side barrel release lever, are the same for both Standard and Stinger frames.
The Bond pistols incorporate safety features that were not part of the original Remington 95 derringer design or many of the cheaply constructed "Saturday Night Special" clones which followed. First off, these guns have much stronger frames and they are known for being reliable with a variety of ammunition. The hammer locks back away from the firing pins, or "rebounds," after firing. This feature works as a drop safety, meaning, the gun will not go off if dropped.

The hammer must be fully cocked manually, as shown here, in order for these pistols to fire. When cocked, the firing pins and the hammer's alternating lever are visible.
Bond Arms added a push-button, cross bolt style safety which is located on the frame in between the barrel and the hammer. When engaged, it blocks the hammer from striking the firing pins. Remember, if you are going to conduct dry fire practice with these pistols, make sure this safety is in the Fire position or the frame may be damaged.
A Few Tips for New Owners
I owned and enjoyed Bond Arms pistols before I became a full-time gun writer and have had the opportunity to test several models since I did. Here are a few things I've learned along the way that are helpful to know if you're picking up one of these derringers for the first time:
—The standard fixed sights for most of these pistols are tuned for use at 7-yards. The exception to this is the exceptionally short 2.3" Stubby Stinger barrels which have just a nubbin of a front sight. Stubby models are intended for up-close-and-personal applications at 5-yards or less.
—The upper and lower barrels hit to different points of impact. Testing these guns for accuracy consists of firing a total of 10 rounds while alternating shots through both barrels. The result is two 5-shot groups which may overlap (rarely) but usually have a gap between them somewhere around 1.5" to 2" in size. This is just how over/under barrel designs perform. This means that learning to shoot this pistol includes getting a feel for where both barrels will hit when using the sights.
—The recoil changes depending on the barrel fired. The bottom barrel tends to drive the pistol straight back into the shooting hand, much like shooting a semi-automatic pistol. The top barrel will generate more muzzle rise with a feel similar to firing a snub nose revolver. Knowing that the recoil changes makes managing the pistol easier.
—If the compact grips seem difficult to manage, try an extended grip. The finger extension provides a resting place for the little finger of the shooting hand. Having a full 3-finger grip instead of just a 2-finger grip can improve the shooter's control under recoil noticeably.
—Roll the trigger down instead of pressing it back. The trigger pull is tough to describe in writing but once you see it in action, it makes more sense. Applying pressure with the goal of "rolling" the tip of the trigger down toward the ground will make it feel much lighter and easier to use than the straight-back trigger press most handguns require. You can see this more clearly demonstrated, along with a few other tips, in this video above.
For more information about available Bond Arms pistol models and accessories, visit bondarms.com,