by
posted on November 18, 2020
I've tried shooting many different handguns over the years in search of a pistol that suited me. So, when I first picked up a Glock 19 it was like Cinderella's foot sliding into that glass slipper—a perfect fit. The grip fit my hand comfortably. It had a very natural point of aim, and the low bore axis reduced the amount of muzzle flip. The trigger was light and the reset minimal. Chambered in 9mm, ammo was affordable. I liked that the magazine held 15 rounds. It's easy to disassemble and clean. I also liked that I didn't have to remember to flip off a safety, have the hard first pull of a double-action trigger, or have to remember to decock the gun before reholstering. With the Glock 19, it's just draw and fire. After testing it at the range, it was also the pistol with which I was most accurate.
I'm not alone in my affection for this compact pistol. Many women who participated in the American Rifleman Ladies Pistol Project (LPP) echoed my feelings after shooting it on the range. It was ranked as the top choice in the LPP2, and took second place in the LPP3 assessments (it wasn't in the line-up for the first LLP evaluation). Out of the 24 pistols evaluated in the LPP2, the verdict was clear: "The pistol that more women said they would purchase and carry is the Glock 19."
If I had to pinpoint one downside of the G19, it's that it is a bit large to conceal. But smaller guns come with a cost—reduced number of rounds, a shorter sight radius and more felt recoil. Less distance between the front and rear sights can result in less-accurate shots. Lighter-weight handguns transfer more recoil to your hand than a heavier handgun in the same caliber. While it would be easier to conceal a smaller gun, I knew I wanted to stick with my Glock 19. I also wanted to see if I could make it my everyday carry (EDC) piece.
My preferred type of concealed carry is an IWB, or inside-the-waistband, holster. I have two go-to brands—one is Tactica Defense's neoprene- and steel-reinforced holster back with a polymer shell and the other is a Crossbreed SuperTuck with a leather backing and attached polymer shell. I was able to carry the Glock comfortably all day long in both. I felt this was the safest and most accessible position to carry the G19. It was always safely pointed down and the trigger (the "safety" in a Glock pistol) was covered by the polymer holster casement.
Wearing looser fitting pants or shorts with a belt meant the firearm stayed firmly at my side in the 4 o'clock position. To keep the Glock from "printing" (making a noticeable gun shape through my clothing), I usually had to wear a baggy top or layer-up with an open, button-up shirt, thus limiting the kinds of clothing I could wear. With a swift motion of sweeping back or tugging up my shirt I could always reach the firearm. Darker colors seemed to conceal better when wearing one layer, while lighter colors did fine with multiple layers. Tops that were longer helped prevent the firearm from peeking out when bending over.
As summer approached, I wanted to switch to sleeveless and shed some layers due to the heat. This is usually the most difficult season to carry concealed. Summer dresses and elastic-waist skirts make IWB and outside-the-waistband (OWB) holsters impossible.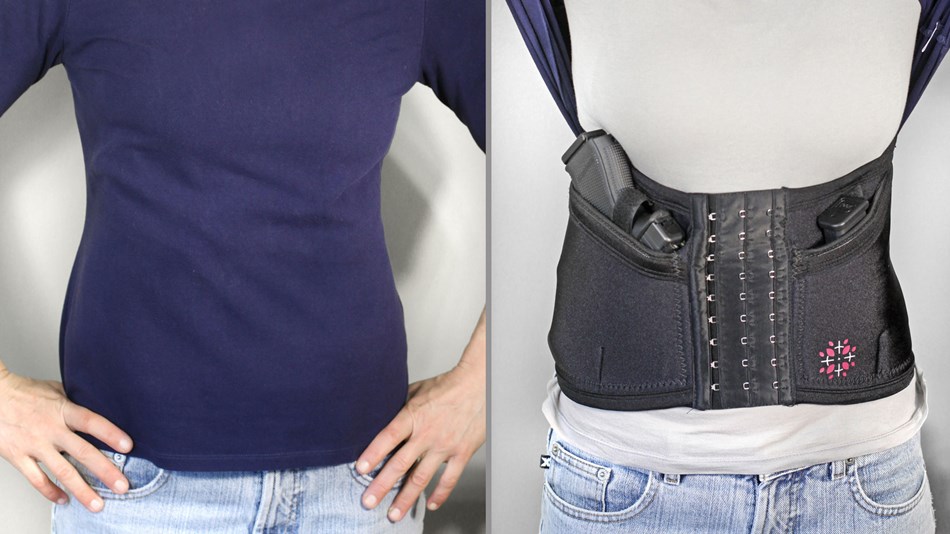 Facing the challenge of carrying in my summer wardrobe, I turned to another Tactica holster—the corset. This neoprene undergarment allows for right- or left-handed carry, while a spare mag can be stashed in the other pocket. The corset's pockets are reinforced with a polymer liner that ensures the trigger is properly protected. It also has a strap to further secure the handgun, although the G19 is quite snug just tucked in the pocket. The firearm can ride slightly angled so as to not point down directly at your thigh. The corset did the best job at concealing the Glock and allowed me to wear a variety of outfits that I would normally wear in the summer. It did get hot while wearing it outdoors in warm temperatures, but hey, it's washable.
Another beltless method I tried was a belly band holster. This is an elastic/neoprene band that cinches up around your midsection with a firearm-specific polymer shell attached. The one I had on hand was made by Tactica. While very comfortable, especially when seated at a desk, the G19 grip did noticeably print when standing, even when wearing a looser fitting top. The pistol rides horizontally, with the muzzle angled slightly downward for an easier draw. It also keeps the firearm pointed in a safe direction no matter which way you spin. As with all of Tactica's polymer shells, the holster provides coverage of the entire barrel and trigger guard, preventing anything from getting wedged around the trigger.
Drawing from this carry method involves a quick clearing of your shirt with your off-hand and a smooth, clean draw from the holster. There are also clothing options with false pockets that allow you to reach a pistol in a belly band without having to lift your shirt, but the larger size of the G19 made it difficult to bring out through the pockets.
While the belly band carry method was comfortable, it does limit you to wearing baggy shirts, sweaters or dresses, and darker colors or patterns that help to hide the G19's print. There are some universal belly band holsters on the market that work similarly to the corset that would allow for vertical carry, pulling the firearm in closer to your body. The corset and belly band would be your go-to holsters when wearing anything without belt loops, like a skirt or dress (note that you will have to hike up your dress to reach the handgun).
I tried to appendix carry, in the 1 o'clock position, but that just wasn't a concealed carry option for me and the G19. It was too bulky and noticeable, and the firearm pointed down at my thigh when seated. Some concealed carriers prefer a shoulder holster, especially when driving, as the firearm isn't pinned down by a seatbelt or wedged against the seat, but the G19 felt too cumbersome carried under my arm. Thigh and ankle holsters are two other methods of beltless carry options, but I found the size and weight of the G19 too much for these carry options as well.
While I often use an outside-the-waistband (OWB) holster while on the range, I only occasionally choose to carry this way. However, it is arguably the most comfortable method of carry. The firearm would need to be concealed with a jacket or large, baggy sweater to hide the bulk of it, but it could be a viable option that some may find suits them best. When going out for a walk in chilly weather, a light jacket kept the Glock out of sight but still easily accessible to me. With fall here and winter around the corner, fleece vests are another outer garment that works well for me while carrying the G19 in an OWB holster (not to mention that they are nice and warm too).
When trying out some of these methods, I used a Glock 19 polymer replica. I highly recommend this training aid to test out concealed carry methods before strapping on the loaded Glock. I don't mind admitting I had a solo fashion show using the dummy gun to try on different holster and outfit combinations.
As with any firearm you plan to carry, take the time to practice with it on the range while drawing from concealment (if your range allows it). Drawing and firing from an OWB range holster produces quick, clean and unobstructed draws. But drawing from concealment is not that easy. Learning a good technique to clear clothing away from the firearm will help you establish a solid two-handed grip to push out toward the target.
Deciding to carry a firearm involves more than just strapping on a holster and heading out the door. It warrants a lifestyle change. There is no reason your favorite gun on the range can't be your favorite EDC. While the Glock 19 may not disappear like some smaller guns, it is possible to carry year-round with just a bit of extra effort. I find that the G19's noticeable presence is a constant reminder that it is ready to serve its function as a trusty sidekick.