There's really nothing in the world quite like a well-balanced side-by-side shotgun; ideal for wingshooting and clay games, this elegant and classic design is often thought of as the province of the wealthy. TriStar Arms set out to change that with its line of Bristol side-by-side scatterguns, which offer luxury form and function without breaking the bank. What's more, America's firearms industry insiders are even more excited about the Bristol SxS than they are about more modern "tactical" shotguns. The proof comes in the form of an "insider" award called the NASGW Caliber Award.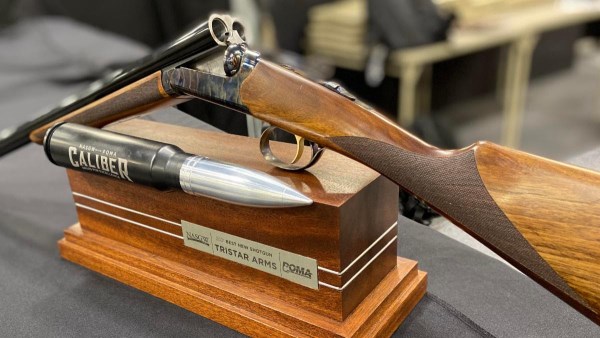 What's NASGW? Well, it's a trade show called the National Association of Sporting Goods Wholesalers (NASGW) Expo, and it's normally not open to consumers. Each year, America's wholesalers and outdoor writers (represented by a group known as the Professional Outdoor Media Association) celebrate the "highest caliber" new products of the year that's just concluded. The NASGW Caliber Award for Best New Shotgun was selected by an independent panel of 18 media and wholesaler professionals. 
The reasons for which the Bristol SxS was chosen are obvious. Available in an English walnut stock with either color case-hardened or silver receiver, this nimble shotgun is perfect for bird-hunting with a 28-inch barrel and gorgeous balance. Built on a true steel frame, the Bristol SxS comes with five Beretta-style choke tubes (SK, IC, M, IM, F). It boasts a selective top tang safety with a left-right barrel selector in the center, brass bead front sight and a single selective trigger. Initially rolled out in four chamberings (12 gauge, 20 gauge, 28 gauge and .410 bore), the Bristol SxS has a new 16-gauge version joining the lineup now. 
"We are honored to receive such a prestigious award," said Ryan Bader, Vice President of Sales and Marketing, "TriStar has always strived to deliver well-built, quality products that bring value to the customer. The Bristol SxS is elegant, dependable but most importantly, affordable."
MSRPs from $1,100 to $1,130; tristararms.com