Team USA's Amber English proved why she is the world's top-ranked skeet athlete, setting an Olympic record and winning the gold medal in at the Tokyo games on July 26, 2021. English, who bested current champion Diana Bacosi, of Italy, becomes only the second U.S. shooter to ever win the gold in women's Olympic skeet event.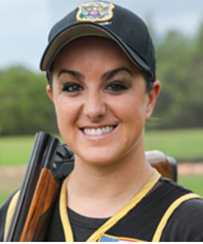 After placing third in the qualification round, shooting 121 of 125 targets, English went 56 for 60 in the final, a new Olympic record. Bacosi, with a score of 51, took silver; China's Wei Meng, with 46 targets, goes home with bronze.
English entered competitive shooting in 2006 at age 17 when she began competing in women's skeet matches. After excelling at international skeet shooting matches, she moved to the Olympic Training Center in Colorado Springs, Colorado to become a full-time resident athlete in 2013. In 2017, English joined the USAMU and is now a First Lieutenant with the World Class Athlete Program (WCAP) attached to the USAMU. She has four World Cup medals to her name from 2010, 2016, 2018 and 2019. English is now set to compete in Tokyo as part of the Women's Skeet Team.
There's also great news to report from Team USA's men's squad as Vincent Hancock continues to dominate the skeet event, winning gold for the third time in his career. 
Of course, NRA Women will be sure to bring news of the Team USA Shooting's medal count as the Games continue. Meantime, to catch the shooting sports events live from Tokyo, you can livestream most of them on NBC's Peacock app and the NBC Tokyo Olympics website.