Bushwhacking to your stand, skirting barbed wire and braving the brush to retrieve your tag are all common occurrences in hunting and, partly, why we love it so much. While you might enjoy the challenge, your gear can take a beating. In 2015, Kelli Jones ripped her brand-new Patagonia parka while hunting elk in her home base of Jackson, Wyoming, and resorted to a piece of duct tape as a quick fix … but she knew there had to be a better way.
Her company, Noso Patches, started with nylon ripstop patches featuring National Park emblems, animals and other cute designs. Now, Noso has all of the optimal patches for firearm enthusiasts' beloved gear, from a tactical line of matte neutrals to favorite camouflage patterns. I had the opportunity to ask Kelli about why her camouflage and tactical patches are an NRA Woman's best friend.
Kelli has been hunting elk since 2012 and loves eating local meat, so camouflage patches were a high priority for Noso's ever-growing collection. Noso Patches partnered with Kuiu to create 3.5" squares of its three camo patterns: Valo, Verde and Vias (Kelli's favorite), and a gunmetal-gray logo patch. Kelli advises, "If you just have a little hole, you can cut a piece of that 3.5" square and use it multiple times." Kuiu customers have the advantage of perfectly lining up their camo with its matching patch, creating a seamless repair that you can't even see!
Noso has also partnered with Banded, a cutting-edge duck hunting gear company, resulting in the wader patch. As a high-end patch company, Noso aims to provide its partners with exactly what its customers need. Duck hunting outfitters were looking to Banded for a solution to punctured waders. Hunters pay good money for guided duck hunts, but if they get one tiny hole in their waders, the rest of the day is spent cold, wet and unhappy. "It was important for them to be able to patch in the field and not have a bad day because you were filling up with water," Kelli explained. "You don't want cold feet and to be miserable!" Noso took Banded's wader fabric and designed a solution. The facility launched submersion testing where patched waders were submerged and oscillated under water. Waterproof, durable and flexible patches for afield wader repairs means your hunt won't be ruined by damaging an essential piece of gear. The finished patch is now available in 6" x 3" rectangles or 4" circles in Mossy Oak Bottomland, Realtree Max-5 and Realtree Timber.
Kelli and her Noso crew regularly attend the SHOT Show, the firearm industry's largest trade show, where she is able to connect with her customers and collect feedback. It was during the 2020 show when some members of the NRA Women's Leadership Forum (WLF) discovered Noso. "All of the girls came to my booth!" Kelli said. "They were so fun. They were like, 'Girl, do you want to come to our brunch tomorrow?' and I said, 'I'll be there!'"
Kelly recalls a warm welcome by the WLF members, who enthusiastically showed an interest in her product. "They get excited for you and are so encouraging: everything you need as a female business owner," she said. "As an entrepreneur, you're always on your own island, so when I go to shows it's super important for me to connect with people like that."
Like many women who enjoy traditional "boys" activities—dirt biking, hunting, exploring the wilderness—Kelli said she felt at home around the table at her first WLF event. "It was amazing … I have a ton of friends, but sometimes I feel like a bit of an alien because I don't have kids; I don't cook," (unless it's the elk she shot). "The women's brunch was awesome because you're sitting around the breakfast table and the women are talking about trigger pressures, but not just one of them—all of them. They were talking about all of the different modifications they were doing to their guns for a hunt they were going on. It was fun to see that female empowerment. They understood gun mechanics and hunter safety."
Aside from connecting with other women firearm enthusiasts, Kelli also devotes time at the SHOT Show speaking with first-responders, military and tactical operators. The number one request by this group, said Kelli, is for patches in Multicam, the military camo. The second request is for Kryptek's Typhon, a black camo typically used by police departments. "It's kind of fun because you get to learn what people are wearing," she said. But it's not just casual conversation. Noso Patches recently worked with Crye Precision and Kryptek to launch Multicam, Typhon and Highlander camouflage patches for tactical use.
I asked Kelli what exactly makes her tactical patches tactical and she listed a few reasons, some of which surprised me. First, the color or pattern. Of course, colors like desert sand, foliage green, coyote brown and raven black along with the military's Multicam and police force's Typhon provide tried and true tactical advantages. However, the thickness, shape and texture come into play as well.
For example, Noso's tactical patches aren't made of the same nylon ripstop as the banana patch. While they are still made from synthetic materials, the thicker, durable patches are designed for items like gun bags, range pants and backpacks. Kelli explained that many nylon ripstop patches have a crosshatch so the texture of the fabric is actually seen. However, the tactical patches do not have that composition. "Part of blending in is having no visible texture," said Kelli. "If people can see the hard lines of your patches, it's inhibiting you from blending into your environment."
A Green Beret sniper even shared some insight with Kelli for the tactical line. "For someone like me who is being hunted, what the eye is going to look for through the scope is hard edges," he told her. "A line of Multicam needs to look like a cloud so it integrates into the camo without lines." After thanking him for his service and sacrifice, Kelli got to work on his request. "In the military, if a piece of gear is not performing, you get a new one. And I know that," she said. "But when you're in the field and there's a hole or a snag, they need reliable repairs. And it actually matches. We can see this application going in the field."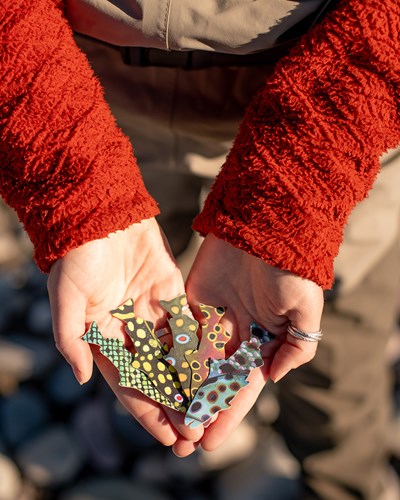 Even if you aren't a first-responder, military or tactical operator, tactical patches are perfect for all of your gun gear due to the matching colors and durability. Noso's other adventure patches also serve more than one crucial purpose. "You invest in these things and as you go on adventures, you know how your gear works," Kelli said. "I know how every piece of gear in my quiver works at different temperatures. I'm a big mountain skier and in the fall, I hunt, but I know what's going to keep me warm. And when you buy something new, you don't know how it's going to treat you." The luxury of keeping your favorite pieces of gear lets you stay safe and knowledgeable when recreating outdoors. The sentimental aspect of your tried-and-true equipment can't be understated either.
It's also good for the planet to refrain from replacing gear that's only slightly damaged. "Things happen, but good gear is used gear in my opinion," said Kelli. "Keeping that stuff in use as long as possible is really important for the environment, from a conservation standpoint. Using what you have and not needing to buy new every year is really important." Kelli explained that Noso is conscious about teaching others why it's important to repair things and not caving to that throw-away culture. "I wish all people were a little more mindful of our consumption."
If you ask Kelli what the future looks like for Noso Patches, she will tell you her plan: "You get a button with a new sweater; why don't you get a patch with your purchase? You have your hang tag and underneath is your patch! If you get a hole or scratch, just pop it on and keep going." Instead of scrapping the whole thing or resorting to a less sightly means of patching, it's important to maintain your gear and keep it out of the landfill.
Kelli's last piece of advice is, "Don't use duct tape. Don't even say that word. It's terrible for your synthetic gear! It gets into the fibers and it's really hard for fixers. Typically, they have to actually cut out the fabric because it's damaging and breaks down the integrity of the garment. Especially because these pieces of equipment, they're not cheap."