Before the start of the social distancing consequences of COVID-19, a few brave women traveled to Gunsite to participate in the acclaimed Pistol 250 class. In addition to Pistol 250, I was scheduled to attend a second women-only pistol class the following week. I was not worried about the virus at all, as my plans included spending time outdoors on the range for two weeks. My hope was that the virus hoopla would be over by the time I returned home. I made my trek from West Virginia to Arizona without any hitches. A friend and I decided to minimize expenses and share a rental car as we were staying at the same B&B and attending the same classes. This would turn out later to be an interesting dilemma.
I arrived in Arizona excited and determined to forget the problems of the world (as well as my own) long enough to have a grand experience and learn some skills with the new Mossberg MC2c compact 9mm pistol. 
Gunsite, located in Paulden, Ariz., about two hours north of Phoenix, is a premier training facility based on Jeff Cooper's methodology of the "Modern Technique of the Pistol." I have been very satisfied with the training I have received here; the staff is friendly, knowledgeable and experienced; and the facilities are top notch. As a regular student of this facility over the years, I have grown in my ability to capably use firearms for hunting, target shooting and defense. I also believe that my character has grown as well. I am more confident, assertive and determined to live by my values due to the discipline and confidence learned in their structured classes. Who says you can't teach an old dog new tricks?
As we arrived at the B&B and settled in for the night, we listened attentively as local news stations started talking about social distancing and announcing that schools would be shutting down. Things looked to be taking a serious turn. I could feel my anxiety rising as thoughts turned to public panic and personal safety. People were starting to hoard toilet paper, water and canned food. They were buying ammo and guns. It seemed like a good time to make sure my property was secure and my family reviewed our safety plans. But, those were things I couldn't address from across country except to call my husband and say, "Be careful." While I was worrying about home, Gunsite had other ideas. They doubled their efforts from clean to super clean. They checked our temperatures every morning. They arranged classroom seating to accommodate plenty of space between each student. Gunsite was not suffering any shortages of supplies. I also couldn't image a safer place to be, with everyone on site carrying a pistol, most of whom were experts in the use of firearms.
From the first moment in class, there was helpful and important information. The instructors were especially responsive to questions, and treated everyone with great respect. Unlike in some other firearm training classes I have taken, there was no unimportant or "fluff" information presented. The challenge for me was to assimilate a large amount of information so quickly. Once on the range, the volume of information only increased. A specific drill on a basic skillset would quickly advance to a new drill that built on the previous. The constant challenge was so much fun that I had to struggle to look serious instead of smiling. Coronavirus had become unimportant next to this challenging class. I was so worn out in the evenings that I didn't have the strength to turn on the TV to hear the latest news. Every bullet that I sent down range was a talisman against worry and against this terrible virus.
Mossberg generously provided use of its new MC2c pistol; DeSantis provided belts and holsters, and Double Tap supplied ammo. This was my first time using the Mossberg MC2c but it is very similar to the new for 2019 MC1sc—Mossberg's first pistol in 100 years—that I have been enjoying for a year. The MC1sc proved to be a very manageable pistol, disadvantaged only by the single stack magazines and maximum load of 7 rounds in the extended magazine. However, it had the advantage of being small and light.
The MC2c has taken care of the small single stack mag problem without adding much in size or weight (only 2 more oz. unloaded). The extended magazine for the MC2c holds 15 rounds while the regular mag holds 13. The MC2c performed nicely and got the job done. Speed loading drills were conducted with no magazine hangups. This allowed the MC2c to take first place in the final shoot out over other pistols. The grips on the MC2c feature "aggressive texturing," allowing proficient gun handling even with sweaty palms—a big plus on a carry gun. However, after firing 1500 rounds in one week, a pair of shooting gloves is highly recommended. When it finally came time to clean this pistol, I was relieved to see that Mossberg kept its signature design that allows for a safe, simply breakdown, with no trigger pull required. The firing pin can be removed before releasing the slide. The MC2c is available with and without cross bolt safety, in two-tone, and with Truglo Tritium Pro sights. The MC2c is also affordable with a MSRP of $490.00.
The Double Tap ammo performed above average in the MC2c pistol. The new and stiff extended mag protested a little when completely full of another manufacturer's polymer jacketed ammo. However, I think the 1,500 rounds fired has solved the problem of a new and stiff mag.
The supplied DeSantis equipment—Every Day Carry Belt; OWB Pegasus Kydex holster; and the Pegasus Kydex double mag accessory—were very comfortable. The belt, holster, and mag pouch were added on easily and were practically unnoticeable throughout the day due to their flawless function. The holster was snug enough to not allow the gun to escape accidentally but was not too snug to prevent a quick and easy draw from the holster. My favorite gear is that which I never have to think about, rather, just use efficiently. DeSantis pulled this off.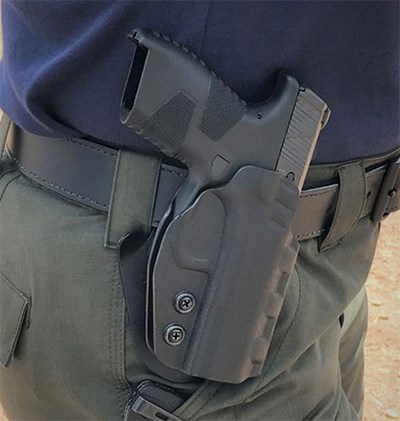 Halfway through the class, my friend that shared a car rental was summoned back home, and my second week of classes was cancelled due to students not being able to travel during the virus threat. This left me without transportation to and from class, a need to change my flight dates, and transportation to Phoenix to catch my flight home at the end of the week.
However, the Gunsite staff and my fellow students came through for me. They arranged my transportation, and I enjoyed offers from many to ride along. I am now writing this article from home, where my new friends helped me return, and as of this writing remain virus free. It's nice to know that a virus scare can't stop our humanity and caring for others. I'm grateful to Gunsite, Mossberg, DeSantis, Double Tap and especially my fellow students for killing any anxiety from that virus during this wonderful week.
About the Author: Samantha Mann, MA, is a WV Licensed Psychologist, Licensed Professional Counselor WV, and Nationally Certified Counselor. Raised in West Virginia, Samantha was the youngest of six grandchildren (and the only female) who were raised to love the outdoors and hunting. She has hunted from Texas to Africa, and believes that while Superman gets his power from the sun, her power comes from the outdoors. Samantha lives in southern West Virginia with her supportive husband, who doesn't mind showing off her trophies to his buddies. She balances her time in the office helping others with time in the outdoors, focusing much of her career on helping children and adults who have been abused, neglected and mistreated.