As far as the animal is concerned, you can get away with a lot in terms of what you look like when you're hunting. Blending in with the environment with appropriate camo, and concealing your outline and sometimes your scent is essential, but that's about as far as your intended game is going to judge you.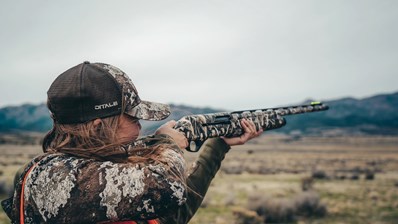 From the interior of the deeps woods or over the hill, however, what does matter for most women is properly fitting hunting clothes that allow for flexibility to move quietly, bend and squat without being restricted by clothes that you are constantly having to adjust (on both ends of the size spectrum). On my first deer hunt 20 years ago I wore a mish-mash of attire, which included a men's size medium pant in whatever pattern was worthy of the sales rack at a now-defunct outdoor gear and clothing store. They were about six inches too long, so they bagged just below the ankle of my hunting boots, just above tripping length. It had taken me so long to find this pair of pants I didn't have time to get them hemmed. Fortunately, I spent most of my time sitting on a south Texas ridge before taking my first buck, doe and javelina. But ill-fitting clothing can be especially inhibiting, in fact, unsafe, if you're on the move in a spot-and-stalk situation.
Now, granted, this might not be a big problem for huntresses who haven't quite earned the curves from age, motherhood or other life's gifts that find them in the category where a little stretch is appreciated. If that's you, congratulations. And we acknowledge there are, thankfully, many more viable hunt clothing options for women these days than there were 20 years ago. But that is not to say that if you're a size XXS you have always have an easy time finding a proper fit either. In fact, when your waist size is tiny, it can be equally challenging to head afield without having to wrap your belt around your waist—three times! 
Which is why we at NRA Women have great hope for a new brand introduced at SHOT Show 2023—Ditale Outdoors. This is a brand made for outdoors women by outdoors women who have faced all of the same wardrobe challenges as you. For now their selection is limited to a few items—the Ditale Outdoors Sofia Adventure Pant (MSRP-$179) being their main item, offered in the extremely popular True Timber Strata pattern and Juniper Green.
Ditale Outdoors says this pant is ideal for mid-season hunts, and features its most durable polyester spandex double-weave blend fabric with four-way stretch. With a flat, integrated stretch waistband, durable water repellent treatment, and high rise to cover your assets, the pant offers mobility and comfort.
Regarding fit, Ditale says it is creating a unique fit with every body shape in mind, with sizes ranging from XXS to 3XL, each with a CURVY option. That's 18 sizes! (Women who are in between sizes and a little more pear or hourglass shaped should consider sizing down with curvy.) There is a very helpful video embedded on the Sofia Adventure Pants page, so be sure to check it out.
Here are some details about the pants:
Comfortable Adjustable Waist
Deep front pockets along with cargo pockets and two interior zipper pockets
Knee Pad Compatible
Tactical Belt and Suspender Compatible
Reinforced Pocket for Knife Clip
Zipper Bottom Hem for easy boot on and off
Snap Adjustable Hem for adjustable inseams ranging from 29" to 34"
Regular and Curvy Sizing XXS-3X
Ditale Outdoors is also offering some base layer selections made from hemp, and other accessories like a beanie made for a ponytail (yay!) and a Ditale-branded trucker hat. There will be more on the way from this new company, but for now at least two NRA Women contributors will be testing this brand in the coming year. We will be reporting on their findings, so stay tuned. Meantime, check out the current offerings this promising new brand for made by women who have clearly kept YOU in mind when it comes to joining in the outdoor activities.
—Ann Y. Smith, Editor in Chief