by
posted on March 24, 2023
The challenge of manipulating the slide on many semi-automatic pistols, often identified as a difficulty faced by many women, is quickly becoming a problem of the past, thanks to continual innovative engineering by firearms manufacturers.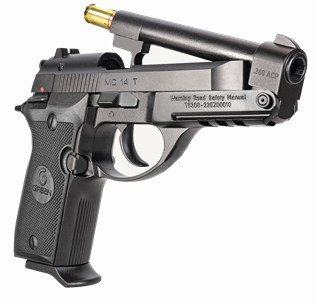 We can now add one more prominent firearm maker—European American Armory—that is addressing this essential firearm fundamental, this time with an idea borrowed from the past and brought into the 21st century on its new Girsan MC 14 T pistol.
Thanks to the Tip-Up design (no slide racking required) loading and firing the MC 14 T is simple and quick, using very minimal moving parts to go from loading to firing. "With the MC 14T we wanted a handgun that was not only small and compact but also allowed people that may have issues with racking a slide the ability to carry," said Chase Duffey, national sales & import manager at EAA Corp.
"Small enough for a purse, easy to load, and carries 13 in the magazine … it really is the perfect defensive pistol," said EAA Corp. President Keith Bernkrant. "Once we started to work with the MC 14 T we quickly realized that loading and unloading, as well as training, is easier with a Tip-Up design pistol as it simply eliminates the need to rack the slide altogether." Bernkrant added that The Tip-Up barrel, with its external safety, external hammer and auto firing pin block, is the solution to many pistol owner's issues and simple safe carry.
Available in .380 ACP with a 13+1 capacity, the Girsan MC 14 T is ideal for concealed carry, especially for those who may have issues operating a standard pistol. And with an MSRP starting at $498, everyone can afford to be safe.
This pistol officiall launched at the 152nd NRA Annual Meetings & Exhibits in Indianapolis, April 2023. For more, visit eaacorp.com.