Lever-action rifles are among America's most iconic hunting and self-defense tools, with a history that dates back to the Civil War and millions of aficionados countrywide. The only rub is that many states require what's called a "straight-wall" cartridge, and ammunition of that type is often limited in its effective range. Today, Remington Ammunition is changing all of that with the introduction of a revolutionary new cartridge, 360 Buckhammer. Remington's calling it "A Straight Up Better" straight wall cartridge, promising deadly and accurate downrange performance out to 200 yards or more.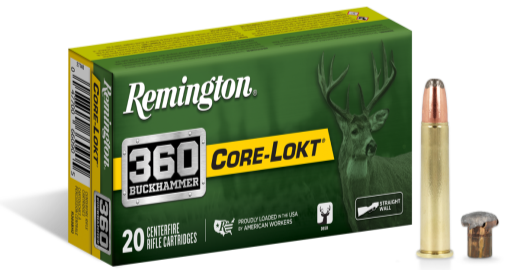 The best analogue for 360 Buckhammer would be the venerable .30-30 Winchester round, but Buckhammer produces a superior amount of energy downrange and lighter felt recoil. Contributor Frank Melloni had a chance to fire this round, and reported, "Starting off with paper targets, I fired a 170-grain .30-30 Win., followed by a round of 180-grain .360 Buckhammer. After noticing a lighter recoil of the .360 Buckhammer, I asked the folks at the booth if it was a specialty target load ... to which they assured me it wasn't. They also informed me that it produced more energy than the .30-30 Win. sitting next to it."
The new ammunition will be initially available in two new Core-Lokt loads, with more ammunition options to follow. The .358 diameter bullet delivers deadly results downrange with a remarkable muzzle velocity of 2,215-2,400 feet per second (fps). 
The 360 Buckhammer round is optimized for the lever-action gun ... especially Henry Repeating Arms' rifles. Henry is fielding new single-shot and lever-action rifles chambered for 360 Buckhammer, including a threaded-barrel version that's expected later this year. 
"360 Buckhammer is a game changer," said Jason Vanderbrink, President of Remington Ammunition. "Whitetail hunters in much of the country needed a straight wall cartridge that functions flawlessly in a lever action rifle – and doesn't compromise on accuracy or terminal performance. I'm proud to say the engineering teams at Remington and Henry have delivered." MSRP is $36.99; visit Remington.com for more.