by
posted on January 26, 2023
With masking requirements rescinded, additional floor space and the promise of newly released products to see, this year's National Shooting Sports Foundation's (NSSF) annual SHOT Show was a highly anticipated event. Several companies have stepped up their game with new models which are a great fit for sports shooting, concealed carry and home defense. Here are a few of the firearms that stood out from the crowd:
Armscor RIA Li380 Pistol
Armscor USA is expanding its Baby Rock .380 ACP pistol line up with the addition of the new pocket-sized single-stack Rock Island Armory (RIA) Li380. This sleek little pistol steps away from the 1911 single-action design in favor of a Double-Action/Single-Action trigger with a bobbed hammer for a no-snag profile. The carbon steel slide features a dovetailed rear sight along with front and rear cocking serrations.
The blowback action employs a fixed 3.55" barrel with a loaded-chamber indicator. The sturdy, hard-anodized aluminum frame accepts single-stack magazines for an 8+1 ammunition capacity. The grip frame is fitted with textured rubber grip panels for improved purchase. And as we've come to expect from Rock Island Armory, this well-made carry pistol will be available at an affordable price. MSRP: $299
Bear Creek Arsenal BC-15 .410 Bore Upper
Bear Creek Arsenal is now offering the American-made BC-15 .410bore upper that is compatible with most of the Mil-Spec AR-15 lowers many folks already own. It ships ready to use with the customer's choice of a top-mounted or right-side charging handle, a 15" long MLOK handguard, integral scope mounting rail and a 20" barrel threaded to accept Invector-type interchangeable choke tubes. It ships with a full choke installed.
Due to the shape of AR-15 magazine wells, the 5-round International Firearm Corp. box magazines the company stocks (sold separately, $24.95) are limited to 2.5" long .410 shot shells. But the company added a nice touch by using a barrel with a 3" chamber. This allows the first round in the gun to be a 3" magnum load, like those preferred by turkey hunters. Add a Bear Creek factory assembled lower with prices starting at $184.99 to complete this handy shotgun. Or use your preferred AR-15 lower tuned to your specifications to enjoy this low recoil hunting and sporting upper. MSRP: $354.99
Century Arms Canik Mete MC9 9mm "Micro Nine" Pistol
Century Arms continues its partnership with Canik USA to grow the successful series of Mete 9 mm semi-automatic pistols with the addition of the new micro nine MC9. The slim and trim polymer-framed MC9 weighs in at 21.2-oz., unloaded, and accepts flush-fit double-stack 12-round or extended 15-round magazines. The metallic white-dot sights are dovetailed into a high-carbon steel slide with front and rear cocking serrations. These pistols ship with optic-ready slides configured to co-witness with compatible micro red dot optics.
I've worked with a few different Canik models and found these Turkish guns to be tough, reliable and exceptionally well made for their price points. The MC9 is built in the same tradition but with smaller dimensions. The company goes out of its way to ply their customers with support gear by providing extra magazines, custom holsters and cleaning tools with their pistols. MSRP: Starting at $439.99
Diamondback Firearms Birdshead Sidekick Revolver
Diamondback Firearms is now offering a more compact Birdshead grip configuration of its caliber-convertible Sidekick rimfire revolver. Although the Sidekick appears to be a cowboy style single-action wheel gun, it's actually a double-action .22 LR rimfire revolver with a swing-out cylinder that holds 9 rounds of ammunition. Each gun arrives with a second cylinder chambered in .22 Mag. The steel components and lightweight zinc grip frame are treated with a durable matte-black Cerakote finish.
Trimming the barrel to 3" and rounding off the grip frame gives this version of the Sidekick an unloaded weight of 24.5 oz. That makes it half a pound lighter than the standard model. The sighting system consists of a blade front sight and a notch set into the revolver's top strap. The grip frame is outfitted with lightly textured black polymer panels. I got to shoot this version during the Industry Day at the Range and it has a light, handy feel with mild levels of recoil when shooting .22 Mag. ammunition. And like the previous version, the Birdshead Sidekick sports an affordable price. MSRP: $327
KelTec KSG410 .410 Bore Bullpup Pump-Action Shotgun
KelTec's first version of the 12-ga. dual magazine tube, bullpup style pump-action KSG shotgun shook up the marketplace a decade ago. Favored for law enforcement and civilian applications, it's been going strong ever since. Among the most common customer request since that time has been one for a lighter, reduced-recoil model of the KSG chambered for .410-bore shotgun shells. It took a while, but it's finally here and it has been dubbed the KSG410.
Like its predecessors, this model is assembled using KelTec's signature blend of steel, aluminum and polymer components. Shrinking the platform to fit the slimmer .410 shell makes this version of the KSG only 1.7" wide, 26.1" long with an unloaded weight of 5.4 lbs. This makes it 1.5 lbs. lighter than the Standard 12-ga. version. The shift down to the smaller .410-bore cartridge has also reduced this gun's suggested retail price by over $300 as well.
The KSG410 is chambered for 3" shells with the two magazine tubes providing a 5+5+1 ammunition capacity. My understanding is that this gun will also feed 2.5" shells which should increase the capacity by two rounds. KelTec is describing this gun as "recoilless" when compared to the 12-ga. model. This gun will definitely produce mild to moderate levels of kick when loaded with 2.5" buckshot cartridges. But a few of the 3" defense-grade loads are a bit feistier than you might expect. Some time at the range will give us a better idea of what to expect. Other KSG410 features include fully ambidextrous controls, a fiber-optic sight system and an integral carry handle. MSRP: $495
Patriot Ordnance Factory Tombstone 9 mm Lever-Action Carbine
Patriot Ordnance Factory's (POF) new Tombstone carbine addresses the growing popularity of modern tactical lever-action rifles and 9 mm pistol-caliber carbines (PCC) in one handy package. Although this rifle is not based on the AR-15 design, POF's signature AR style tactical touches can be seen throughout the platform. The receiver is topped with a Picatinny scope rail sporting a XS Ghost Ring rear sight. The front blade sight is mounted to one of the two forward accessory rails found on the 10.5" MLOCK aluminum handguard.
The 16.5" free-floating fluted 4150 steel barrel has a muzzle threaded at 1/2 x 28 TPI which is fitted with a removable dual port muzzle break. The oversized lever, or exposed hammer, can be used to cock the gun giving the flat-faced, single-stage trigger a crisp break at 3.5-lbs of pressure. The Tombstone employs the same in-house 10- and 20-round polymer magazines that were developed for the company's Phoenix 9 mm pistol. With its Magpul SGA 870 shoulder stock and an unloaded weight of 5.75-lbs., this rifle swings nicely and is comfortable to shoot. MSRP: Starting at $1,962
Ruger Security-380 Pistol
Ruger has added a new low-recoil defensive handgun offering with the release of the compact-size Security-380 chambered in .380 ACP. Based on the successful Security-9 chambered in 9 mm, this new gun maintains the same slide and frame profile as its predecessor. This means it will fit most existing holster systems. One of the key advantages of double-stack, compact .380 ACP pistols like this one is that it provides moderate levels of felt recoil when compared to more snappy .380 ACP pocket guns or compact models chambered in 9 mm.
This model also features Ruger's Lite Rack system, which includes a weight-reduced slide, enhanced cocking serrations, pronounced cocking ears and a lighter recoil spring. The result is a slide assembly that's noticeably easier to cycle manually. This model features a fiber optic front sight, a light, smooth trigger pull and an external thumb safety lever. This gun arrives with a flush-fit 10-round and an extended 15-round magazine. We plan to conduct an evaluation of the Security-380 soon, so stay tuned! MSRP: $369
Ruger Wrangler Long Barrel .22 LR Revolvers
This year Ruger is expanding its lineup of affordably priced .22 LR rimfire Wrangler revolvers— literally. In addition to the 3.75" birdshead grip configuration and the 4.62"-barrel standard model, customers will have access to 6.5"- and 7.5"-barreled revolvers in matte black, silver and burnt bronze Cerakote finishes.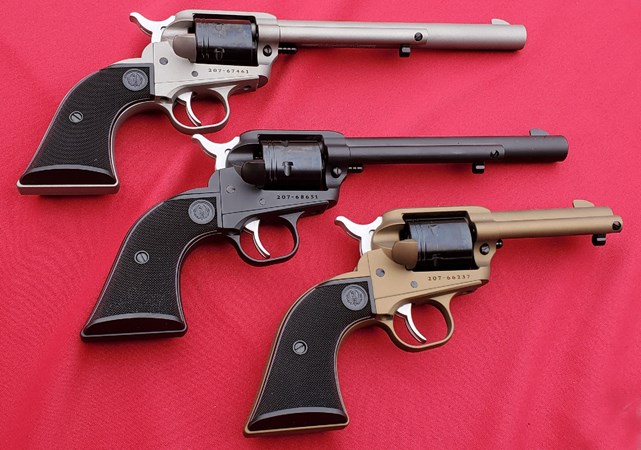 I bellied up to the bench with a 7.5" version during the Industry Day at the Range, expecting it might feel a bit muzzle heavy. Instead, it exhibited that wonderful, well-balanced feel that makes working with single-action revolvers so enjoyable. As expected, recoil was all but non-existent with typical .22 LR loads. Ruger has also added a 3.75" barrel version with the standard "plowshare" grip frame for those who prefer it to the birdshead grip. MSRP: $269
TNW ASR LTE 9 mm Takedown Carbine
TNW Firearms new ASR LTE may well be one of the lightest and most flexible 9 mm pistol-caliber carbines (PCC) yet devised. This company's original ASR (Aero Survival) rifles are durable, reliable and caliber-convertible take down carbines designed for bush pilots who might have to walk out of the wilderness from a bad landing. Weighing in at around 5.5 lbs., their steel and aluminum construction is durably designed to shoot a variety of pistol calibers, including .357 Sig., .45 ACP and 10 mm Auto, using Glock pistol magazines.
But the LTE has been specifically designed around the 9 mm cartridge. This allows the carbine to be trimmed down to an unloaded weight of just 3.95 lbs. without sacrificing the features customers prefer. The quick-detach barrel has a threaded muzzle and a slimmed down profile that keeps most of the carbine's weight back at the receiver. This contributes to a light, handy feel which is a great fit for shooters of various sizes and experience levels. And being chambered in 9 mm means it will produce modest levels of recoil and cost less to shoot. This makes the ASR LTE and ideal option for plinking, camping and home defense. MSRP: $919
Savage Arms' Stevens 334 Bolt-Action Rifle
Savage Arms' Stevens line up of sporting long guns has provided customers with reliable, yet affordable shotguns for many years. But it's been quite some time since a rifle bore the Stevens moniker. This year Savage has changed that with the introduction of the Stevens 334 series of bolt-action hunting rifles. The initial caliber and barrel length options include models chambered in .243 Win. or .308 Win. with 20" barrels or a 6.5 mm Creedmoor chambered version with a 22" barrel.
The button-rifled barrels are free-floated for improved accuracy. The receiver features a three-lug bolt assembly, a three-position safety lever and an adjustable two-stage trigger group. The top of the receiver is drilled and tapped for scope mounts and arrives with a Picatinny rail installed. The detachable-box magazine can hold up to 3 rounds of ammunition. Customers have a choice of a black synthetic stock or a walnut stock which adds $100 to the suggested retail price. MSRP: $389 - $489