by
posted on April 1, 2020
It's the beginning of April and many of us are becoming (already are?) stir-crazy with the various COVID19-related quarantine and shelter-in-place orders. With some of the panic buying and lowered police response of the last few weeks, it's also gotten a little scary out there even if you aren't worried about you or a loved one getting sick.
Fortunately, there are ways to take control and continue to prepare to defend yourself even while you're stuck inside. And since a lot of us have extra time on our hands now that we're not commuting, working or going out, it's a perfect opportunity to get better at staying safe. Here are a few ideas to help you not only feel but be safer through these uncertain times and as we emerge into our new normal:
Dry Fire!
Anybody who's followed me in the past knows that I'm a big proponent of dry fire or dry practice with firearms. All you need is a safe direction and a triply-checked-to-be-unloaded gun, and you can do all sorts of things that will make you a better shooter and defender.
Many folks have more guns loaded in the house than usual in these uncertain times, so you do need to be even more mindful than ever that what you're using for practice is unloaded: magazines out, chambers empty, or whatever is applicable to what you're using. It's impossible to be too safe when it comes to dry practice. If you're not sure how to do that, skip this section and read on for other ideas!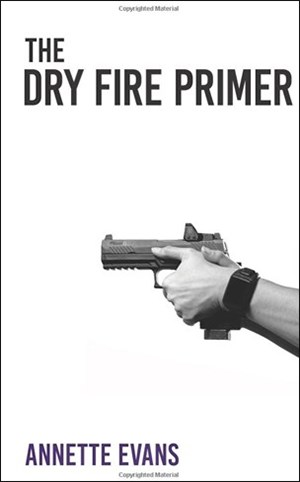 If you are, there are a number of things you can practice. New gun owners should practice operating their new firearm so that they're comfortable with things like locking open the slide on semi-automatic handguns or the bolt on AR-style rifles. If dummy rounds are available (never use real ammunition for dry practice!), this can be a good time to practice loading and unloading the firearm. Moving on from there, dry fire time is also helpful for becoming more familiar with correctly holding the firearm, lining up the sights, and even pressing the trigger. You can also work on safely and effectively getting your gun out from its holster or storage spot.
Want more details and ideas? My book, "The Dry Fire Primer," is available on Amazon.
Get Your Learning On!
There are so many resources on the Internet that are relevant to self-defense and safety, both for current concerns and for when we reemerge into the outside world.
Fortunately, there are many great places to be found online with excellent content. What kinds of things can you learn from them? How about legal issues relating to home- and self-defense; firearm safety beyond just a listing of rules; technical tips about how and why to use different kinds of guns and accessories; use of non-firearms self-defense strategies and tools like verbal skills and pepper spray; information about how to clean your guns and install upgraded parts or accessories; shooting and hunting activities that you might be interesting in taking up after the quarantines end; and even history of guns and famous shooters?
When you're hunting for things to learn, don't rely solely on social media. Check out books, websites, blogs and YouTube too. Google is your friend, and you might be surprised at what's out there if you go beyond your feed. My favorite recent find? The NRA Museum galleries are almost entirely online! Just remember that it's important to make sure your sources are reputable, so make sure you check who's putting out the content you're looking at and consider cross-checking against multiple sources. 
For more personalized learning, you might also look for instructors who are offering video-based lessons and consultations. They can help you learn about your new firearm, take a look at what you're doing in dry fire practice, or help you plan your training regimen now and when you can get back out on the range.
Get Fit!
I know, you thought you were reading some tips for staying ready to defend yourself while stuck at home. You still are. Being in good shape is an important part of any self-defense plan for a variety of reasons.
For one, it's a lot easier to get away from an attacker if you can actually take that popular piece of advice and run away. The first rule of Zombieland was "Cardio" for a reason, and it's not just being able to sprint in a straight line. Think about whether you can climb up or down stairs quickly, jump over or push away obstacles, and zig and zag around corners.
If you end up in a hands-on struggle after all, being stronger will help you fight your way out. You might not be as strong as your attacker, but having more strength than you had yesterday will never be a downside when trying to get away from someone with ill intent. And while it's easier to learn and practice martial arts like Brazilian jiu-jitsu or boxing in person, there are many videos that can get you started with core skills—some of them are even free or reduced price right now.
Lastly, if you actually end up being injured in a self-defense situation, being fit is one of the most important things you can have on your side along with a positive mindset and being determined to survive and prevail. Good health makes you literally harder to kill and faster to heal.
Do I have you convinced? Then make finding an at-home workout plan part of your self-care and self-defense work while you're in isolation.
Staying Ready
Hopefully this gives a few ideas of ways you can keep yourself busy and be better prepared to defend yourself even when you can't leave home. Plus your increased skills and knowledge, not to mention better fitness, will make you actually safer now and in the future. Good luck, and stay healthy!

About the Author: Annette Evans is the Beauty Behind the Blast and founder of "On Her Own," a project for women navigating the world solo. When not studying shooting and self-defense, she is a competitive shooter who goes to the gym too much. Annette is also an NRA- and Rangemaster-certified firearms instructor, author of "The Dry Fire Primer," and a commercial attorney in her spare time. Her cat's name is Tuna.
Additional Reading:
 
On Her Own: Tools of Non-Defense  
On Her Own: You Are Worth Defending