by
posted on April 2, 2022
At the top of our lineup this week, two women with two big competitive shooting wins! It was a mere seven years ago, in 2015, when former professional swing dancer Alysia Burrows began her journey in the world of competitive practical shooting. These days Burrows is a sponsored professional shooter, and the latest news is that she's taken the Top Lady title at one of the crown jewels of practical shooting: the Superstition Mystery Mountain 3-Gun (SMM3G) match. Read more here! 
Doane University (Nebraska) can now call one of its students a national shotgun champion. Payton DeTavernier, a member of the college shotgun team, claimed the top spot the 2022 ACUI Collegiate Clay Targets National Championships in San Antonio, Texas. The Federal Ammunition sponsored shooter won the women's Doubles Trap division and also claimed the Combined American Trap events Overall title. Congratulations! 
As for the next generation of women who shoot, there's the story of Alanna Neidigh.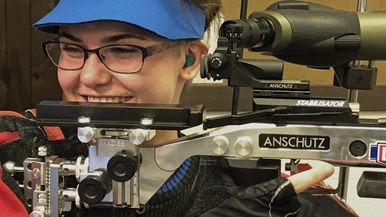 Usually, it's the dad who gets the daughter involved. In 19-year-old Alanna's case, it was her mom who took the first steps. Her mom bought a handgun for self-protection and wanted to ensure Alanna understood firearm safety. She brought Alanna to a dump and had her shoot a .22 LR rifle ... and now she's taking titles. What's next for this Rising Shooting Star? 
While no one expected one firearms course to change Bryson's life, it is common for people with autism to excel in highly structured environments. Gunsite Rangemaster and Instructor Il Ling New said that Bryson was likely comforted by the precise steps and strict rules allowing him to control the firearm, his outcomes and that small portion of his environment. Find out how gun training changed two lives for the better here.
Without gunpowder there would be no guns! Gun powder is one of the "Four Great Inventions" of ancient China: paper, the compass, gunpowder and printing. Find out more about the history of gunpowder here.
Winchester has announced the start of the second year of the Ladies Cup, which coincides with the 2022 NSCA Championship tour, powered by Winchester. Team Winchester all-star Desi Edmunds and team will look to continue the momentum from last season's success. Find out more here! 
Firearm safeties are designed to prevent a gun from an accidental discharge. Safeties come in a variety of types and shapes, and each is engaged and disengaged in a different manner. They can be in the form of buttons, switches, slides or hammer positions. They can also be found on the firearm's trigger guard, receiver or bolt. Knowing the location and how to operate the safety on the firearm you are using is critical. The must-knows are here.
"What shotgun do you suggest I buy?" The answer is the same for any firearm purchase: Get the firearm that makes you happy and you will actually use! You will be happy with any firearm that fits you properly, feels good, and most importantly, enables you to succeed. That success could be in the form of broken clays or filling your game bag. That said, if you go with a semi-auto, it's good to understand the difference between gas- and recoil-operated guns!