by
posted on March 27, 2021
This week, we're excited to report that Shoot Like a Girl is taking one novice huntress on a free turkey hunt ... which novice huntress, you ask? Well, it could be you!
One applicant will be chosen based on her thoughtfully worded 500-character limit "essay" to participate in a guided turkey hunt in Kansas, from May 7-9. Check out the details here.
Women's History Month is every month here at NRA Women, but we just can't resist highlighting some of the women who made history with their guns. That's why you shouldn't miss the thrilling tale of Ida B. Wells-Barnett, who was born into slavery but brought freedom to women everywhere. An educator, journalist and civil rights crusader, she was an advocate of the use of firearms for self-defense ... and a hero. 
That said, one of the easiest ways for a woman to make history is to be ... ill-behaved. That's the root of the reason we know about "bandit queen" Belle Starr, but there's much more to learn. Was she really an antihero, or just a pawn in a larger game?
Ever wondered why so many semi-automatic pistols have "lightening cuts" in their slides? Are they cosmetic, like the spoilers on 1950s cars, or something that boosts speed like afterburners? Shooting Illustrated's Tamara Keel has the scoop.
Trigger pull weight is the handgun measurement you didn't know you needed to care about. For some women (especially new shooters), it's a real make-or-break factor in accuracy. The "right" trigger pull is always relative, but here are some ways to make sure you pick one that's right for you!
In January of 2003, a daughter named Jalise was born to hard-working parents Jason and Jaime Williams. Little did the parents know what was in store for their new little family.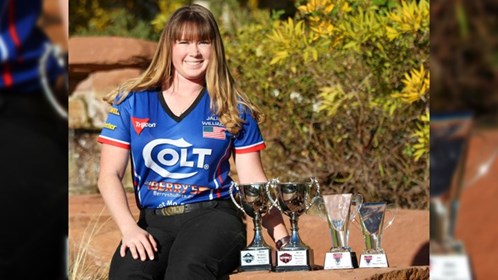 Meet Jalise Williams, who's about to turn 18 years old as a nine-time UPSPSA and IPSC High Lady National Champion with eight national titles. Catch up on some "wow!" at Shooting Sports USA!
Did you know that women are much more likely to be cross-dominant than men? Or are you wondering what "cross-dominant" means? Champion competitive clays shooter Jane Brown Keller, a Founding Member of the Annie Oakley Shooters, is here to help with this essential element to accurate shooting in this simple video. 
A Girl and A Gun Women's Shooting League all began back in 2011 over dinner at a Mexican restaurant. Ten years later, they're nationwide and at the top of their game (that must have been some terrific Mexican food). Happy belated birthday, A Girl and A Gun!