by
posted on November 5, 2022
What says "fall" better than pheasant hunting? What about pheasant hunting this fall with NRA Women columnist and Winchester Brand Ambassador Melissa Bachman on an expenses-paid trip for four? There's a chance to win an all-expenses-paid trip to hunt South Dakota pheasant with me next fall thanks to South Dakota Tourism and DSG Apparel! The winner will receive a one-day/two-night guided hunt for four at Halverson's Hunts, a South Dakota hunting preserve, plus up to $1,000 in vouchers to cover travel expenses. Catch the details and the excitement here!
Editor-in-Chief Ann Smith writes, "We always imagine that those who seem to effortlessly conceal their firearms are just naturals—born to carry! Maybe that's true for some—and no man will ever tell you different—but they for sure are the exceptions. I am enormously grateful for the opportunity to eavesdrop on this completely unscripted conversation with some of my new concealed-carry mentors, and learn how they grew into everyday carry." Join the conversation here.
Big news, big building and an even bigger thank-you: The NRA Foundation has received a generous personal donation from Larry and Brenda Potterfield, founders of MidwayUSA, which includes a 139,120 square foot warehouse and 8.81 acres of land in Columbia, Missouri. Learn more here.
We are happy to once again share some fun data that is surfacing from the 2022 A Girl & A Gun National Conference, which took place last spring. While we consistently report on this website that each woman should take them time to determime which gun is right for her, one of the questions we love to have answered is which guns women decided were right for them, especially if it turns out that you have choices in common with them. Check out the most popular handguns of the AG&AG National Conference!
NRA Women congratulates the winners of the 2022 NSCA Championship Tour Ladies Cup, Powered by Winchester, which wrapped up in San Antonio at the end of October. Winchester has a long track record of promoting female participation in shooting sports, with its finale of the second annual Ladies Cup coinciding with the 2022 NSCA Championship Tour. Find out who took the podium here!
It's a happy coincidence that Thanksgiving and Opening Day of whitetail season tend to fall so closely together each year ... and in many places in America, they're celebrated with the same level of joy. But whether your most fervent prayers of gratitude follow the harvest of a deer or precede the slicing of a turkey, now's the time of year to remember the less fortunate. Please consider donating some of your wild game harvest this year ... 
We talk a lot about intuition as part of your defensive strategy here at NRA Women, and so do our friends at Shooting Illustrated. Intuitive decisions are often a product of previous intense and/or extensive thinking on a specific subject. These decisions may appear fast and effortless. It ensures we respond in the moment, freeing up our brains to tackle new experiences. We have a hunch you'll like this article (see what we did there?) ...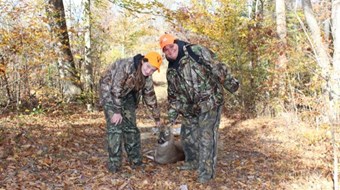 From time to time, even the most experienced hunters wound game and are forced to track it. This does not necessarily mean the hunter made a bad shot! Sometimes animals run on sheer adrenaline, and it is amazing what an animal can do under duress. Ethical hunters do their best to recover the animal, and with patience and the right techniques you'll succeed. Just avoid these six tracking blunders…