Have you ever been startled by a bang! Bang! Bang! from a shooter in an adjacent bay rapidly emptying a magazine? Sometimes indoor ranges leave something to be desired for a peaceful shooting experience, let alone a productive learning environment. New shooters especially can be spooked by the confined space full of strangers relentlessly sending rounds down range. Seattle-area businessman John Fowler heard the story of a woman who completely gave up on firearms after being so unnerved by the loud and intimidating atmosphere of an indoor range and thought there has to be a better way.
As a property developer and builder, Fowler imagined a facility that would satisfy a family's needs and provide the community with a welcoming, safe, teaching and practice environment. In 2015 Fowler put his ideas for a modern indoor range into motion. He found a promising piece of property near Woodinville, just north of Seattle, Washington, an idyllic farming community now known for farm-to-table dining, wine-tasting, and biking and running trails. Partnering with like-minded entrepreneurs Tom Matos from the tech industry and Sylvia Bolton, an industrial and yacht designer, they built an inviting 21st century high-tech range from the ground up.
The trio had the simple goal of eliminating the intimidation factor that usually exists around firearms and shooting ranges for inexperienced users and, especially, women. In fact, Securité's management actively seeks motivated and diverse applicants to ensure all of their members are welcomed by instructors who make them feel comfortable. Secuité's instructors have already helped many women find confidence and empowerment through firearms training and regular practice.
Inside the modern industrial exterior is a showroom, retail space, classrooms and of course, the range. The showroom's display cases contain the latest and greatest in modern sporting rifle and handgun technology in a large open room with bright lighting. The retail floor has successfully escaped the traditional gun store vibe of a dark, wood-paneled room with a "wall of black guns." Securité's showroom is also bright and clean with tall ceilings and a chandelier. The goal of the chic and contemporary space is to welcome new comers into a both figuratively and literally open space free of confusing clutter and intimidating displays.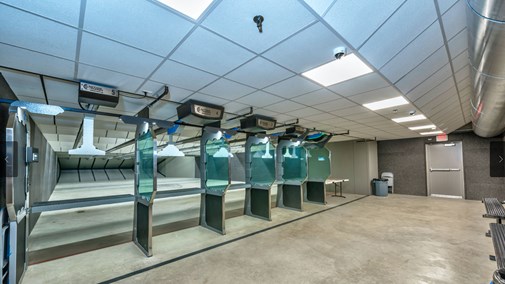 There is also an attitude among the Securité staff that creates a family-friendly surrounding. The oft-heard complaint that gun shop employees can seem intimidating to firearms novices is not present at Securite. This unique facility whispers there is more to the Securité lifestyle than just firearms. The staff go out of their way to be welcoming and helpful. Securité offers a full range of training classes for women, families and shooters from novice to experienced. Securité is also a host facility for one of The Well Armed Woman's shooting chapters and promotes shooting sports to otherwise under-represented groups.
Securité is open to the public but is a membership-based organization. Memberships range from standard services to extreme catering. Prices for entry-level memberships, beginner gun safety courses and visitor range use are competitive with other Seattle-area gun ranges. Regular memberships provide range use and event spaces to members and accompanying immediate family who have access to family-themed events such as Family Night and Father-Daughter classes. Higher-level memberships provide access to a whole host of special conveniences including private range access, business and relaxation spaces, firearm storage, personalized office accommodations and concierge services.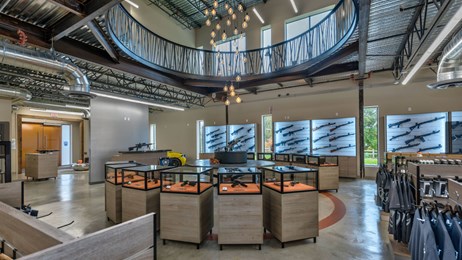 Dismantling the intimidating and outdated reputation of indoor ranges and gun shops doesn't stop at the showroom either. The range building is state-of-the-art. It has its own ventilation and filtration system and is kept at a slightly lower air pressure to ensure that no air seeps from the ranges into the retail and office spaces on the other side of a 12" thick wall. The entry portal features a holding room between entry doors that limits access to the shooting range until the door to the showroom is closed and secure. In an effort to keep guests as safe as possible, the range is outfitted with the latest positive-flow air pressure system cycling air through a state-of-the-art double filtration system that fully cycles the interior atmosphere every 90 seconds.
Four 25-yard shooting bays with as many as 17 lanes make up the layout of the range. Two of the bays are set aside for Securité members to ensure availability of shooting lanes even in times of heavy public use. Each bay can accommodate a large range of pistol and rifle calibers. The shooting stations are modern and wide to easily accommodate shooters and instructors. Plenty of room is provided behind individual stations to allow observers and movement without distracting shooters. See-through, bullet-resistant barriers separate each station for safety but also to allow shooters complete awareness of what is taking place around them. A computer driven silhouette-system provides almost unlimited choices on target range and presentation. Robotic moving targets are available and the latest remote target scoring systems are under evaluation.
Lighting can be set to low light or night environments and simulate various background lighting including police vehicle strobes. All bays include the Total Containment Trap system that insures safe, eco-friendly recovery and removal of bullets and lead dust. Specially designed sound-absorbing tiles surround each bay to eliminate echo. The range is well-managed and clean. Range Safety Officers observe all firing activity. Just like the retail, reception and training space, the firing bays are comfortable and provide an inviting atmosphere to shooters of all ages and experience levels.
However, Securité is more than a shooting facility; it is a place where the community can gather for pleasure, work, camaraderie or learning. The facility doubles as a venue for weddings, receptions and corporate meetings. Attendees are even able to do a little shooting during their events. (Can you say best meeting or wedding reception ever?) The highest tier members also have access to office suites, gym equipment, lockers, showers, a private shooting bay and personal firearms storage.
This is a serious facility where experienced shooters can escape the often inclement environment of the Pacific Northwest and take advantage of the impressive technology that only this range has to offer. Hopefully, this is the future of modern, safe, eco-friendly, inclusive shooting facilities and it exists now at Securité Gun Club in Woodinville, Washington. With hope, more entrepreneurs can give their communities the benefit of this level of investment in the future of shooting.