Images: Dailey Life Photography courtesy of West Georgia Woman Magazine.
The man had been sitting in the booth all night.
This was not unusual during the overnight hours at The Waffle House in Carrollton, Ga., where third-shift workers and college students would frequently linger for hours over food, conversation or to sober up after a night out.
So when Nikkita Gordon, then a sophomore at the University of West Georgia, left her waitressing shift at 7 a.m. to return to her dorm, she was unfazed when the man got up and left, too. But soon, she realized he was following her, his pace quickening with hers. She shouted at him to stop; he responded eerily, "I'm just walking you home."
Fortunately, several co-workers leaving the restaurant and a team of police officers arriving for breakfast noticed her distress and rushed to her aid. The man, it turns out, was a registered sex offender, and there's no telling what could have happened had others not intervened when they did.
It was a life-changing moment for Nikkita.
"I was so scared when I realized how serious the whole situation was," she recalls. "I was completely defenseless. I wasn't into guns. I had no self-defense products. I almost led him right to my residence without even realizing it. It was a shock in my life, and I decided I never wanted to be in a situation like that again." 
She did what any college student would do: She studied. She researched how other women equip themselves for self-defense. As she shared her story with family members and professors, they recommended she consider investing in a small handgun. She visited local gun ranges and learned to shoot, tried different handguns and obtained her concealed-carry permit.
But then she faced another challenge: how to carry. 
A track and field athlete, Nikkita is petite with a runner's build. As a marketing student with an eye on a business career, she was accustomed to dressing in fashionable professional blazers, outerwear jackets and coats. Disappointed by the masculine-looking, bulky holsters on the market that simply did not work for her, she came up with an idea: to create her own unique holster sewn in to the inner lining of her jackets. A professor encouraged her to do her research, telling her: "If you can design a holster that actually works and somebody doesn't already own the design, I can help you wrap a business around it." 
Nikkita decided that, first, she needed to learn to sew. From her college student's small budget, she hired local seamstresses to teach her. "My first project was a quilt—one of my prized possessions now," she says proudly. But her goal was bigger: to learn to sew her own holster to her exact specifications to use as a prototype to show others immediately. It took four tries over many months to get it perfect. Her first sales came soon thereafter.
In December 2018, Nikkita graduated with three credentials: a college degree in marketing, a certification in advertising, and the title of CEO of her new company, Cute & Cocky LLC.
Two months later, she attended her first firearms industry event, SHOT Show, as the guest of friends from her local gun range. In September, she achieved another milestone as a first-time exhibitor at the 2019 NRA Personal Protection Expo in Fort Worth, Texas, sharing a booth with friend and mentor Kristin Franke of Pack'N Neat and showcasing her product in the concealed carry fashion show.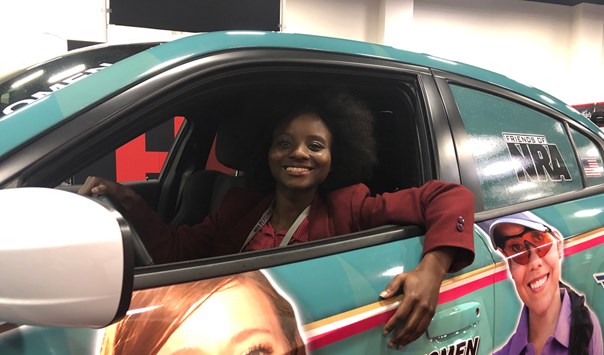 Author image
And she's just getting started.
This fall, Nikkita will return to school to pursue her MBA. She's just launched a new product that's already receiving great reviews: a custom-made concealed carry hoodie with a hidden built-in holster retention system in the front pocket for easy left- or right-hand draw. She has just secured patents for her current products and other new holster products currently in development.
And her sewing machine continues running faster than ever—with every stitch in time helping save lives.