by
posted on September 10, 2021
When the 150th NRA Annual Meetings & Exhibits were abruptly cancelled due to the pandemic, the disappointment of not being together for this annual NRA "family reunion" was felt in all corners of the NRA community. 
But one special community—the NRA Women's Leadership Forum—was undeterred.
Thanks to this extraordinary group of committed NRA women who have become known for their stalwart efforts to make things happen even during the most challenging of conditions, the 15th Annual NRA Women's Leadership Forum Luncheon & Auction went on as planned. Well, not quite as planned, as the event was intended to occur in front of a capacity crowd (about 1,000 seats) at the Houston Marriott Marquis ballroom.
But even though the U.S. Marine Corps owns the motto "improvise, adapt and overcome," the women of the NRA Women's Leadership Forum followed suit, and pivoted yet again to overcome and ensure that one of the NRA's most popular and successful philanthropic events of the year, the NRA Women's Leadership Forum Luncheon & Auction, was able to carry on via Livestream, broadcast from NRA Headquarters in Fairfax, Va. A limited number of NRA Women's Leadership Forum members attended the event in person, including 2021 Luncheon Chair Mitzy McCorvey, Title Sponsor and NRA Board Member Barbara Rumpel, WLF Volunteer Co-Chairs Susan LaPierre and Janet Nyce, and WLF Executive Committee members Brenda Potterfield, Vickie Bell, Anne Draper and Veronica Kosich.
As NRAWomen.com viewers were aware, the annual online silent auction kicked off the event a few weeks earlier. This was the first time the silent auction was open to the public, and resulted in hundreds of items, including dozens of firearms, concealed-carry purses, unique jewelry, gun gear, one-of-a-kind experiences and hunting excursions, and so much more, snatched up by the highest online bidders at the conclusion of the broadcast event. 
The virtual program, which took place on the same day on which the original was scheduled—Friday, Sept. 3, 2021—was open to all who had purchased tickets to the live event. Registrants were privy to not only the live auction, which was once again masterfully orchestrated by professional auctioneer Yves Rojas, but they were treated to addresses by Texas First Lady Cecilia Abbott and South Dakota Governor Kristi Noem, both of whom hale from states known for their unwavering protection of our Second Amendment rights.

From top, Texas First Lady Cecilia Abbott; South Dakota Governor Kristi Noem; and professional auctioneer Yves Rojas.
2021 NRA Women's Leadership Forum Lifetime Achievement Award 

NRA membership among women now hovers at around a record 400,000, which inspired NRA Executive Vice President Wayne LaPierre to tell the women during his welcome remarks, "You breathe life into the shooting sports. Most importantly, you are all respected leaders in the fight to defend our Second Amendment rights. In fact, without you, I think it's safe to say this freedom that we're gathered to celebrate today wouldn't exist."
LaPierre shared statistics about women and guns: Women are now four times more likely than men to get a concealed carry permit, and nearly 40 percent of all, new, young sport shooters between the ages of 18 and 34 are women.
"The fact is, women all across America are joining our cause, because they know that an armed women is an empowered woman," he said.
Segueing his remarks intended "to celebrate and honor an extraordinary woman, who, like all of you, has made it her life's mission to grow, protect, and preserve our great American hunting, shooting, and outdoors traditions," LaPierre recognized Mary Cabela, this year's recipient of the 2021 NRA Women's Leadership Forum Lifetime Achievement Award.
"She is a foremost ambassador of our great American hunting and outdoor tradition, a true role model for conservation leadership, and a passionate defender of our Second Amendment freedom," he said. "Her leadership and love of the outdoors has touched countless lives, and continues to touch lives today."
Here Comes the Judge 
Around the country, small-group watch parties composed of NRA Women's Leadership Forum members joined in the festivities from their various home states, eagerly bidding on spectacular auction items as they awaited remarks by the event's keynote speaker, Judge Jeanine Pirro, who is best known today as the fiery host of Fox News Channel's popular "Justice with Judge Jeanine."


Small-group watch parties joined in the festivities from their various home states.
Pirro spoke to this year's event theme—Speak Your Truth—which encourages women gun owners, whether for personal defense, hunting, competitive shooting, or as defenders of firearms freedom to proudly tell the world that they support the Second Amendment, in whatever form that proclamation may take. 
Pirro—who arrived at the event courtesy the 2021 NRA Women car emblazoned with the #SpeakYourTruth slogan—reflected on her years working in the New York justice system as the first elected female judge and the first elected female district attorney of Westchester County. It was there that Pirro gained visibility in cases of domestic abuse in times when "men thought it was OK to beat [their] wives. You could shoot her, stab her do whatever, and as long as you didn't kill her, it was OK," she said.
"That was my truth, that was my passion, that was what I needed to do to be me, that was what I needed to do to have my self-respect," she said. "But right now, it's even more raw than that. Right now, having the ability to own a gun is essential to our survival."
Pirro said the NRA is very important, not just to women as mothers, sisters and daughters, but as Americans. "America is being disintegrated by a group of people who believe from the get-go that's it's OK to leave Americans behind," she said. "But I am passionate. I am ready at any given moment to fight about guns. And the truth is that our government thinks that if you own a gun and if you believe in the Second Amendment, you are a domestic terrorist. Our government thinks that the Second Amendment is not there for us; it's there for them."
These anti-gun efforts are nothing new, said Pirro, reminding the audience that "history tells us that tyrants, totalitarians and political hacks have always sought to strip individuals of their liberties, whether it's guns or their faith in God …  because an armed citizenry is a constant and dangerous threat.
"People have always said such things like that can never happen in America," she said. "My friends, it is happening today. We live in a country where local, state, federal officials, law enforcement, judges, prosecutors, the media, the fourth estate … they work to strip us of our fundamental liberties every day including our right to bear arms."
Pirro strayed from her scripted speech to offer commentary on current affairs and to emphasize the consistent dishonesty of politicians and some political pundits, but circled back to the topic of speaking her truth, particularly as it pertains to firearm ownership. "I'm tired of it; you're tired of it. I'm tired of being criticized because I'm a gun owner," she said.
"I've spent my career on the battlefield where the fight between good and evil unfolds every day. Not everybody is good. When the police are defunded, when police are being told to stand down, when 9-1-1 is incapable of responding in the time that you need—you need a gun," she said. "You need to get a gun. You need to learn how to use that gun, and I don't care if it's a long gun or a handgun, and I don't care what they tell me about what kind of gun I can have, or how big my magazine can be. All I care about is protecting myself and my family, and that needs to be your concern now more than ever."
Pirro closed out her remarks by referencing a quote once used in a speech by abolitionist Frederick Douglass: A man's rights rest in three boxes: the ballot box, the jury box and the cartridge box.
"The voting box is in trouble, the jury box is in trouble, and now the cartridge box is in trouble," said Pirro. "We are short on ammunition, and the sooner they can get rid of our ammunition, the sooner they are going to be able to get rid of our guns. That's where we're headed," she said. "And our truth right now is that we have an obligation to protect ourselves and protect our families.
"No one is going to take my gun; no one is going to take my ammunition; and no one from Washington is going to tell me what I can or cannot do. Because they didn't give me the right to have a gun. Washington didn't give me the right to have a gun. It is a natural right, it is a constitutional right, it is a God-given right, and they cannot take it away from me or you and they can yack and talk and complain all they want, but if we stand strong, if we remain committed, if we stay strong, the Second Amendment will survive, and so will we. God bless you. God bless the women of the NRA."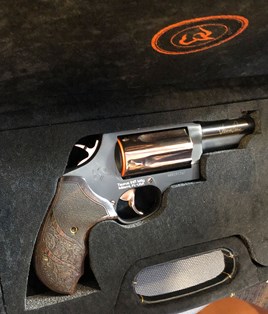 At the conclusion of her remarks, Taurus USA President & CEO Brett Vorhees surprised the judge by presenting her with a custom Taurus Judge revolver, which is capable of firing both .45 Long Colt cartridges and .410 shotshells. The firearm was cast in rose gold and engraved with Judge Jeanine's signature. 
Susan LaPierre, who volunteers as national Co-Chair of the NRA Women's Leadership Forum, told the attendees that today's NRA Women are standing on the shoulders of all those who came before us … "And now it's our turn to make our mark—to speak our truth—even when others want to silence us, to misrepresent us, to pull us down," she said. "Because the fact is there is a point in everyone's life where you have to draw a line in the sand. To stand for yourself and your values. To Speak Your Truth. And to never ever allow anyone else—not the mainstream media, not our political enemies, not the kid at school or the neighbor down the street—to try to speak your truth for you. Only you can do that."
Show Up. Stand Up. #SpeakYourTruth.
Keep fighting and keep speaking up. And be sure to save the date to join the women of the NRA at the next NRA Women's Leadership Forum Luncheon & Auction next May 20, 2022, during the 151st NRA Annual Meetings & Exhibits in Louisville, Kentucky.

Members of the NRA Women's Leadership Forum Executive Committee with the 2021 NRA Women car outside NRA Headquarters in Fairfax, Va.