If you thought you'd seen every variation possible of the 9mm Springfield-Armory Hellcat Pro—except it was still missing the one feature on which you insist—look a little closer today. Springfield has announced that the 15+1 compact pistol is now available with a frame-mounted low-profile ambidextrous manual safety. The location of the safety—at the rear of the frame—is a natural and intuitive placement for both left- and right-handed users.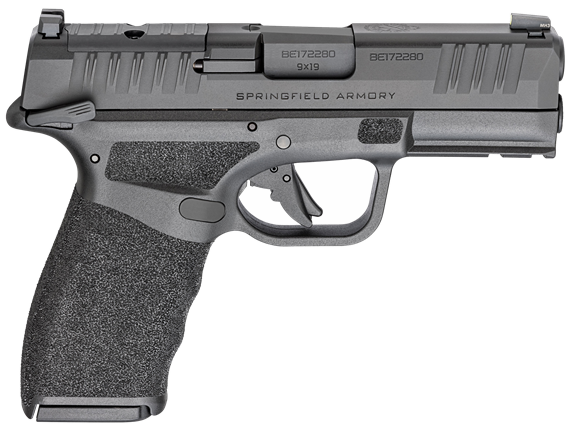 Everything else on the slim-line grip of the 1" wide pistol remains the sames, including the fact that it couples nicely with the additional mass in the slide and barrel to translate into reduced muzzle flip and potentially faster follow-up shots. The lightweight polymer frame features Springfield's trademark Adaptive Grip Texture, a seamless, pressure-activated texture featuring a pattern of staggered pyramid shapes. 
The new model was also developed with the use of red-dot optics in mind, thus it features an OSP (Optical Sight Pistol) configuration. The slide is milled with the Springfield Micro footprint, designed to direct mount the smallest, most popular micro red dots on the market for the lowest mount possible. Backing up your optic is a set of co-witnessing U-Dot sights, made up of a tritium and luminescent front sight paired with a Tactical Rack rear sight.
"The Hellcat Pro delivers full-size performance in a concealable, EDC-ready package with unmatched ergonomics," saie Steve Kramer, Springfield Armory's vice president of marketing. "And for those who prefer a manual safety on their carry pistol, this newest variant gives them everything they could want in a CCW pistol."
MSRP is $649 ($859 with optional Shield SMSc optic.
Hellcat Pro OSP 9mm Handgun w/ Manual Safety|HCP9379BOSPMS
Hellcat Pro OSP 9mm Handgun w/ Manual Safety & Shield SMSc|HCP9379BOSPMSSMSC
Hellcat Pro OSP 9mm Handgun w/ Manual Safety, Low Capacity|HCP9379BOSPMSLC
To learn more about the Springfield-Armory Hellcat Pro w/ Manual Safety, go here.