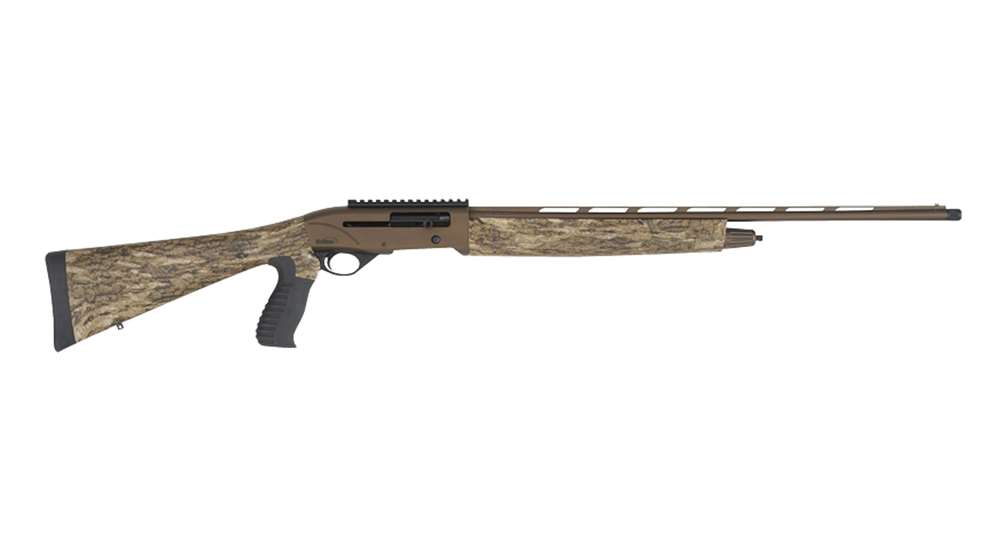 Embracing a new-to-you shooting sports endeavor can be exciting, but also a little daunting. For those who are new to hunting, chasing wild turkeys is a popular option with millions of Americans. There are plenty of these birds to chase, they're accessible and these wily game birds are challenging to catch. 
In the past, gearing up for turkey could be challenging for small-frame hunters. Dedicated turkey shotguns tend to be long-barreled 12-ga. models with extra tight chokes, lightweight polymer stocks and 3.5" chambers to accommodate shells packed with nearly double the lead pellets of typical loads. That all adds up to an oversized shotgun with a lumbering swing and intense levels of felt recoil for the more compact enthusiast. 
But over the last couple of years, we've seen more states allowing the use of .410-bore shotguns for gathering gobblers. The 3" .410 shells used for hunting produce much less recoil than their larger 20-ga. and 12-ga. counterparts. However, their gentler nature comes at the cost of launching a much smaller payload of pellets. As a result, there hasn't been much to choose from in the way of .410 Bore turkey loads or dedicated shotguns to shoot them—until now.
In 2018, Federal Premium Ammunition took a big step in the right direction with the release of the 3" .410 Bore version of their Heavyweight Tungsten Super Shot (TSS) load. This shell is filled with 13⁄16 oz. of buffered #9 size pellets loaded to a listed velocity of 1100 f.p.s. The TSS pellets are 95 percent tungsten which gives them a density that's 20 percent greater than standard tungsten loads and 56 percent greater than lead. 
In other words, these smaller #9 pellets hit harder and penetrate more deeply than larger lead birdshot pellets. And these shells can hold up to two times as many pellets as lead loads of the same weight making them ideal for harvesting wild turkeys. Just like premium rifle rounds, TSS ammunition is not intended for casual plinking or shooting a round of clays. It costs about $5.20 per round whereas typical lead loads cost about $0.52 per round. But, when it comes to making that critical shot, what's the price of losing a prize gobbler because a less expensive shell is riding in your chamber?
The selection of dedicated .410 Bore turkey shotguns is still relatively thin but the industry is catching up to the demand. I recently found the terrific new Viper G2 Turkey semi-automatic option from Tristar Arms. Located in Kansas City, Mo., this company imports high-quality Turkish firearms that are loaded with features at reasonable prices. 
The gas-operated Viper G2 sports a slim-profile 24" vented-rib barrel that gives this polymer stocked shotgun an easy swing. Some turkey guns are slathered with camouflage from stem to stern. Tristar opted for a more elegant two-finish option. The smooth fore-end and pistol-grip shoulder stock are treated with a durable Mossy Oak Bottomlands pattern camouflage while the barrel, receiver and magazine cap are treated with a weather resistant Midnight Bronze Cerakote finish. The other appointments are matte black to match the rubber of the over-molded grip and recoil pad. 
The typical brass bead front sight has been replaced with a bright, easy-to-see green fiber optic. The factory installed 6" scope rail will support your choice of magnified or red dot optics, or it can be removed if you prefer. The Soft Touch pistol grip provides plenty of purchase and control. It's useful for steadying the gun with push-pull tension for long range shots or added muzzle control for quick pop-up shots when shooting clays or flying birds. 
The Viper G2 proved to be utterly reliable with all of the 3" shells with which it was tested. The controls worked properly and intuitively. Most .410 shotguns are soft shooting, but the gas system makes the Viper G2 quite modest in the felt recoil department. The smooth, clean trigger pull only enhances the shooting experience. 
To find out if the TSS round is really a better performer than traditional lead hunting loads, it was patterned from a bench rest along with two Federal Hi-Brass 3" lead shot loads at 10, 25, and 40 yards. The Hi-Brass shells were filled with 11/16-oz. of lead birdshot launching at 1135 f.p.s. The difference was that one was filled with larger #6 pellets and the other with smaller #7½ pellets. The targets used were Champion's paper Turkey Target (No. 45780) with a 5" diameter bullseye printed over a life-size color image of a turkey's head and neck.  
A 5" circle was drawn around the center of the pattern and the number of pellet holes counted within that zone. With shot pellets this small it's not uncommon to see actual pellet counts vary as much as +/- 5 pellets or more when compared to nominal listings. So, rather than rely on listed nominal pellet counts, I cut open one shell from each lot to count out and weigh the payloads myself. The following table shows how each of these shells performed: 
I've handled and fired a wide variety of .410 long guns and handguns over the years, and I have to say that the Viper G2 has proven to be one of my favorites so far. In addition to being a reliable, lightweight turkey hunting gun, it has a flexible set of features making it an ideal option for a variety of shotgun activities. With the .410 bore continuing to garner popularity as a turkey hunting platform, folks will be glad to see the improved performance Federal Premium's Heavyweight TSS load has to offer. Now those of us who don't want to wrestle the weight and recoil of a magnum turkey gun can take advantage of this soft shooting, but effective, gun and ammunition combination.
Specifications:
Manufacturer: Tristar Arms 
Model: Viper G2 Camo Turkey (24153)
Action: Gas-Operated Semi-automaticmatic
Caliber: .410 Bore, 3" Shells Only
Chamber: 3"
Receiver: Aluminum, Midnight Bronze Cerakote Finish
Barrel: 24" Chrome Lined with Vented Rib and Midnight Bronze Cerakote Finish
Bore: Smooth with Removable Choke
Removable Chokes: CT-4T Improved Cylinder, Modified, Full, Turkey Extended
Sights: Fiber Optic
Optics Rail: 6" Aluminum, 14-Slot Picatinny
Stocks: Mossy Oak Bottomlands Camouflage, Synthetic
Pistol Grip: Soft Touch Over-Molded Rubber
Recoil Pad: Black Rubber
Safeties: Cross Bolt
Trigger Pull: 6 lbs. 68ozs. (As Tested)
Overall Length: 44.5" with Turkey Choke Installed
Length of Pull: 13.5"
Weight: 6 lbs.
Magazine Capacity: 5 Rounds, Shot Plug Included
Accessories: Four Removable Chokes, Choke Wrench, Choke Case, Stock Shim Kit, Owner's Manual
MSRP: $715