In 2019, Taurus introduced what has proved to be one of its best pistols yet. The TX22 is a standard-size (duty size) .22 LR striker-fired semi-automatic pistol that mimics the controls and grip shape of many popular defensive pistols. Two years later it was followed by the TX22 Competition, which is tricked out for formal target shooting competitions with a bull barrel and a barrel-mounted optic. But as is so often the case with a good thing, Taurus customers wanted something more.
Among the earliest requests the company received for the TX22 was a more compact version. This year they granted that wish with the release of the TX22 Compact. But instead of rolling out multiple configurations over a period of time like they do with some models, the company went ahead and packed the Compact with a full feature set to meet customer needs.

This version of the TX22 weighs in at just 17 oz.
The TX22 Compact is the same gun as the standard model but with some key changes to make it smaller and lighter. The barrel length has been reduced from 4.10" to 3.6" with the slide assembly shortened to match. Taurus made sure to keep the dust cover accessory rail and the barrel's threaded muzzle for those who wish to use accessories including lights, lasers, compensators and sound suppressors.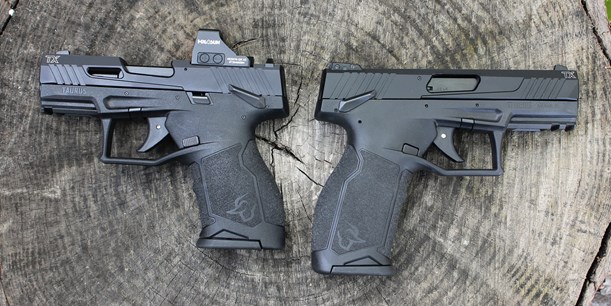 The TX22 Compact (left) compared to the standard model.
Changes in slide weight can cause reliability issues with .22s. This is one of the reasons why the TX22 Competition version has the optics plate mounted directly to the barrel. But having the optic positioned so far forward for the Compact model would interfere with using some types of holsters. The engineering solution Taurus opted for was to outfit the Compact with a weight-reduced slide while mounting the optic just in front of the rear sight. The lightening cutouts around the barrel, and completely opening the slide around the chamber, compensates for the added weight of the optic along with making the gun a little lighter for those who choose not to use a micro red dot.

The Compact ships with two 13-round magazines (left) but it will accept the standard 16-round magazines as well.
The textured grip frame has been shortened by half an inch. This in turn has reduced the magazine capacity from 16 to 13 rounds. However, this pistol will accept the standard 16-round magazines. Overall, the TX22 Compact I worked with exhibited the same level of fit, finish and attention to detail as previous models. The trigger pull was 4 lbs. 9 oz. according to a Wheeler digital trigger gauge. The gun weighs in at exactly 17 oz. with an optic and an empty 13-round magazine. This makes it about half an ounce lighter than the standard size TX22. This model ships with two magazines and a muzzle device adapter.

The muzzle is threaded and the pistol ships with an adapter for popular accessories including compensators and sound suppressors.
For this evaluation, the TX22 Compact was fitted with a Holosun HE507K-GR X2 open reflex sight with a green aiming reticle. Sometimes it can be a challenge to find that small dot in the center of the optic's lens. This optic offers three reticle settings that include just a dot in the center, an open ring with hash marks along the edges or the dot and ring together to form a bullseye-pattern sight picture. This reticle is bright, easy to see and quick to acquire making this optic a good fit for new and seasoned micro red dot optic shooters alike. 

The Holosun optic tested with this pistol provides a bullseye-style reticle.
At the shooting range, the TX22 Compact operated smoothly and reliably throughout the course of testing. The pistol is handy and light with a smooth trigger for a striker gun. The slide only requires a modest amount of pressure to cycle manually, and the magazines are easy to load. Like previous TX22 models I've tested, I wanted to keep shooting it as long as the ammunition supply would allow.

The Compacts optic is slide mounted like many center-fire defensive pistols.
The ammunition used for testing included high-velocity loads from practice to premium grade with bullet weights between 36 grain to 40 grain. The pistol fired them all without any jams or malfunctions of any kind. I usually conduct formal performance testing with three loads but this time four loads were put through their paces. Federal Premium's29-gr. nickel-plated flat point Punch load is the only .22 LR cartridge that I'm currently aware of that is marketed as a defensive round specifically tuned for short-barrel handguns. It was a great fit for this gun. The other Federal load is the 36-gr. Champion copper-plated hollow point, which has become a go-to, multi-purpose load for a variety of guns, so I was glad to see it run well with this one.
The Aguila Interceptor and Winchester Wildcat loads shown here in the range results table were a bit of an experiment. These cartridges launch 40-gr. bullets at relatively high listed rifle velocities, 1470 fps. and 1300 fps. respectively. They have both proved to be top-notch operators when used with various rimfire carbines I've evaluated.   
These loads were utterly reliable it the TX22 and printed useful groups at 15 yards. But take a look at the bullet velocity. Some loss is expected when firing rifle rounds from pistol-length barrels. But they dropped more velocity than one might expect. This is most likely due to slower burning powder charges that use the longer bore of a carbine-length barrel in order to push their bullets at higher speeds. However, the relatively sedate Federal Punch load actually gained enough velocity from this pistol to give it more muzzle energy than the two speedster rounds. It also produced noticeably smaller groups on target. The takeaway from this limited test is that .22LR ammunition with a higher listed velocity may not produce the levels of performance you're looking for when fired from a handgun.

It's important to test different types of .22 LR ammunition to verify which will be a good fit for your pistol.
The launch of the TX22 series of .22 LR semi-automatic pistols marked an important shift for Taurus in overall quality control and innovation. Since then, the pistols and revolvers that I've evaluated from this company have proved to be reliable and well-made while maintaining fair prices for customers. Like a good bag of potato chips, I keep going back for another handful of what this company has to offer.  
The optics-ready TX22 Compact is impressive in the number of boxes it checks off of the rimfire pistol list. The only rimfire pistol category that may not be the best fit for it is formal target shooting, which is a role better filled by the purpose-built TX22 Competition. But just about every other rimfire pistol endeavor that I can think of could be covered by the flexible Compact.

The TX22 Compact proved to be just as reliable and enjoyable to shoot as previous versions.
The trigger, grip shape and external control layout make it a useful understudy for similarly sized center-fire concealed-carry pistols. In addition to practicing trigger control and other semi-automatic drills less expensively, this pistol can also serve as a micro red dot optic trainer since it can be fitted with the same optics favored for defensive pistols.
This pistol is lightweight and compact, which are two features that make it a great fit for use as a trail or camp gun. The grip is comfortable with just-right texturing that contributes to it being enjoyable to use for casual plinking or harvesting small game at close range. The threaded barrel also allows this gun to serve as a sound suppressor host.

This pistol is easy to dismantle for routine cleaning.
Compact .22 LR pistols continue to be a controversial choice for personal protection (read more here). Although they are not an optimal choice due to their performance potential, for some self defenders the lowest levels of felt recoil possible are a must. So the same features that come into play for using this gun as an understudy also make it a practical defensive pistol in its own right. The striker-fired action provides a consistent trigger pull while the magazines can hold between 13 to 16 rounds. This pistol is accessory and optics ready while many other rimfire pistols are not. For all intents and purposes, this is a defensive pistol that happens to be chambered in .22 LR.
To top off this list of positive features, the TX22 series has proved to be reliable with a variety of .22 LR loads. This is no mean feat considering the ammunition sensitivity that some rimfire pistol models exhibit. If I had to pick just one .22 LR pistol to own, or a first one to buy, this version of the TX22 would be a top contender for that spot. For more information, visit taurususa.com.