As the number of women who carry concealed rises, the wealth of concealed-carry (CCW) purses on the market today does, too. The best ones implement remarkable safety features without sacrificing style. Almost all of the bags on our list include ambidextrous access to your firearm and adequate padding to keep it, well, concealed. However, our favoritepurses do so much more than conceal. They give you confidence, reflect your personality and match your wardrobe. You don't have to sacrifice style to safely carry a firearm. No matter what kind of a purse person you are, you will find something that fits your unique style on this list.
Tactica Defense Elegant Protection Tote 

First on our list is a tote perfect for moms and businesswomen alike. At 11" by 15", this bag will fit snacks and toys or an average-sized laptop and portfolio with ease. This purse by Tactica Defense Fashion is sleek and sophisticated, with an intelligent concealed-carry compartment. The separate zipper pocket is lined with hook-and-loop to lodge your compatible holster in place. Available in this season's cerulean, classic black or dandelion yellow, there's no reason not to try out this bag with a 10-day trial period. For more, or to purchase, visit TacticaDefense.com.
Gun Goddess Ann Laced Conceal-Carry Satchel  

Reviewers love the roominess and locking capabilities of this bag. The concealed-carry compartment locks on both sides and comes with four keys. The best part about any satchel is the ability to switch between the cross-body strap and slipping it on your shoulder by the handles. I don't know about you, but I love the put-together look of a matching wallet. With RFID protection and corresponding lace details, treat yourself to both! For more on the Ann purse and the matching Morgan RFID wallet, visit gungoddess.com.
Buffalo Gal RFID Rapid-Access CCW Purse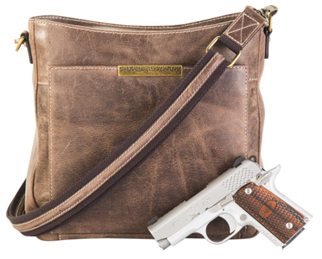 This distressed leather crossbody may seem simple on the outside, but inside you'll find the safest purse on our list. The CCW compartment has not one, not two, but three ways to access your firearm in case of an emergency. Aside from the dual zippers, there is a handy magnetic closure on top of the pocket. This purse allows you to bypass fumbling zippers in case of an emergency. Other safety features include an 11-ply steel-cable-reinforced shoulder strap and an RFID-blocking liner. Protect your property and personal safety with this timeless everyday purse. To purchase, go to NRAStore.com..
Concealed Carrie Classic Carrie Black Crocodile Print Leather Shoulder Clutch

It's easy to imagine Carrie Bradshaw swinging this chic clutch around an art gallery or down a runway. After all, black printed leather and silver hardware will never go out of fashion. This purse is perfect for a formal event or evening out. If your style sense would make Carrie seethe with envy, then feel free to tote this boss-lady bag around all the time! Best for compact and sub-compact handguns, this slender clutch is guaranteed to boost your confidence. For more, visit ConcealedCarrie.com (Carrie Bradshaw-style pun intended).
The Well Armed Woman Uptown Tote 

This bag from The Well Armed Woman is casual and cute for the female self-defender on the go. The silver studs and ruffled leather make this bag a unique and stylish option for crossbody fanatics. It is also uncharacteristically roomy for a crossbody, and features slash-proof straps. Click here to get your Well Armed Woman style on.
GTM-22 Tooled American Cowhide Tan 

Partial to prints? This is the purse for you. It's impossible not to fall in love with this pattern! The American cowhide leather of this GTM Original bag is durable and softens with use. It also features an extremely convenient front pocket complete with card holders and a cell phone compartment. Go to gtmoriginal.com to tool up.
It's In the Bag Aztec Crossbody Purse by Montana West

Add a bit of whimsy to your outfit with this embroidered bag. The playful pattern is great as a statement piece, and also makes the bag easier to coordinate with your outfit. This purse is perfect for a right-handed shooter who appreciates attention to detail. Antique studs accent the impeccable threadwork. It's like walking around with a work of art hanging off your shoulder. Click here for an Aztec Crossbody of your own.
Browning Lifestyle Oakley Concealed Carry Handbag 

This dreamy yellow handbag will add some sunshine to your outfit. You'll get a ton of compliments on this compact purse, which is perfect for spring weddings or summer getaways. It also provides interior access to your gun, as well as ambidextrous exterior access. For safe outdoor fun, pick up this pop of color. Go to Browninglifestyle.com for your warm-weather CCW purse.
Galco Del Holster Handbag 

Behold, the ideal everyday purse! The thick strap and spacious interior is perfect for the over-packer. This full-grain leather bag from famous holster-maker Galco zips closed to keep your belongings from toppling out, and features a lockable handgun compartment. In your choice of black, tan or brown, it'll go with any outfit. See more of your next over-packable purse at galcogunleather.com.
Coronado Leather Dearborn Small Flap 

This bookish bag from fine leatherworkers Coronado Leather is at home in cafés, libraries and record stores. The supple genuine leather and brass hardware will add character to any outfit. This purse could dress down a LBD (that's a Little Black Dress, if you're not an acronym kind of woman), or give jeans and a T-shirt a vintage feel. With so many quirky colors to choose from … what are you waiting for?  To own one, visit coronadoleather.com.