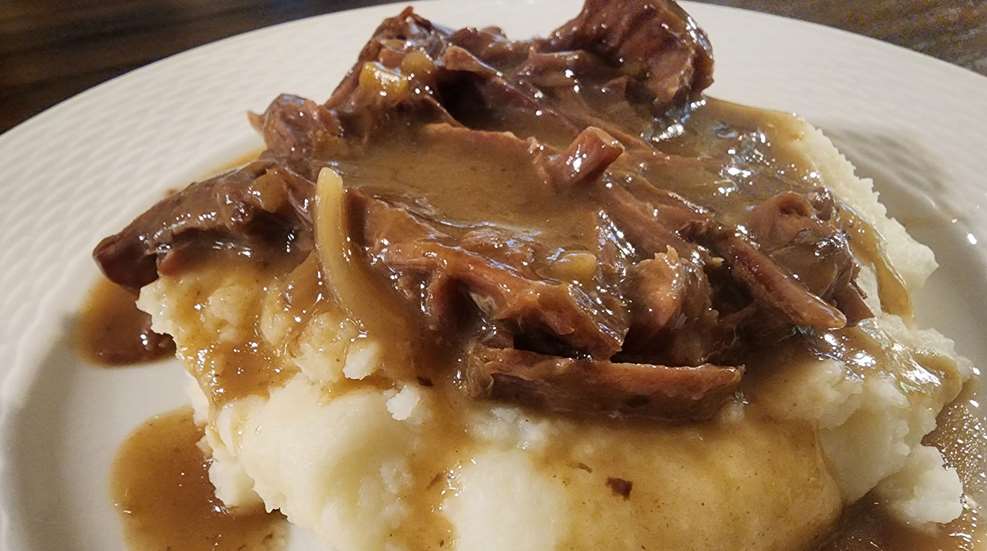 I'll admit I'm not a huge fan of venison roasts—they're just so easy to dry out when cooked like a traditional pot roast. The slow cooker or a pressure cooker is good solution for this, and I'm a big fan of meals I can start in the morning, ignore all day and just enjoy at supper time. So for the sake of variety, I've taken to saving a few roasts from each deer I butcher. I often cut each roast into three big chunks because they cook faster that way.
These two recipes are a great way to use up venison roast, and they're pretty family-friendly.
Venison Roast With Mushroom Gravy
Venison with cream of mushroom soup is a cliché at this point, but you know what? It's a delicious combination, and I don't care what the food snobs have to say about it. I certainly didn't invent this recipe; it's a classic that's been around forever.
1 venison roast
2 cans cream of mushroom soup (I recommend the healthy or low sodium variety)
1 envelope dry onion soup mix
1 cup of water
Combine the soup, water and onion soup mix in your slow cooker and whisk until the lumps are gone. Plop your roast or roast chunks in there and turn it so it gets coated. Put the lid on and cook on low for 10 hours.
Serve with plenty of mashed potatoes, egg noodles or bread to soak up the gravy.
Venison Pepper Steak
This recipe can also be made with venison steak, if you have it. I wouldn't use backstrap because that's just too good on it's own, but that's up to you. I typically make this with a roast I've sliced up into strips.
2 lbs. of venison roast cut into ½-inch-thick strips, a couple of inches long
3 T vegetable oil
1 cube beef bullion
¼ c hot water
1 T cornstarch
2 bell peppers, your choice of color, chopped into bite-sized pieces
1 onion, roughly chopped
14.5-oz. can of stewed tomatoes or crushed tomatoes
3 T soy sauce
1 t salt
1 t sugar
Heat the oil in a skillet over medium-high heat. Rapidly sear the roast strips until brown. Add to the slow cooker.
Dissolve bullion in hot water. Mix in cornstarch, then pour over the meat. Add remaining ingredients and stir to combine.
Cook for 6-7 hours on low. Do not overcook; the soy sauce flavor sort of turns if this is allowed to burn.
If desired (I recommend), combine 2 T cornstarch with ¼ cup water and stir in right before serving to thicken the sauce.
White rice is a perfect accompaniment. A crunchy green-onion garnish is a nice touch if you have any on hand.