by
posted on May 16, 2022
The highly anticipated NRA Women's Leadership Forum Luncheon and Auction will take place on May 27, 2022 at the NRA Annual Meeting and Exhibits in Houston. With Virginia's Lieutenant Governor Winsome Earle-Sears speaking, it's a can't-miss event. However, if you are unable to attend, don't let that stop you from bidding on the many amazing auction items, as you need not be present to win. All of the proceeds for this year's auction are earmarked for NRA's Institute for Legislative Action (ILA), the branch of the NRA dedicated to fighting for pro-Second Amendment legislation.
Here's how to get in on the action, even if you won't be able to attend the event in person: Text nrawlf to 56651 to register for the NRA Women's Leadership Forum Online Auction—and please note that this auction is open to everyone, not just women! The auction can also be accessed on your computer or laptop by visiting nrawlf.muradbid.com. Again—you need not be present to win. The auction runs from 12 p.m. noon Central Time May 13, 2022 – 1 p.m. Central Time May 27, 2022.  
There are loads of items up for auction this year, including many that fall into the wildlife decor category. Here are five pieces of art that will elevate your collection from mild to wild, all while directly supporting the Second Amendment.
Item #109 — "Wapiti" Elk Bronze by Ron Sweeten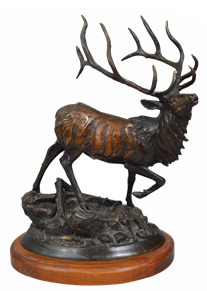 The works of artist Ron Sweeten have spanned nearly four decades. Originally a taxidermist, he learned his anatomy skills hands on. His keen interet in wildlife photography deepened his undertanding of the subjects he portrayed in his art. Unlike many sculptors, Ron has total control of his bronzes by casting all of his works in his own foundry. From clay models, to rubber molds, to pouring of the molten metal, he is able to control all aspects of his sculptures. As an avid hunter he has traveled the game fields of the world from Alaska to Africa to study animals in their natural habitats. Many of Ron's bronzes are of real life observations in nature. This beautiful elk bronze, "Wapiti", is 12" long, 9" wide, created in 1993. Generously donated by Sandra Sadler.
Item #110 — "Wild Things" Wall Hanging by Andy Sanchez 

For nearly 30 years Andy Sanchez, together with his sons, Aaron and Daniel, have been creating original works of art. This beautiful cedar mask has incorporated Bumble Bee Jasper, antler, green turquoise, mother of pearl and soapstone. 24"L x 12.5" W. Generously donated by Andy Sanchez Furniture.
Item # 113 — "Freeloader" 

From day-dreaming bears to Party-all-night-sleep-all-day raccoons, Joshua Tobey creates bronze whimsical wildlife sculptures for home or office. This little "Freeloader" is a perfect example of the care and love of wildlife that Joshua puts into each piece. 4" H x 4.5" D x 1.75" W  Generously donated by Joshua Tobey Studios.
Item #115 — "A Young Lad's Adventure" 

Lea Leggitt grew up in a small town in rural Colorado where she learned to hunt, fish and ride horses. She's about to finish college with a degree in journalism and enjoys sharing stories of inspiring people who enjoy the outdoors and agriculture. Lea began her photography business, Legit Outdoors, while in college and she specializes in western lifestyle, animals and rodeo photography. This photo, "A Young Lad's Adventure", of a young desert bighorn sheep was taken at the Colorado National Monument. He is peeking around the tree checking out Lea as she is watching him. 11" x 14", printed on metal. Generously donated by Legit Outdoors Photography.
Item #116 — "Hot and Cold" Framed Giclee 

This giclée of elk in stream titled "Hot and Cold" measures 16"x24". With frame, measures 17.5"x25.5." This painting by Jocelyn Russell has vibrant colors and strong strokes. Jocelyn is an avid outdoor and wildlife enthusiast. From an early age, her frequent family trips to the mountains afforded her the hands-on experiences of nature and kindled her desire to pursue her childhood passion of being an artist. Jocelyn is known for her paintings and sculptures of wildlife, both North American and African. Generously donated by Anne Draper.