by
posted on August 28, 2021
If you're like many NRA Women who continue to find the gun store shelves bereft of any guns, let alone their favorite guns (thanks to, well, 2020), here's your opportunity to change your luck—thanks to Taurus.
There are five Taurus pistols up for bid at the 2021 NRA Women's Leadership Forum Online Auction, and there's nothing stopping you from bidding on more than one! In the past few years, these Taurus semi-automatic pistols have proven extremely popular among both men and women, and we've covered them all. 
To start, there are three Taurus TX22 rimfire models in the lineup—one is even the incredible competition model—perfect for backyard plinking or an afternoon of .22-cal. target practice. Engineered to deliver best-in-class accuracy and reliability, this rimfire polymer sporting pistol shoots and feels every bit like a custom-tuned competition model-without any costly upgrades or modifications.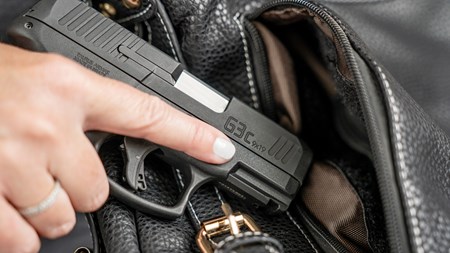 Then there is last year's Taurus G3c, which builds on the proven foundation that has made the compact G-series among the most popular personal defense/EDC handguns ever produced, while advancing function, reliability and durability to the next level. This gun contains all the features of the original striker-fired full-size pistol, now available in an EDC-friendly compact frame. Check out the NRA Women review of this gun here.
A few months ago Taurus introduced its first-ever micro-compact 9mm—the GX4. This was a game-changer for the CCW crowd, offering a new choice in full-sized capacity, accuracy and power in an ultra-concealable one-inch-wide reinforced frame. Learn more about it here.
So the question now is not whether you should bid on any of these superb Taurus pistols, but how many? After all, if world champion shooter Jessie Harrison trusts Taurus to have her back on both the competitive shooting circuit and personal life, maybe you should, too?
Here's how to make sure you don't miss out. Check out this collection of Taurus pistols, along with all of the items up for bid here, then register to bid here. It's that simple.