Shed hunting has become one of my favorite springtime activities, but over the years there are a few tips I've picked up that help me find more sheds.
Timing. If you're looking in an area that receives snow, try to get out there the moment the snow melts enough to see sheds. The timing can vary, but I like to get out as soon as possible.  Another thing to remember is to always keep your eye out for sheds, even if it's not your main activity. When we are turkey hunting I'm constantly on the lookout and have found numerous sheds and dead heads just by keeping my eyes open.
Location. I'm a big fan of zoning in on my favorite locations first. I like to start with late season hot spots, creek crossings, fence crossings, food plots, bedding areas or feeders if legal in your state. If you have an area where deer congregate late season, always start there and come up with a plan.
Key Areas. Look for places the deer naturally jump a fence as they often fall off right as they hit the ground when its time. Also look for trail intersections and if you're turkey hunting hop on a deer trail, and keep your eyes peeled as you make your way to and from turkey setups.
Big Sheds. If you happen upon a big shed, always search the area hard for the match set. A very high percentage of the time a big buck will shed the other antler within 100 yards as they become off balance and usually knock the other side off. If you're not having any luck, start doing a circular pattern around where you found the first shed and continue your search.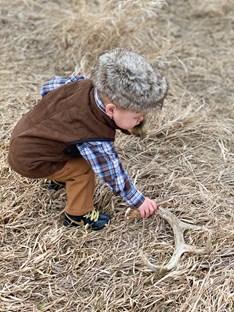 Shed hunting is a great way to get some fresh air, take the pups or kids on a hike with a possible reward along the way. Make it a fun competition for the kids based on biggest sheds or most sheds. There are so many creative things that can be made with sheds. Rattling antlers (if you saw off the brow tines), dog treats (we like to cut them in half vertically exposing the inner antler), home décor (I've put sheds on picture frames, in wreaths, on our end table as a centerpiece, antler chandelier's, and so many other options. 
The sky is really the limit with using sheds, but I just enjoy taking the time outdoors with family, our dogs, and getting some fresh air and hopefully a few rewards along the way.