While we might not be privy to every sacrifice, setback, mini victory and major internal reflection these women experienced on the road to the 2020 Tokyo Olympic Games, the passion and hard work they've put in over the years is evident in their individual victories that brought them to the highest level of international competition. Find out what the women of USA Shooting, the national governing body for the shooting sports, are made of.
Rifle
Sagen Maddalena 

A University of Alaska Fairbanks alumnae, Sagen Maddalena first competed in the World Cup tryouts in 2014 as a freshman. There she earned the privilege to compete internationally and made the World Championship team again in 2018. During her impressive NCAA career at UAF, she was an eight-time All-American. Maddalena enlisted in the U.S. Army in 2019 and was assigned to the U.S. Army Marksmanship Unit (USAMU) in Ft. Benning, Georgia, as a shooter and instructor. Maddalena qualified for the 2021 Tokyo Olympic Games with a silver medal in women's 10 m air rifle at the 2021 ISSF World Cup New Delhi.
Mary Tucker

Mary Tucker is a student at the University of Kentucky who earned Rookie Shooter of the Year as a freshman and Athlete of the Year as a sophomore. As a junior, Tucker won the 2021 NCAA Championships in 10 m air rifle and 50 m smallbore. She's the first UK athlete to sweep gold in both events. Tucker went on to win three medals at the ISSF World Cup New Delhi earlier this year, qualifying her for the Tokyo Olympics and making her the current number one air rifle shooter in the world. She won a gold medal in the 10 m air rifle, a silver in women's 10 m air rifle team and a bronze medal in 10 m air rifle mixed team.
Ali Weisz

Ali Weisz competed at the collegiate level for the Ole Miss Rifle Team. She was a four-time NCAA qualifier, two-time All-American and a 2016 NCAA Air Rifle bronze medalist. Weisz enlisted in the U.S. Army in 2020 and is currently a shooter and instructor for the USAMU in Ft. Benning. She won two silver medals at the ISSF World Cup New Delhi in 10 m air rifle and team 10 m air rifle.
Pistol
Sandra Uptagrafft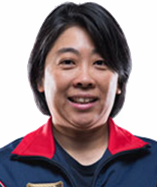 Sandra Uptagrafft first fired a firearm at Army basic training. She was a member of the California National Guard from 1989 to 1992 until she was recruited to active service as a shooter and small arms instructor at the USAMU from 1992 to 1995. Uptagrafft and her husband Eric were the only married couple to compete for USA Shooting in the London 2012 Olympic Games. Now, she is gearing up for her second Olympic Games in Tokyo.
Alexis Lagan

A University of Utah alumnae, Alexis Lagan began competing internationally in college, going on to achieve 2019, 2018 and 2016 National Championships in air pistol and a 2017 National Championships silver medal, also in air pistol. She earned 6th place in sport pistol at the 2021 New Deli World Cup, securing her place at the Tokyo Games.
Shotgun
Austen Smith

Austen Smith is the youngest member of the USA Shooting Olympic Team this year. She won a Junior World Championship silver medal in 2017 and bronze medal in 2018. The following year she achieved a junior individual World Cup gold medal and junior mixed team gold medal in 2019. Earlier this year, Smith beat out Great Britain's Amber Hill by three targets to claim her first open World Cup medal at the ISSF World Cup 2021 Shotgun in Lonato, Italy. Smith will represent U.S.A. on the same team as her two-time Olympic Champion coach, Vincent Hancock.
Amber English

Amber English entered competitive shooting in 2006 at age 17 when she began competing in women's skeet matches. After excelling at international skeet shooting matches, she moved to the Olympic Training Center in Colorado Springs, Colorado to become a full-time resident athlete in 2013. In 2017, English joined the USAMU and is now a First Lieutenant with the World Class Athlete Program (WCAP) attached to the USAMU. She has four World Cup medals to her name from 2010, 2016, 2018 and 2019. English is now set to compete in Tokyo as part of the Women's Skeet Team.
Kayle Browning

After making the open All-American Team at just 12 years old for skeet shooting, Browning switched sports entirely in order to be eligible to one day compete at the Olympics. She transitioned to international trap and attended a Junior Olympic Development Camp in Colorado Springs, Colorado. In 2007, Browning was selected for the Shotgun Junior Olympic Team and later that year won the bronze medal in the National Junior Olympic Championships. Now, in the culmination of a 20-year shooting career at just 28 years old, she is attending the 2020 Tokyo Olympics.
Madelynn Bernau

Madelynn Bernau's first experience in international competition was the 2016 Junior Olympic Championships. In 2018, she earned a spot on her first official USA Shooting Team to attend the World Championships in Changwon, Korea. Bernau also earned a spot on the Junior National Team at the National Junior Olympic Championships right before attending the 2018 World Championships in the fall. Now she is headed to the Tokyo Olympic Games in just a few weeks.
Head to NBCOlympics.com to keep up with all of the U.S. Olympic shooters this summer. If you're unfamiliar with the specific events and scoring for the three shooting disciplines, find more information here. Supporting the shooting sports on an international level is a great way to interest new shooters and bring awareness to the lives, careers and passions the Second Amendment makes possible every day in the U.S.A.