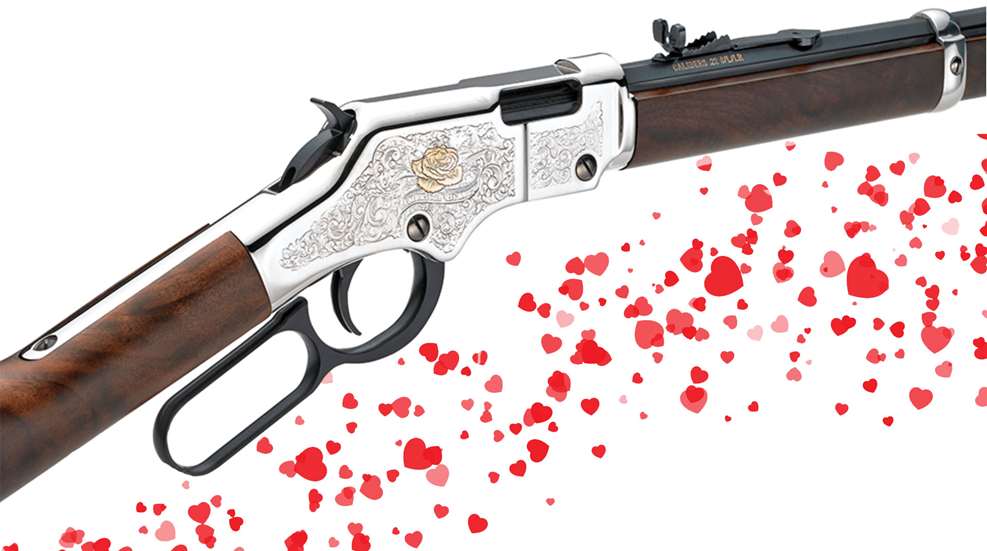 Once upon a time, in the dark ages of broadcast television, dial-up Internet and saxophone-playing presidents, a future gun writer strolled into a local business to find a bright-eyed Irish Rose seated behind the reception counter. When their eyes met they had an instant connection that was the beginning of a wonderful life together. It's lasted through thick and thin ever since. I know this love story is not wholly unique but to me it's the most important story I have to tell.
And so, as Valentine's Day roles around once again, I'm probably not the only one looking for something special to give in celebration of a wonderful woman who is such an important part of a happy life. There have been candy, flowers and nice dinners. But she's someone who enjoys the great outdoors and grew up shooting .22s out at the ranch with her family. I was looking for a gift that's both beautiful to look at and something that can be enjoyed throughout the year.

The American Beauty features a 20" octagonal barrel, smooth walnut furniture and polished nickel fixtures.
You may not think a rifle is the best way to say "Be Mine," but Henry Repeating Arms is an American manufacturer dedicated to celebrating the great people of the United States. Tucked in amongst the company's diverse selection of tribute rifles for military services, volunteer firefighters and farmers, to name a few, is a model designed specifically for the ladies called the American Beauty.
Your loved one may be like mine in that she does not care for the brightly colored polymer stocks currently in vogue with some in the gun-girl movement. Although she does not begrudge anyone else their shooting gear preferences, she appreciates natural hardwood stocks attached to classic rifle designs with tastefully applied embellishments. That's why this particular rifle caught my eye.

The American walnut fore-end and shoulder stock are neatly fitted and nicely figured.
The American Beauty is a member of the company's Silver Series. These rifles are based on the Golden Boy rimfire rifles with features including nicely figured smooth American Walnut stocks, 20" long octagonal barrels and standard size lever loops. However, the Golden Boy's brass buttplate, receiver and barrel ring have been replaced with brightly polished nickel plated fixtures.

A 14k gold rose is central to the receiver's fine floral engraving.
But what sets the American Beauty apart from the other tributes is the embellishment of the receiver. The engraving is original artwork that was hand-cut by master engraver Heidi Roos, which is mechanically transferred to the receiver instead of using laser engraving or acid etching. This is a more labor intensive approach but it helps to preserve the original crisp, clean lines of the artist's work. Both sides of the receiver are filled with fine, old-fashioned floral pattern scroll work.  At the center of the engraving is a 14k gold rose with the words "American Beauty" in a banner below it. Its eye-catching but tastefully applied so as to be in harmony with the clean, classical lines of the rifle.
On top of the barrel you'll find a fully adjustable Marbles semi-buckhorn rear sight dovetailed into place. It's paired with a serrated brass bead front sight blade. In order to preserve the polished nickel finish the receiver is not drilled and tapped for an optics rail.
The remaining external controls, including the bolt, hammer, trigger and standard size lever are all made of steel with a matte black finish. The external safety for this rifle is the hammer's half-cock position. With the hammer in this position, the trigger won't cycle and the hammer rests out of contact with the firing pin.
The tubular magazine holds 16 rounds of .22 LR ammunition or 21 rounds of .22 Shorts, if you can find them. Because this is a lever-action operated rifle, it doesn't suffer from the ammunition sensitivity found in some semi-automatics. Feel free to use any .22 LR bullet weight or velocity you can find. It won't affect the reliability of the rifle. The magazine is loaded from the front via a cartridge shaped cutout. The brass magazine liner is topped with a knurled steel knob and a rubber gasket which keeps it locked in place until it's twisted and pulled out for loading.
-

The magazine holds up to 16 rounds of .22 LR or 21 rounds of .22 Short.
There's no doubt this rifle is a showpiece that could be proudly shown off in a glass display case. But Henry builds its rimfire rifles to be used as well as admired. Don't think that the pretty on this gun will get in the way of enjoyable shooting sessions in the field or at the range. The longer octagonal barrel lends itself to a steady, well-balanced feel that contributes to tight groups down range. 
This year marks 25 Valentine's Days together for my wife and me, so I wanted it to be memorable. Whatever your special occasion may be, someone you love won't be disappointed with an American Beauty as a gift to say "I Love You." A fine rifle like this one is a gift that keeps on giving for many years to come and will be handed down to the next generation to enjoy. If you would like to read a range report about another one of Henry's tribute guns, see Tested: Henry American Eagle Lever-Action .22 Rifle.
Specifications:
Manufacturer: Henry Repeating Arms
Model: American Beauty
Model Number: H004AB
Action: Lever Action
Caliber: .22 Long Rifle/.22 Long/.22 Short
Receiver: High-Polish Nickel Plated with Scroll Engraving
Receiver Embellishment: 14k Rose Gold Rose
Barrel: 20" Octagonal, Polished Blued Steel
Stocks: Smooth American Walnut
Buttplate and Barrel Ring: High-Polish Nickel Plated
Front Sight: Dovetail Brass Bead
Rear Sight: Adjustable Semi-Buckhorn with Diamond Insert
Drilled and Tapped: No
Sling Swivel Studs: No
Safety: Quarter Cock Hammer
Overall Length: 38.5"
Weight: 6.75 lbs.
Magazine: Tubular with Removable Brass Liner
Capacity: 16 Rounds .22 LR, 21-Rounds .22 Short
Twist: 1:16" RH
Rifle Grooves: 6
Accessories: Owner's Manual, Lock
MSRP: $994