One of my all-time favorite summer hunts is for alligator. I've hunted alligators in South Carolina, Florida and Louisiana. Each state has different rules, but it's always a blast. There are many reasons I love gator hunting, but number one is it's a social experience. Unlike sitting by yourself in a treestrand, you can talk and have fun with your hunting party. I've even brought my brother and mom on gator hunts. Although they were a little hesitant at first, they absolutely loved the experience. I never felt like things could go terribly wrong … until they did.
I was in Louisiana with a good friend, Alan Wade. In Louisiana, you have to hook an alligator before you can harvest it. So we used 5-gallon buckets of nasty rotten chicken to bait the hooks. This felt very similar to trapping, and was pretty fun. We looked for alligator slides, set out trail cameras and set our baited hooks at the perfect height above water. We tied flags on a stick for each spot so we would know if our bait was knocked down.
We waited all day and had some smaller gators inspect the bait which was cool to see, but none of the gators committed. The next day, as we were pulling up to one of our bait spots, we noticed the flag was down, and it was game on.
It was just the two of us in a very small boat with a camera tied to the bow. Once we started pulling the line up, we realized we might be in over our heads. The gator was way bigger than our boat and very unhappy. All we had was a small caliber rifle to try to shoot the alligator when he surfaced. The monster gator could have easily capsized the boat, putting us in danger. However, our biggest fear was if the alligator got into the boat with us. As we tried to wrangle the alligator, Alan told me to immediately bail out if he got into the boat. While trying to stay out of chomping range and keep the vicious gator out of the boat at all costs, things got s little crazy. He thrashed threateningly alongside our dinghy, but eventually we were able to take down the gator and drag him back to shore.
The alligator was so big that we had to call someone with a bobcat to lift the gator out of the water and place him in the bed of the truck. I had expected to take a couple of small gators on this hunt, but I ended up coming home with one of the biggest gators I had ever seen! The amount of meat on this gator was incredible and we were able to fill both our freezers. I also got to try out a great alligator recipe on this massive harvest.
Good Eatin'
Many assume that alligator meat is un-edible, but it's actually quite tasty! One of my favorite recipes—Alligator Sauce Picante—comes from a good friend in Louisiana. The recipe is below, but please check out my first cooking video explaining how to make this delicious recipe.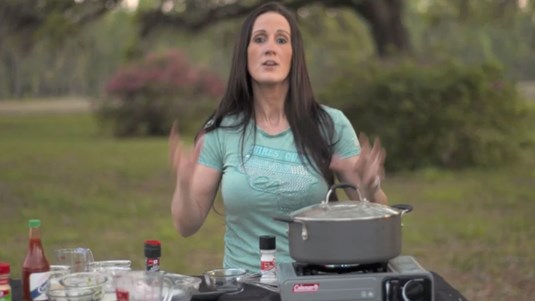 Alligator Sauce Piquante
Prep Time: 2 1/2 Hours
Yields: 6 Servings
Comment: This recipe proves the point that in Cajun County anything can go into sauce piquante. In this spicy sauce, it is recommended that you use alligator tail meat because of it's texture and light to white color.
Ingredients:
1 1/2 pounds alligator, cut into 1-inch cubes
1 cup of vegetable oil
1 cup flour
2 cups diced onions
2 cups diced celery
1 cup diced bell peppers
1/4 cup of minced garlic
2 (10 oz.) cans RO*TEL
2 quarts water or chicken stock
salt and cracked black pepper to taste
granulated garlic to taste
1/4 cup chopped parsley
1/2 cup sliced green onions
Method: In a heavy-bottomed pot, heat vegetable oil over medium-high heat.  Whisk in flour, stirring constantly until a dark brown roux is achieved. Add alligator and sauté 10 minutes or until well browned. Stir in onions, celery, bell peppers and minced garlic and sauté 3-5 minutes or until vegetables are wilted. Stir in RO*TEL and water or stock, blend well then season to taste with salt, pepper, granulated garlic and hot sauce. Bring mixture to a rolling boiled then reduce heat to medium. Simmer 2 hours or until meat is tender, adding water to retain volume if necessary. Add parsley and green onions and adjust seasonings to taste using salt, pepper, granulated garlic. Serve hot over steamed white rice.