I don't remember my first treestand experience, but I've been told about it many times. My dad had set up his Lone Wolf Portable about 25 feet in the air in our backyard. He left the yard to get something, and when he returned a few minutes later, I was already crawling onto the platform. I was approximately 5 years old with no safety harness and (apparently) a thirst for adventure.
As I grew older, a ladder stand became a dedicated backyard zipline platform. Once, after a few winters, I almost learned about treestand safety the hard way. I put one hand and one foot on the ladder before my dad yelled for me to get down. I hadn't checked the straps attached to the tree, which had dry-rotted.
At 21, I decided I wanted to use a treestand for its intended purpose, hunting. I investigated several different types but decided that a climber, the third main type and the one I had not yet tried, was the way to go. I needed something that was simple and quick to set up, but easily portablel. This would allow me to take it to different areas to hunt without worry of it being stolen. Finally, I wanted a front rail for stability.
The Summit Viper SD fit the bill. Although it is consistently high ranking among comparable treestands, I wanted to see how it fit the female frame. The Viper was easy to set up out of the box. I really only needed to attach some padding and accessories. I prefer to pull the seat attached to the top frame through the treads of the bottom, so that I have cushion on my back while carrying it. The stand came with bungee-type backpack straps. I would have preferred there be a middle sternum strap to even out the weight, but the backpack-style straps do allow for adjustment over layers of clothing.
At 20 lbs., the stand is not incredibly heavy, but it is important that you fasten the two pieces of the stand tightly together and correctly fit the backpack straps. The stand is made of aluminum with a closed front, and holds up to 300 pounds. The suspended seat is adjustable to accommodate hunters of various heights and preferences. The seat frame size is 22.5" by 37.5". The foot platform measures 20" by 36". I did consider a Summit Mini Viper climbing stand, which is a few pounds lighter and a little smaller, but I decided that I preferred having extra room on the platform.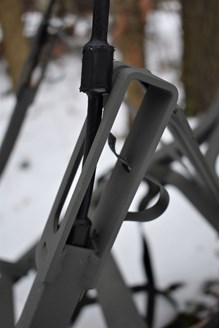 It took some time to find a technique for using the QuickDraw cable retention system most effectively, but the cable's stop locking capabilities are great. It is immediately visible while standing on the platform if the notches are locked in. A "trigger" system allows you to remove the cable from one side of each of the frames to wrap around the tree. As with any climbing stand, you might have to start the stand at a steeper angle at the ground to end up level at your desired height. This depends upon the contour of the tree. Another option is to make adjustments mid-climb, using one of your feet to lift the foot platform while relying on your upper body strength to keep the top frame affixed to the tree. I quickly discovered that I felt unsteady trying to maneuver the stand mid-air, and nearly dropped the bottom piece from under me the first time. The stand comes with a cord to connect the two frames so that you can pull the foot platform up if need be, but I determined this was also difficult to use and, in my opinion, somewhat weak. If you decide to get the Viper SD, I highly recommend purchasing stabilizer straps. I got mine from Third Hand Archery and never looked back. They are easy to use, allow me to pull both sides of the foot platform up  simultaneously by pulling straps (should I lose control of it), and it also greatly increases stability when the desired height is reached and the straps cinched.
I felt comfortable and secure with the RapidClimb Climbing stirrups, which are adjustable for any boot with a bungee band holding your feet into the stirrups. I did note that I felt more comfortable climbing in smaller-profile hiking boots than with larger ones. 
Comfort and safety bring to light an essential item–the treestand harness. I prefer the Lady Hybrid Harness by Hunter Safety System. It is approved by the Treestand Manufacturer's Association and is extremely user friendly. The harness comes in Mossy Oak Bottomland Camo and is treated with ElimiShield Hunt Scent Control Technology. It is lightweight and a vest style. The straps do not dig into your shoulders, allowing you to comfortably walk into the woods wearing the harness over or under clothing. It features dual bino clips and six separate pockets, including one with a charging USB port.
I found that this functional yet feminine harness made me feel less confined and more comfortable than similar products while also being aesthetically pleasing. The leg straps can be unlatched without undoing all straps, allowing for quick nature breaks. I cannot say enough good things about this product, and I would recommend it to any female hunter.
This process taught me that it is important to take the time to find what fits your needs and your figure. What works for your father, husband, boyfriend or son may not work for you. I highly recommend this stand to any female hunter, regardless of experience level. Trusting in your equipment and feeling and being safe are key to a successful and enjoyable hunt. This combination left me with no qualms.