Even the newest of new shooters know the GLOCK name, so it's only natural that the Austrian gun company is sponsoring the National Shooting Sports Foundation's (NSSF) "New Shooter" Gearbox Giveaway. With more than 30 years of introducing new shooters to "GLOCK Perfection," the iconic gun manufacturer was an obvious choice to help celebrate 2020's National Shooting Sports Month. The New Shooter Gearbox Giveaway offers a soup-to-nuts solution for a new shooter ... not to mention some very special perks only available to the winner.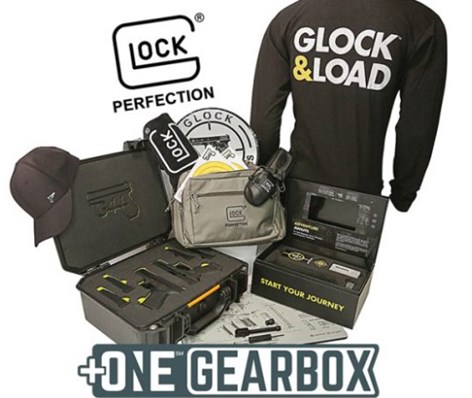 The GLOCK Gearbox begins with not one but two G44 .22-cal. GLOCKs, perfect for the new shooter. "GLOCK is excited to participate in the 2020 National Shooting Sports Month by giving away a New-Shooter Gearbox," said Shelby Lasater, director of marketing. "We recognized the need from our brand enthusiasts for a .22 LR pistol and introduced the G44 in 2020. This provides an increased opportunity to encourage and share sport shooting with others."
But what about those very special perks we mentioned? The giveaway also includes a one-on-one training session with a GLOCK Professional Instructor, as well as a trip to the GLOCK factory! That's because both GLOCK and NSSF agree that a gun as great as a GLOCK will make its new user even happier with some expert training. 
Mentoring a new shooter is a reward all of its own. You'll experience the joy of helping another person, gain more knowledge for yourself, help bolster the future of the Second Amendment ... and, if you enter before the 9/22/2020 deadline, you can also win some guns and gear for yourself and your newbie. Click here to read contest rules and enter.
The 2020 National Shooting Sports Month GLOCK "New Shooter" Gearbox Giveaway, valued at nearly $4,000, includes:
2 GLOCK 44 .22 LR pistols
1 One-on-one training session with GLOCK Professional instructor and a trip to the GLOCK factory
1 G44 12-ounce tumbler kit
1 G44 threaded barrel kit
1 G44 long-sleeve T-shirt
2 G44 targets
1 G44 Promo Media Box (exclusive, only 30 produced)
1 double pistol case
1 Electronic Ear Pro hearing protection
1 grey bench mat
1 black ranger mesh hat
1 GLOCK Perfection patch
1 G44 patch
3 GLOCK Perfection decals
1 Gen5 range towel
1 GLOCK disassembly tool
1 GLOCK SAFE ACTION aluminum sign