Before venturing out on my brown bear hunt on Kodiak Island, I did a ton of research to minimize the chance of getting blisters. I knew this was going to be a physical hunt with a ton of walking. I've been pretty lucky over the years with not getting blisters, but the few times I've had them they were not fun. Blisters can make an entire hunt miserable. So the key is to prevent them for appearing in the first place.
On this two-week trip, I walked from dawn to dusk with wet feet while sliding around on uneven terrain in boots that weren't perfectly broken in. Luckily, I had prepped a blister kit.
First, keeping your feet as dry as possible is key; however, that is easier said than done. Within 15 minutes of starting our all-day hike, I slipped in a hole and the water went over one of my boots and gaiter. My entire foot was soaked and I was immediately afraid that blisters would start developing. I walked until lunch and by that time I could feel hot spots all over my feet. My toes, back of the heel, side of the foot, and arch were all starting to burn. Luckily, I had my trusty blister kit.
I used alcohol pads to wipe and completely dry my feet. I bought these as little individual pads and used several, then waited for them to dry. Next, I cut pieces of Leukotape P for every part of my foot that was starting to heat up and stuck them on. This is super sticky tape that lasts for a very long time. In the past I've used moleskin, but it always rolled up on me and came off several times a day.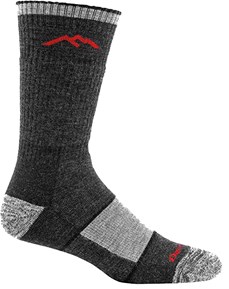 It's important to note that I did not wait until any skin had broken open or started to bubble. Do this before you get to that point for the best results. I then put on a dry pair of Darn Tough socks. Of course, my boot was still wet but this was going to help a little and Darn Tough socks are designed to wick away moisture. We continued on our hike for the rest of the day and my feet never blistered. This completely saved them and I know they would have been full of blisters had I not carried this little kit with me in my pack.
For the remainder of the hunt, I never removed any of the leukotape. I left it on every day and not one piece peeled off. 15-days total when we came out and although it looked a little dirty, it kept my feet in tip top condition. Another thing to note is to always buy good sturdy boots for what you're doing and have them thoroughly broke in. I was wearing a great pair of Kenetreks but I had only worn them on about 3 hunts prior, none of which involved that much walking.
In the end, this system worked and it allowed me to hunt hard and eventually go home with an absolutely stunning brown bear and memories that will last a lifetime. Although the hunt was extremely exhausting, preparing a blister kit ahead of time saved the trip and made it rewarding and enjoyable.